A controlled explosion has been carried out on a hijacked vehicle in the Circular Road area of Derry, as the PSNI deals with a number of security alerts in the city.
There are reports this evening of a new alert in the city, as a van has been abandoned close to St Mary's secondary school on the west side of the city.
Earlier, two vehicles were hijacked in the city, which is still coming to terms with Saturday's car bomb outside the courthouse.
The Circular Road area was cordoned off after a white Ford Transit van was reportedly hijacked by three masked men.
It is reported that they threw an object into the back of the vehicle before abandoning it.
Bomb disposal experts carried out a controlled explosion on the vehicle this afternoon as several nearby houses were evacuated.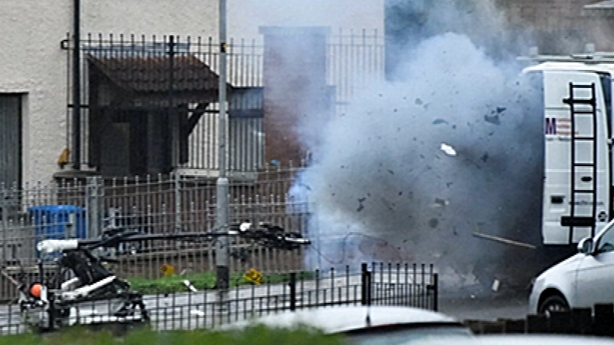 PSNI Superintendent Gordon McCalmont said a community centre in Creggan had been made available to those who had to leave their homes.
Police officers were also handling another security alert in the Southway area of the city, near the Brandywell stadium.
The PSNI said it received reports that a Royal Mail van was hijacked by four masked men, one of whom was believed to have been armed with a gun.
Two people in the van were ordered to drive it to the Lonemoor Road and leave it there.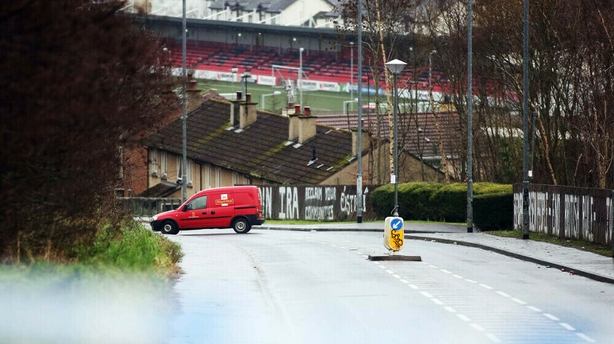 The latest incidents follow the events of Saturday night when a car bomb detonated outside a courthouse in the city.
British Prime Minister Theresa May condemned that bombing when she addressed the House of Commons this afternoon.
Four men arrested in connection with the incident have been released unconditionally.
The men, aged 42, 34 and two aged 21, were arrested on Sunday by detectives investigating the explosion in Bishop Street, Derry, on Saturday.

A 50-year-old man arrested on Monday remains in police custody.
I have spoken with the Chief Constable by telephone regarding the incidents in Londonderry. @PoliceServiceNI needs our full support to remove those responsible from our streets. Bombs in the 70s & 80s brought nothing but hardship - so will these. We will not be dragged back.

— Arlene Foster (@DUPleader) January 21, 2019
The PSNI's Assistant Chief Constable has said that no links have been uncovered to connect the recent incidents in Derry to either Brexit or the centenary of the beginning of the War of Independence.
Speaking on RTÉ's News at One, Mark Hamilton said the threat level in Northern Ireland has remained severe since 2009.
"Unfortunately there is always some expectation that attacks could happen, but on a general basis we're not picking up any information that people want to engage in violence due to Brexit," he said.
Mr Hamilton added that in some respects he does not believe the motivation for the attacks mattered.
He said: "It is a significant crime committed against the people of Derry and the motivation for it is not really that relevant to the people who are suffering for it."
Mr Hamilton added that he was concerned that the car bomb attack at the city's courthouse and the hijacking of a van this morning may be connected.
He also said the PSNI did not want a sense of fear or unease to creep back into communities across Northern Ireland.
"Northern Ireland has made massive progress across 20 years. It is a safe community to come and live in, to visit and to work in. We want to maintain that and we don't want these people to pull any of that away from us.
"It's our job in the PSNI to do everything we can to make sure that doesn't happen," he said.
The Assistant Chief Constable added that the force was continuing preparations for a no-deal Brexit, just as police forces from the rest of the UK were also doing so.
However, he said this did not mean they were expecting trouble.
"It would be wrong for us not to take precautionary planning, but at the minute we are not expecting trouble, violence or difficulties," he said.
Meanwhile, the Northern Ireland Secretary of State has said it was essential to keep up vigilance following the events of Saturday night.
Karen Bradley told the House of Commons that the overall threat level in Northern Ireland had not changed and that it remained at "severe".
She also insisted the bombing had nothing to do with Brexit.
"Nobody should try and draw any connection between what happened on Saturday night and any of the discussions we are having in this place or with our friends in Europe, the attack that happened on Saturday night is a result of a threat level that has been in place since before the Brexit vote," she said.
"These are plots and activities that these people have been working on and trying to carry out for many, many years and we need to be clear with them that those activities are not welcome, the people of Northern Ireland do not want to see this kind of activity on their streets."