A further two men have been arrested in connection with a car bomb attack in Derry last night, bringing the total number of those arrested to four.
This Sunday evening, two men aged 34 and 42 were arrested in the city. Two men in their 20s were arrested early this morning.
All four men remain in custody at present.
The PSNI described the attack as "unbelievably reckless".
The Taoiseach has condemned the attack as a "cynical act of terror".
Leo Varadkar said the use of violence to achieve political objectives has been rejected by the people of this island again and again.
He said the Government condemns the attack in the strongest possible terms.
We need your consent to load this rte-player contentWe use rte-player to manage extra content that can set cookies on your device and collect data about your activity. Please review their details and accept them to load the content.Manage Preferences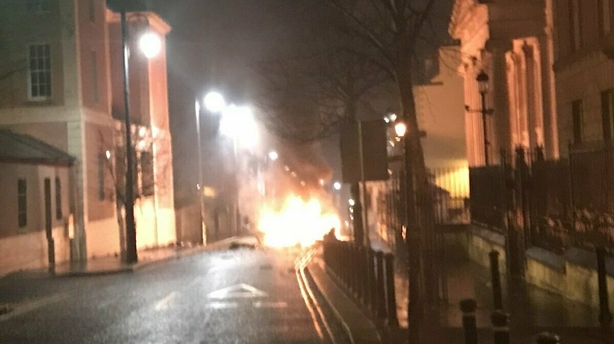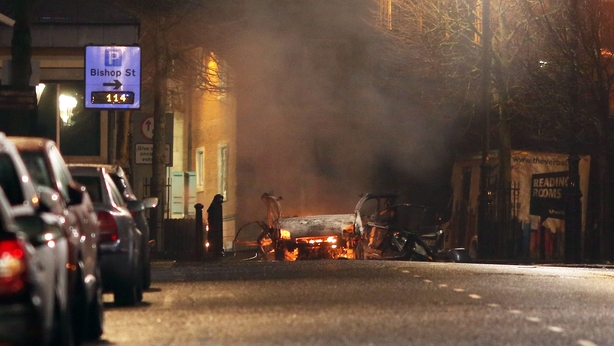 The PSNI received a warning before the explosion. Locals reported hearing one and possibly a second loud bang.
Assistant Chief Constable Mark Hamilton said a pizza delivery man had his car hijacked around 6pm by at least two armed men.
Between that time and 7.23pm a bomb was placed in the car and it was driven about a half a mile to outside the courthouse in Bishop Street.
Around three minutes later a call was received by a Samaritans helpline in the West Midlands in England warning of the bomb. This call was passed on to West Midlands Police, who in turn contacted the PSNI.
At around 7.55pm PSNI officers on patrol in Bishop Street spotted a suspicious vehicle and were making checks when, around five minutes later, information was received that a device had been left at the courthouse.
Two arrested following car bomb attack in Derry city last night | Read more: https://t.co/AUgM7dx8KJ pic.twitter.com/GOd7TPtNv6

— RTÉ News (@rtenews) January 20, 2019
Assistant Chief Constable Hamilton said police immediately began evacuating nearby buildings including hundreds of hotel guests, 150 people from the Masonic Hall and a large number of children from a church youth club.
The device exploded at 8.09pm.
He said the main line of inquiry was focused on the New IRA at present.
"The New IRA, like most dissident republican groups in Northern Ireland, is small, largely unrepresentative, and determined to drag people back to somewhere they don't want to be," he said.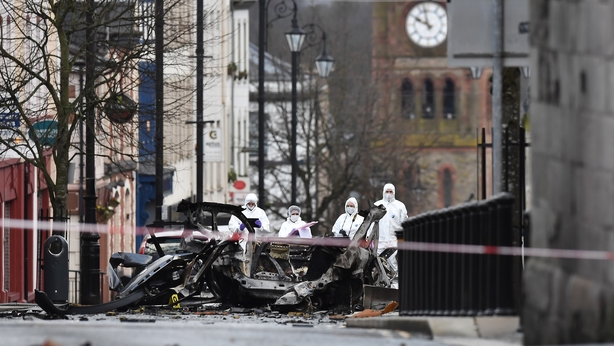 "This attack was unbelievably reckless. Thankfully the attackers failed to kill or injure any members the local community out socialising and enjoying the best of what the city has to offer.
"The people responsible for this attack have shown no regard for the community or local businesses.
"They care little about the damage to the area and the disruption they have caused. The area remains sealed off and church services at St Augustine's has been moved to St Peters and the Cathedral services have been cancelled this morning as a result," he said.
The PSNI is appealing to anyone with information to please get in touch with them.
Last night Tánaiste Simon Coveney condemned the incident in a tweet, calling it a "terrorist attack".
I utterly condemn the car bomb terrorist attack in Derry this evening. There is no place and no justification possible for such acts of terror, which seek to drag Northern Ireland back to violence and conflict. @RTENewsNow https://t.co/sKUaXGCx5b

— Simon Coveney (@simoncoveney) January 19, 2019
DUP leader Arlene Foster tweeted: "This pointless act of terror must be condemned in the strongest terms.
This pointless act of terror must be condemned in the strongest terms. Only hurts the people of the City.
Perpetrated by people with no regard for life.
Grateful to our emergency services for their swift actions which helped ensure there have been no fatalities or injuries. https://t.co/IMJ7Dn9rAa

— Arlene Foster (@DUPleader) January 19, 2019
Derry's mayor John Boyle said: "I would actually like to ask the people responsible for this what it actually was that they thought they were going to achieve. It achieves nothing, it didn't achieve anything in the past, it didn't achieve anything right now."