More than 1,000 shoppers queued for the opening of a new Primark store in Belfast this morning, three months after a major fire destroyed the original flagship store in the city.
Belfast city centre was left devastated following the blaze at the historic Bank Buildings which resulted in a safety cordon around the remaining shell.
Nearby shops were forced to close while other businesses struggled due to lower footfall as a result of the cordon dividing the main shopping street.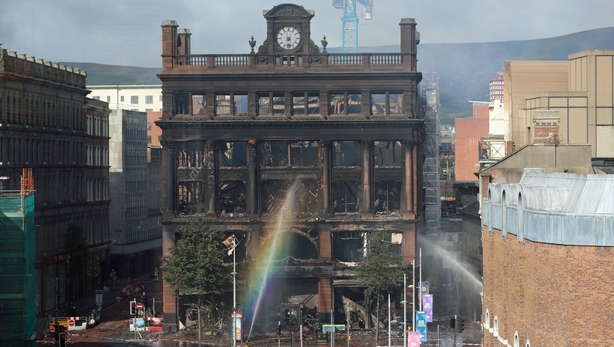 It was estimated that footfall in the city centre fell by up to 60% in the area.
Castle Street was among the worst streets affected.
However, from early this morning, shoppers thronged the street ahead of the opening of the new Primark store.
Many travelled from across Northern Ireland for a chance to be first through the doors.
The queue swelled as it got closer to 9am, with Primark estimating around 1,100 had been waiting based on the numbers of bags of freebies their staff had handed out.
In a statement, Primark said the store opening delivered on its commitment to resume trading in Belfast city centre as quickly as possible following the fire at the end of August.
It also plans to open a second store in the city centre on Donegall Place next spring.
Speaking at the opening, Ben Mansfield, director of Primark Stores Ltd, said they are delighted to open the new store.
"Today marks a significant milestone for our people, our neighbours and the wider community, as we take the first step to get back to business following the fire at Bank Buildings," he said.
"We are confident that our store and the newly-built walkway will help restore footfall in the Castle Street and surrounding area at this critical time, just before Christmas."
Belfast Lord Mayor Deirdre Hargey was among those attending the opening.
"This is a great day for the city of Belfast particularly just before Christmas," she said.
"You could see the atmosphere with all the customers queuing up, but also the atmosphere among the staff inside, it was an emotional morning but also one of excitement.
"This will really help with footfall so I am really happy with this day, it shows the city's resilience, we are bouncing back as a city, there is more work to be done, but this is great not just for Primark and its staff, but also for the surrounding traders particularly here in Castle Street."