Almost 500 jobs are to be lost at aircraft manufacturer Bombardier in Northern Ireland.
The Canadian-headquartered company said it needs to cut costs and improve efficiency to help ensure its long-term competitiveness.
Bombardier is one of the biggest employers in the North, with a large base in east Belfast.
Its workers have faced uncertainty in recent times after threatened US trade tariffs placed a major question mark over aircraft production and prompted the intervention of British Prime Minister Theresa May.
The US relented at the last moment and the jobs were saved, but today's announcement of 490 job cuts comes as a bitter blow.
The posts are expected to be shed in February or March.
Jackie Pollock, Unite union regional secretary for Northern Ireland, said: "Although these jobs will not go until February or March, this announcement is a cruel blow for the Bombardier workforce.
"Unite has feared for some time that Bombardier might be bringing forward large-scale redundancies, but this news exceeds our worst fears."
Bombardier produces the wings for its new aircraft, the C-Series, in Belfast.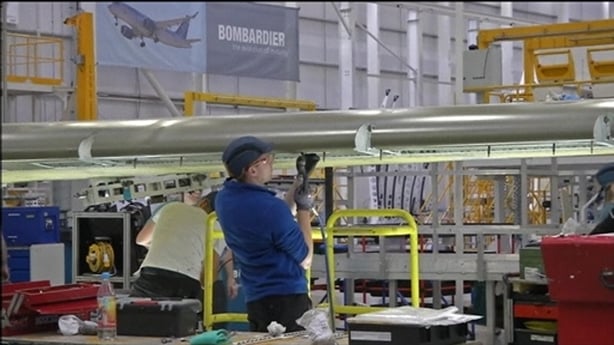 In a statement, Bombardier Northern Ireland said: "Following the global workforce adjustments announced by Bombardier Inc on 8 November 2018, we have reviewed our manpower requirements in Belfast and regret to confirm that we must reduce our workforce across the company by 490 employees.
"We acknowledge the impact this will have on our workforce and their families and we continue to explore opportunities to help mitigate the number of compulsory redundancies.
"However, we need to continue to cut costs and improve the efficiency of our operations to help ensure our long-term competitiveness."