Former US Secretary of State Hillary Clinton has been awarded an honorary doctorate at Queen's University Belfast for her work in the US and globally, as well as her contribution to peace and reconciliation in Northern Ireland.
A new scholarship programme at the university was also announced in her honour. The Hillary Rodham Clinton scholarship will be available for post-graduate study in politics, human rights and peace building.
During the special ceremony today, Mrs Clinton urged Northern Ireland's politicians to put their quarrels aside.
"The world is watching, Northern Ireland has been a symbol to people...of democracy," she said.
"We need that, that symbol, that reality, more than ever because democracies across the world are facing a toxic backlash."
Mrs Clinton warned of "foreign manipulation" using divisions to "pit us against each other". 
"Peace not paralysis, you deserve that better future, you always have," Mrs Clinton told the Belfast audience.
"I will pray and trust that it comes to pass.
"I and many of us in the United States will never stop standing with you, and cheering you on this journey."
Mrs Clinton, who contested the 2016 US presidential election against Donald Trump, spoke of her "great pleasure" at being in Belfast.
"It is a special place for me and my family, and we treasure our continued connection," she said.
During her speech at Whitla Hall today, she thanked the university for the honour, a Doctor of Laws (LLD).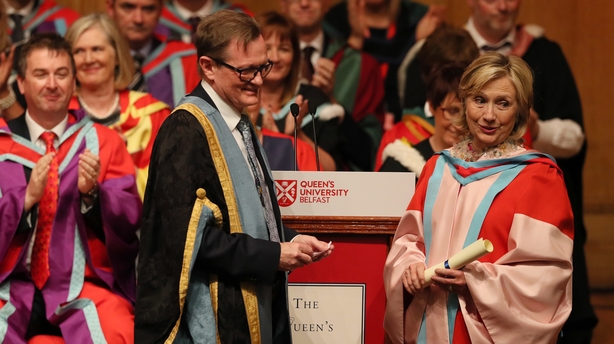 "The people of Northern Ireland face consequential decisions," she said, referring to Brexit.
"I do not come today as an authority with all the answers. I come as a friend who knows how hard the struggle has been.
"You deserve a future without that struggle," added Mrs Clinton.
A round of applause went up after she said she had thought Brexit was a bad idea at the start, and an even worse idea now.
"But Brexit appears to be happening," she said, urging that Brexit should not be allowed to "undermine the peace and prosperity that has been so dearly won here".
"Peace is fragile," she warned. 
About to speak at beautiful Queen's University in Belfast to talk about all that's been achieved in the 20 years since the Good Friday Agreement, and what the future can hold for all of us. https://t.co/XyyGjuSFO0

— Hillary Clinton (@HillaryClinton) October 10, 2018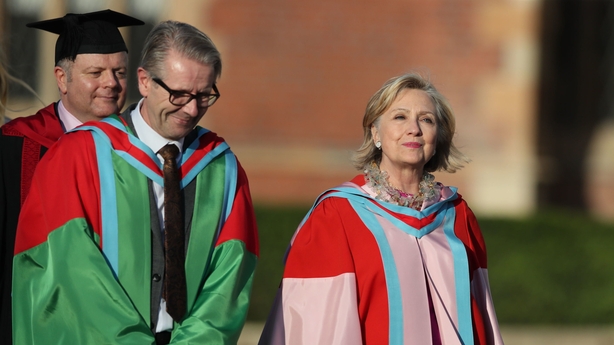 Around 800 people were in the audience for the event, including Northern Ireland's former first minister Peter Robinson, Sinn Féin deputy leader Michelle O'Neill, SDLP leader Colum Eastwood and Alliance party leader Naomi Long.
A small number of protesters, including People Before Profit MLA Gerry Carroll, gathered outside the university's grounds. Some of the protesters carried placards reading, "no honours for war criminals". 
Wearing an academic gown, Mrs Clinton took part in a procession through the grounds of the university, led by the President and Vice Chancellor Professor Ian Greer. It also included a number of professors and academics at the university.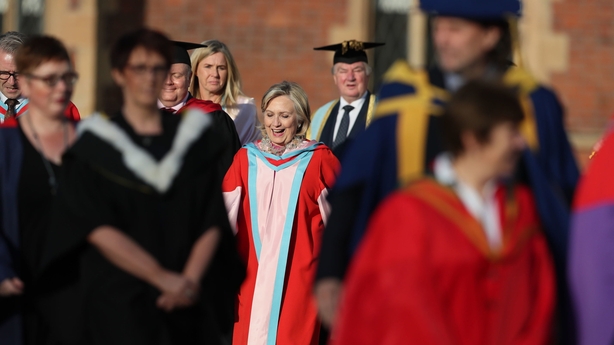 Speaking ahead of the ceremony, Prof Greer said: "We are delighted to award an honorary degree to Hillary Rodham Clinton. The former US Secretary of State is an internationally-recognised public servant, who has developed strong links with Queen's and Northern Ireland.
"She made a considerable contribution to the Northern Ireland peace process and, as Secretary of State, focused on economic development to underpin the emergence of a strong and competitive Northern Ireland," added Prof Greer.
"With her long-standing commitment to peace, stability and economic regeneration, she is a strong advocate for Northern Ireland and an inspirational role model for the Queen's community."