Leitrim IFA has called for the plantation of Sitka Spruce trees in the county to be stopped until a study on the environmental impact is carried out.
Farmers in Leitrim say they are very concerned about the level of afforestation in recent years, particularly by non-farmers and outside investors.
Leitrim has the highest percentage of forest cover in the country at 18.9%.
Jim McCaffrey, a farmer from Cloone in Co Leitrim, says forestry planting is taking over the county and having a detrimental effect on farming.
"If you're close to a forest it has a detrimental impact on your physical and mental wellbeing because you get a very closed in feeling from it."
"On a day to day basis I'm seeing agricultural land being taken out of use and it can never again be used for agricultural purposes and that to me is wrong in a country that is renowned for its agricultural produce," said Mr McCaffrey.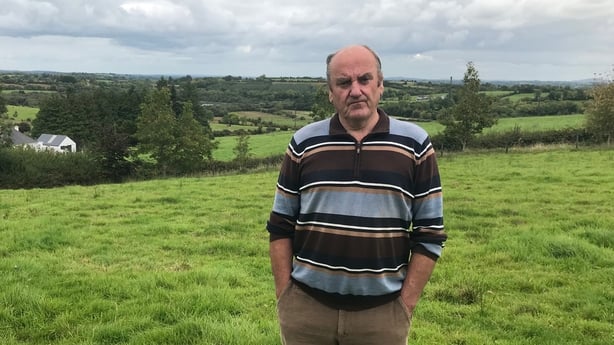 MEP Marian Harkin is calling for an end to current Government policy, which offers substantial grant aid and significant tax breaks for planting trees in parts of rural Ireland.
Ms Harkin says these incentives are driving up the cost of land in Leitrim and pushing local farmers out of the market.
"The average price of an acre of land is somewhere around €4,500. If you want to buy land for agriculture that's the average price you pay in Leitrim," she said.
"But because you have the grant aid and the higher tax breaks you can afford to pay a higher price if you are going to plant that land.
"So therefore, afforestation being driven by grant aid means that local farmers cannot compete to buy land to extend in many cases their small holdings.
"Some of the land is being bought by individual farmers, some of them from Leitrim but largely it's people outside the county pension funds, corporations and they're pushing Leitrim people out of the market."
However, Minister of State at the Department of Agriculture, Andrew Doyle, disagrees and says much of the land in Leitrim is still owned by farmers.
"If you look at the recent Farmers Journal land price survey it established that Leitrim had the lowest land prices in the country," said Mr Doyle.
"The farmer and non-farmer category as outlined in the statistics is about 50% each. In Leitrim in 2017 there were 70 sites planted.
"37 were deemed to be farmers and 33 non-farmers. The non-farmers include recently retired farmers, sons, daughters, brothers, sisters of farmers and land owners who have inherited land.
"The average hectarage of the non-farmers was about eight hectares which would hardly indicate that it's the territory of corporate investment."
He added: "Less than 1% of all forestry in the country is in institutional of corporate investment hands."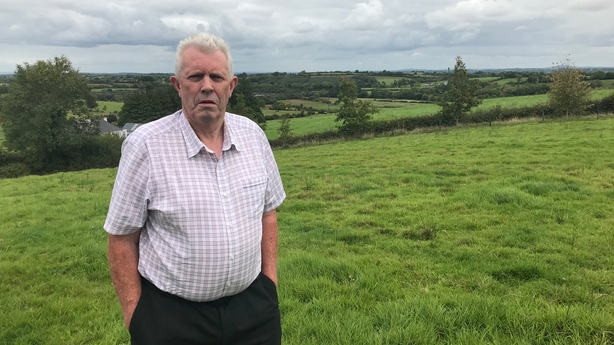 Retired farmer Sean McLaughlin says most of the afforestation is made up of Sitka spruce trees which are not native to Ireland:
"Some parts of the farms can be planted but native woodland species would be the ideal species - Oak, Elm. Sitcus Spruce is destroying - nothing grows under the canopy, all wildlife in gone.
"If a farm is planted and the farmer's land is on the southern side of it - the shadow from the plantation leaves an area that never gets the sunlight and it's always a wet piece of land."
Ms Harkin says that under EU rules 30% of all trees planted in Ireland must be broad leaf native trees: "The Government had to get permission from the EU under state aid rules to allow the 100% grant aid and part of that permission was the fact that they must ensure that 30% of the planting is native species.
"It's not even 20% so they're not even abiding by the commitments that they made to the EU as far as the type of tree that they are planting is concerned."
However, in a statement the Department of Agriculture said broadleaves occupy 28.7 % of forested land in Ireland and it said it is confident that the target of 30% will be reached by the end of the year.
Coillte owns and manages about 14,240 hectares of land in Co Leitrim, much of which is under forest.
In a statement, Coillte said the requirement for 30% of trees planted to be broadleaf relates to the National Forestry Programme afforestation targets, which is planting new forests into lands that are not currently forested.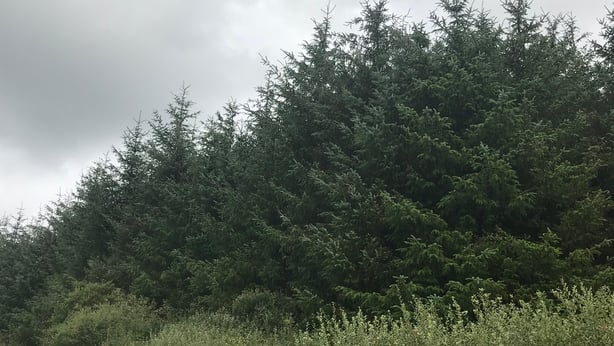 It said Coillte conducts very little afforestation and that the overwhelming majority of their tree planting is reforestation, which is replanting the same trees that have been cut for timber.
Leitrim IFA has called for the plantation of Sitka Spruce trees to be halted until a study on the environmental impacts of afforestation is carried out.
James Gallagher is the Chairman of Leitrim IFA: "The amount of forestry that's in Leitrim is having an affect on our rivers and lakes - forestry is exempt from planning the same as a house - there are no controls on pollution.
"There are no fish in some of the rivers where there once was fish. It's not farm pollution. There is no activity of farming in the areas its only forestry.
"We had a meeting in the county last Thursday and there was a resolution put forward at that meeting for discussion at national council. They want to set up a social and economic study of the environmental impacts of forestation in the county.
"Until that is done Leitrim IFA will remain opposed to any further conifer plantations."
Farmer Jim Caffrey is adamant that no more trees should be planted in the county.
"I want the Sitka spruce plantation in Leitrim stopped and I want an immediate stop. We are the most heavily afforested county in the 26.
"We have taken our share. We have enough of Sitka Spruce in Leitrim we want no more of it."