Bonfire builders who decorate their pyres with sectarian graffiti do not represent the Unionist community, the leader of Sinn Féin has said.
Speaking in the Dáil, Mary Lou McDonald said: "The North can no longer be viewed through the prism of orange and green. It is now a rainbow of identities and aspirations.
"Sinn Féin stands for a new united, inclusive and equal Ireland, an Ireland for all whether British, Irish, both or neither."
"I know many Unionists. The actions of the bonfire builders who decorate their pyres with sectarian graffiti do not represent the Unionist community," she said.
Leading PSNI officers have called for community leaders in Northern Ireland to come forward and support police activity following criticism of policing of 'Eleventh Night' bonfires.
Vehicles were hijacked and set alight overnight amid violence linked to traditional loyalist bonfires.
A suspected pipe bomb was detonated close to a police operation to clear a contentious fire site in Belfast while other security alerts prompted the closure of main roads, with one incident preventing newly-arrived passengers leaving Belfast City Airport.
Masked men also used burning cars to block roads close to the Ulster Hospital in Dundonald on the outskirts of Belfast, while a bus with passengers on board was hijacked before being set alight in nearby Newtownards.
The violence came after loyalists expressed anger at moves to limit the size of bonfires at two controversial sites in the east of the city.
Hundreds of 'Eleventh Night' bonfires were lit at midnight across Northern Ireland as part of a loyalist tradition to mark the anniversary of Protestant King William's victory over Catholic King James at the Battle of the Boyne in 1690.
The fires usher in the traditional 12 July Orange parades in Northern Ireland.
Speaking on RTÉ's News at One, PSNI Assistant Chief Constable Alan Todd said it was a busy night for the force, and for emergency services, but not unusual for 11 July.
Mr Todd said while there were concerns the UVF in east Belfast may have sought to orchestrate disorder, but there is no immediate assessment that this was the case.
He also said that in Derry, where trouble flared for a fifth night, dissident Republicans continue to exploit local young people, putting them not only in harm's way but at risk of arrest and criminal conviction.
Responding to criticism of the policing in certain areas of Northern Ireland, he rejected it as a "bit of finger pointing".
He said it is not coming from the communities impacted by them, but from those "who instead of criticising unlawful activity in Belfast seek to blame the police for an uneven approach to policing".
He also said that "hate crimes" were clearly committed at bonfires, describing them as "completely unacceptable".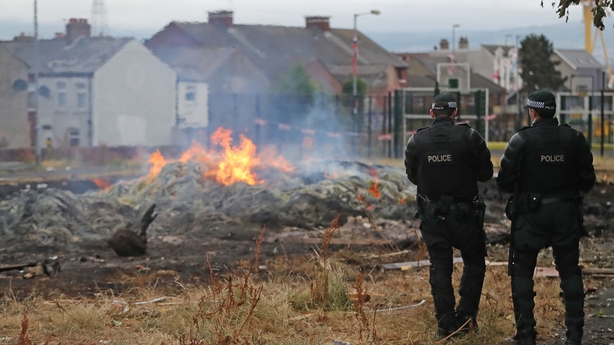 By 1am, the Northern Ireland Fire and Rescue Service had received a total of 327 emergency calls, and mobilised to 164 operational incidents - 57 of which were related to bonfires.
Fire officers said the figures represented a 23% increase on incidents attended last year, with the regional control centre at times handling an emergency 999 call every 48 seconds.
Fire appliances came under attack on three occasions, at Carn Hill in Derry, Moygashel near Dungannon and Ballycarry/Whitehead. No firefighters were injured.
While the majority of Eleventh Night fires pass off without incident each year, in recent times there have been community tensions in east Belfast over the size of the Bloomfield Walkway and Cluan Place pyres, with many residents fearful of potential damage to their properties.
Loyalists claimed they had taken steps to minimise risk to buildings this year and characterised attempts to restrict bonfires as attacks on their culture.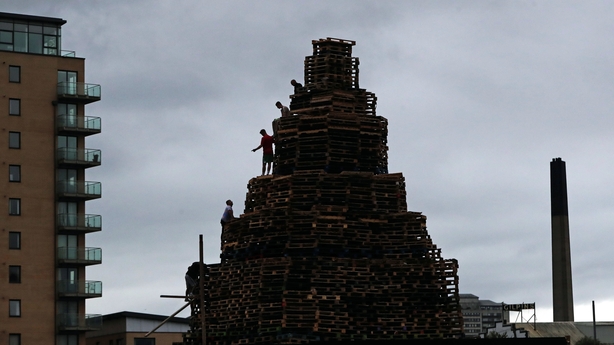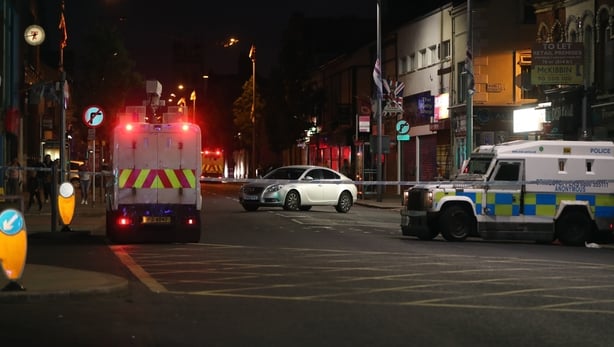 On Tuesday evening, a High Court judge in Belfast had ordered that the Bloomfield Walkway bonfire be reduced in height.
Police moved into the area in the early hours of Wednesday morning, but the structure was set alight before any material could be seized.
The Cluan Place bonfire was toppled and cleared later yesterday, with police escorting masked contractors hired to do the job. During that operation a loud bang was heard in the area and the remnants of a pipe bomb were later recovered close by.
Police said the threat from the Ulster Volunteer Force in east Belfast was directed at officers.
The PSNI has strongly urged people to desist from engaging in any violent or criminal behaviour.
In Newtownards, Co Down, a bus carrying passengers was hijacked by masked men, who were believed to have been carrying firearms.
None of the passengers were injured in the incident which took place around 7.30pm yesterday.
The bus was hijacked in Blenheim Drive and later set on fire.
There were also reports of two cars being set on fire close to the nearby Carrowreagh Road. Both roads are close to the Ulster Hospital, which has a busy Accident and Emergency Department.
There were a number of other security alerts in the east of the city through the night.
One forced the closure of the Sydenham bypass dual carriageway, meaning passengers were unable to exit the adjacent Belfast City Airport for a period.
Trouble flares for fifth straight night in Derry
Trouble also flared for a fifth consecutive night in Derry, with the disorder centred on the Bogside area of the county.
The latest disturbances came a day after dissident republicans were blamed for firing at police with an automatic weapon in the area.
On Wednesday night, youths armed with petrol bombs and stones threw missiles into the nearby unionist Fountain estate and at police stationed on the city's historic walls.
A fire was also started at the bottom of the flyover in the Bogside. Young people were seen stoking the burning wooden pallets, preventing cars from entering or exiting the roadway.
Earlier, police blamed dissident republicans for firing a volley of automatic gunfire on officers.
Six shots were fired at officers close to the city's famous walls on Tuesday night.
None of the officers were injured and the bullets were found both in the walls themselves and nearby trees.
It is believed the shots were automatic gunfire which came from the vicinity of the Bogside Inn.
Around 16 petrol bombs and five paint bombs were also thrown close to the walls and at police patrols.
The PSNI are treating the incident as attempted murder.
Northern Ireland Secretary Karen Bradley led condemnation of the incident.
"Anyone, who was in this part of the city, at this time, including children or young people could have been killed," she said.
"This murderous attack has to be condemned by all right-thinking individuals.
Earlier, the leaders of all of the main political parties united to condemn attacks on the police amid ongoing unrest in Derry.
Additional Reporting PA