The former deputy leader of the Ulster Unionist Party has denied being racist over comments made about the Taoiseach on his Twitter account.
John Taylor, who serves as a member of the British House of Lords as Lord Kilclooney, described Leo Varadkar as a "typical Indian".
He made the comment in a tweet replying to a BBC News story about DUP criticism of Mr Varadkar regarding his visit to Northern Ireland.
The peer, who is no longer a member of the UUP, said he is "certainly no racist" after his remark was met with condemnation.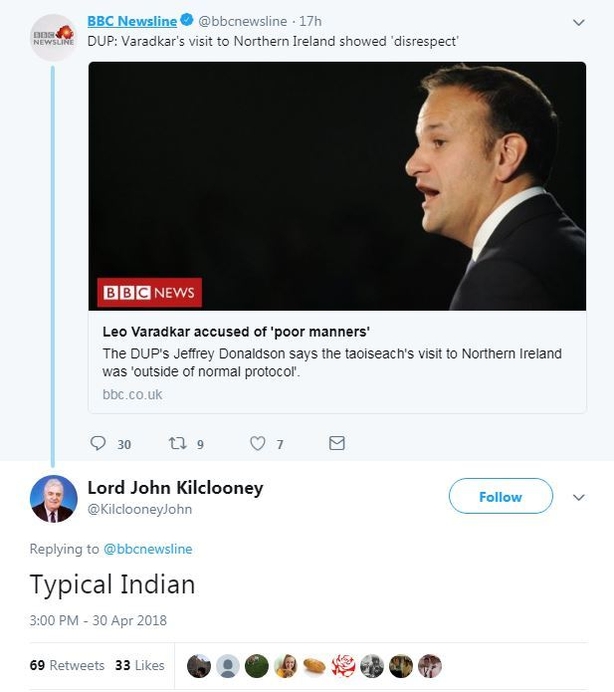 Mr Taylor later tweeted: "I am certainly no racist and in particular have an admiration for Indians. A member of the British/Indian APPG, only yesterday I had a reply from 10 Downing St asking for a relaxation of visas for Indians. My point was that the PM had upset Unionists more than Irish PMs had!"
Last November, Mr Taylor acknowledged a remark he made about Mr Varadkar had caused "upset and misunderstanding" so he was withdrawing it.
On that occasion he had referred to the Taoiseach as "the Indian".
Mr Varadkar was born in Ireland to an Irish mother and Indian father.
The Taoiseach has said he thought the twitter account was "a parody".
Sinn Féin Leader Mary Lou McDonald and Labour TD Joan Burton joined in the criticism of the tweet.
BREAKING: @MaryLouMcDonald & @joanburton round on @kilclooneyjohn for his "very obnoxious and racially charged remarks". Taoiseach @campaignforleo is aware of the racist tweet - "I did see it. I actually  had thought that was a parody account but seemingly it is not!" pic.twitter.com/81p9JS2b4z

— RTÉ Politics (@rtepolitics) May 1, 2018
"In my experience, they don't represent the attitude of the vast majority of people from any side of the community where people carry themselves with considerably more dignity and courtesy than that," she said.
Ms Burton said that "Lord Kilclooney, or John Taylor, would be well advised to apologise for the slur that he attempted to cast on you.
"He is an ardent Brexiteer and he has very hot feelings in relation to Brexit but I don't think that permits him to engage in the kind of language that he was using yesterday." 
Answering questions about his trip to Northern Ireland, the Taoiseach said that "it was a deliberately low-key visit" to Warrenpoint, Newry and Banbridge. 
He said: "I felt very welcome, whatever others have to say about it. Anytime I go north of the border, I feel very welcome on all sides."
"In terms of Lord Kilclooney's, tweet. I did see it. I actually had thought that was a parody account but seemingly it is not. It is for real. That's all I'll say about that," laughed the Taoiseach.