A report into the facilities at a fire station on Árainn Mhór off the coast of Donegal has found that it "does not fulfil minimum functional requirements."
The report - which was commissioned by the Donegal Firefighters Association - pointed to a number of ways in which the fire station did not meet minimum standards and was potentially putting fire fighters and the wider community at risk.
The station - which was built in 2003 - is located adjacent to a pub and has been reported that parking at Neily's Bar has resulted in delays in deploying the fire engine on a number of occasions.
Because the station is so cold, the report found that fire kit and other equipment could not be sufficiently dried.
It states: "damp fire kit conducts heat more than dry kit and is therefore less proactive in a fire situation as well as being less comfortable."
There is also no proper storage for communications equipment, which leaves it susceptible to damp and dust, according to the report.
The cold also impacts on the ability of firefighters to shower, and "the lack of a kitchen prevents staff from accessing basic welfare facilities."
The station - which is poorly insulated and built from steel and a mixture of glass fibre and metal panels - is not weather proof.
The building measures 7.9 metres long and 6.2m wide and apart from a small separate toilet/shower room, everything else is undivided and takes place in one room.
Normally, fire stations include an engine room, an area for cleaning breathing apparatus sets, a watch room, a drying room or laundry facilities, gear storage, a lecture room, kitchen, stores, an office and toilets and showers.
In the Árainn Mhór fire station - which serves the 500-strong island population - everything is kept in one cold, damp room.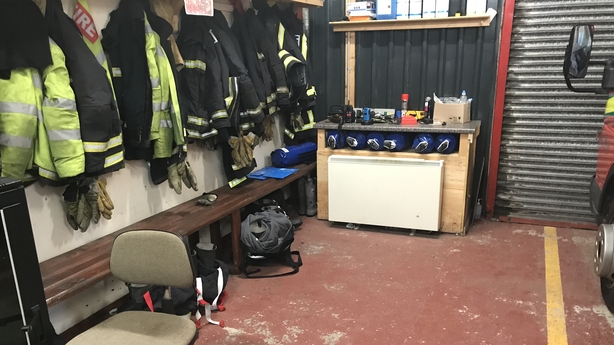 The report states: "The lack of a lecture room means that learning is carried out in poor conditions, i.e. alongside the appliance in poorly heated conditions. Safety cannot be achieved without effective training."
The report recommends that a new station be built on a new site so that conditions can be brought up to the standard of other fire stations.
It stated: "The existing station does not fulfil minimal functional requirements nor provide firefighters with facilities conducive to safety, health and welfare as required under law. The provision to the firefighters and residents of Árainn Mhór should be no less than any other station... A new build station on a new site would be an opportunity to provide good facilities not only for firefighters but also for the wider community."
Donegal County Council has been contacted for comment on the report.
Separately, a leaked email from a crew member of the Árainn Mhór fire station expressed the frustration at how they are treated differently to stations on the mainland.
He wrote: "We're requesting parity and equality with mainland stations. Headquarters are insistent that all island communities are not treated as a blue light nationally (but) it's our belief that Inis Mór, Co Galway has a fully retained fire service.
"(On Árainn Mhór) there are only two paid members on retainer, who are not paid for any callouts. We have currently four volunteer members who carry pagers and have a text alert system. One member has emigrated for work purposes. We are unable to recruit members for upcoming recruits course as the incentives are not there."
The leaked email continues: "Station Officer and Substation Officers positions do not exist, but roles of responsibility lie solely on the driver. There are no procedures in place for leave or rosters. Two members also provide volunteer cover for the ambulance. This service is used very frequently to ferry patients to the lifeboat and helicopter."
"We've been informed that we have not the same risks and equipment on the island as the mainland. We are not permitted three hour drills. We do two hour drills twice a month and get no instruction from headquarters on what  content. The station officer from Dungloe provides extra drills during the summer months."