Minister for Foreign Affairs Simon Coveney has said the next 24 hours will be vital for the talks on restoring a power-sharing Executive at Stormont.
In a statement, he said that he encouraged the DUP and Sinn Féin to "stretch themselves to find mutual accommodation and to reach a fair and balanced agreement."
Sinn Féin and the DUP met at Stormont this morning in an effort to resolve their row about the resumption of power-sharing.
In an address to Westminster, Northern Ireland Secretary of State James Brokenshire urged the parties in Northern Ireland to continue their focus on forming a power-sharing Executive. He said the parties have the full support of the UK and Irish governments. 
He said he continues to believe a deal is achievable at Stormont, and thinks an Executive could be formed as early as this week.
NI Secretary, James Brokenshire says he continues to believe that a deal on power sharing in Northern Ireland is achievable pic.twitter.com/fqRNMAF4fD

— RTÉ News (@rtenews) July 3, 2017
Mr Brokenshire said: "In the past few days, since the passing of the deadline, some progress has continued to be made including on the most challenging issues, such as language, culture and identity. But gaps remain between the parties on a defined number of issues.
"The government remains committed to working with the parties and the Irish Government to find a way to close these gaps quickly in order to reach an agreement which will pave the way for the restoration of devolved government.
"I continue to believe that a deal remains achievable and if agreement is reached, I will bring forward legislation to enable an Executive to be formed, possibly as early as this week."
However, he said it had been six months since a full Executive was in place to represent the people of Northern Ireland and warned: "This hiatus cannot simply continue for much longer."
James Brokenshire says if no agreement is reached in Northern Ireland, legislation in Westminster may be required for expenditure there pic.twitter.com/S7mENZU4oy

— RTÉ News (@rtenews) July 3, 2017
He added: "While engagement between the parties continues and there is prospect of an agreement, it is right that those discussions remain our focus.
"At the same time, we will not forget our ultimate responsibility as a government to uphold political stability and good governance in Northern Ireland."
---
Additional reporting RTÉ's Northern Editor Tommie Gorman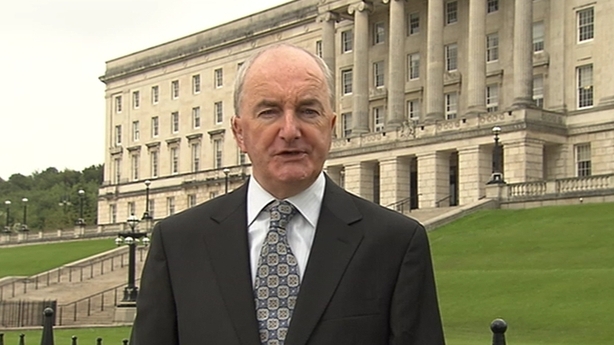 James Brokenshire's contributions in the House of Commons amount to one more holding statement.
He and the Irish Government is hoping Sinn Féin and the DUP will find a way to end their disagreement.
But if nothing happens this week, the talking may well be parked until after the marching season - and negotiations may not resume until late August or September.
The two main parties have been holding news conferences this afternoon.
DUP leader Arlene Foster said Sinn Féin has a shopping list that seems to get longer. She indicated a willingness to accommodate some of the concerns of the Irish language community, but not on the terms sought by Sinn Féin.
Sinn Féin's Declan Kearney emphasised the other side of the argument. His view is that Sinn Féin is correct to pursue a range of Irish language initiatives, on an equality and parity of esteem basis.
Minister for Foreign Affairs Simon Coveney arrived in Stormont in mid-afternoon.
He had been with Finland's foreign minister in the Co Monaghan area, giving a perspective on Brexit issues. But if there is to be a breakthrough here, it will be down to the two main parties, not the governments.
---
Sinn Féin's leader in Northern Ireland Michelle O'Neill said the DUP has failed to implement rights for citizens.
Speaking at a press conference, she accused the DUP of failing to deliver basic human rights and equality to all citizens.
She said: "What's wrong with a couple who want to be married being supported in legislation. What's wrong with a family who have bereaved 45 years ago having access to inquests. And what's wrong with someone who wants to live and speak their lives through Irish being supported in legislation."
She said those are "the problems at the core as to why the Executive is not yet up and running".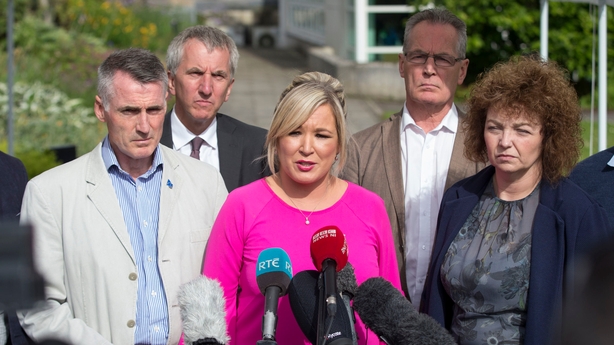 Michelle O'Neill, Sinn Féin: 'The only way you can have a sustainable Executive, is if you look after the rights of all of our citizens'. pic.twitter.com/rAMGBhMNFd

— RTÉ News (@rtenews) July 3, 2017
Ms O'Neill said there is a limited time ahead in which Sinn Féin need to see those issues progressed.
She said the party is asking for basic rights and the only way of having a sustainable Executive is by looking after the rights of all citizens.
In relation to Mr Brokenshire's statement today, Ms O'Neill said he is "pandering to the DUP". She said he has taken a crass decision in relation to political donations.
She said while she is behind transparency, she did not see where this fit into the context of his statement today.
Potential elements of Stormont's Irish Language Act
Earlier, at a press conference DUP leader Arlene Foster said it is regrettable that Sinn Féin wants to look to a very narrow political issue rather than deal with everybody in Northern Ireland.
She said it is long past the time when the parties should be back in government.
The onus, she said, is now on Sinn Féin as to whether they want to continue with political grandstanding or whether they want to get back to doing the job of work that needs to be done.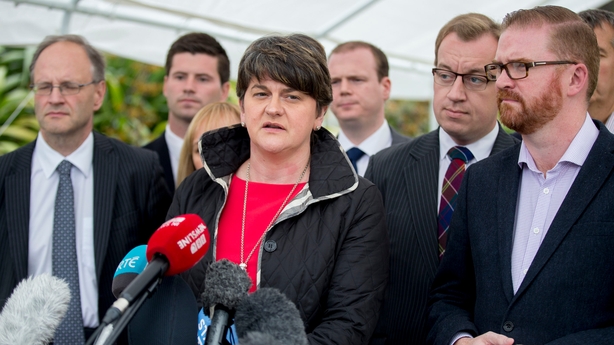 DUP's Arlene Foster tells press conference 'what we can't see is one section of the community having cultural supremacy' over others pic.twitter.com/gGV57NprlG

— RTÉ News (@rtenews) July 3, 2017
Mrs Foster told reporters that when Sinn Féin decided to collapse the Executive in January, they had little thought for the health waiting lists, the educational budgets and the community services that relied so much on the money coming from Stormont.
The DUP, she said, wanted to get the Executive back up and running as quickly as possible to deal with these issues, however she said that Sinn Féin has a shopping list which seems to get longer every time the two parties meet.