Fire units are battling several wild fires across the Ox Mountains in Co Sligo.
The Irish Air Corps is helping local Coillte and fire crews to battle up to six fires across the mountains.
Three or four fires, which started yesterday in the Arigan Valley, are now under control but two very large fires broke out in the Moy Forrest today.
Fire fighters are still trying to get those two fires under control this evening.
Take a look at the #OxMountains at the moment. We're battling with local crews. #makingitrain @defenceforces pic.twitter.com/ttCm1wGJf6

— Irish Air Corps (@IrishAirCorps) May 6, 2017
The Irish Air Corps has been transporting water from Lough Easkey to blazes to try and quench them.
Tom Kilfeather, Director of Infrastructure, Environment and Fire Services at Sligo County Council, said that 1,000 acres of land has been affected but that no properties are near the gorse fires.
The Council is hopeful that the situation is now under control, said Mr Kilfeather.
Director of Operations for Coillte, Mark Carlin, is urging people to be very careful when lighting fires if they have to light them.
He said while most of the fires started accidentally he suspects some may have been started maliciously.
Meanwhile, Northern Ireland Fire and Rescue Service has said it believes a gorse fire, which forced families to evacuate their homes in Newry, Co Down, overnight was started deliberately.
Eight fire engines and 60 firefighters tackled the blaze near a residential area on Barley Lane.
Residents were temporarily evacuated from their homes, as firefighters brought the fire under control, putting out the blaze at around 2am.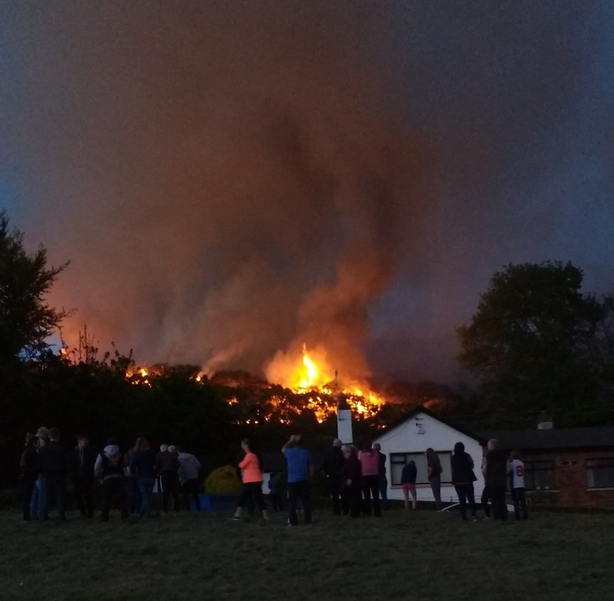 They were called to the fire nearby residential houses on Barley Lane and St Mary's high school at around 8.50pm.
Fire service group commander Brian Stanfield said: "They had to work hard in difficult conditions to bring the fire under control and extinguish the flames.
Nobody was injured and no buildings were damaged, he added.