Former British soldiers have staged a rally in Belfast to protest against the decision to prosecute retired soldiers in relation to killings in Northern Ireland during the Troubles.
The city centre event organised by Justice for Northern Ireland Veterans (JFNIV) sought to highlight what it alleges is a legal witch-hunt against former security members who served during the Troubles.
Last year, two former soldiers were told they will be prosecuted for murder over the 1972 death of IRA commander Joe McCann.
There were similar rallies in London and Glasgow.
A republican group organised its own march against the "presence of a British army parade in Belfast".
Saoradh was formed in 2016 with the backing of dissident republican prisoners and counts high-profile republican Colin Duffy among its supporters.
Around 150 participants stood on the other side of a police line holding placards and singing anti-British songs.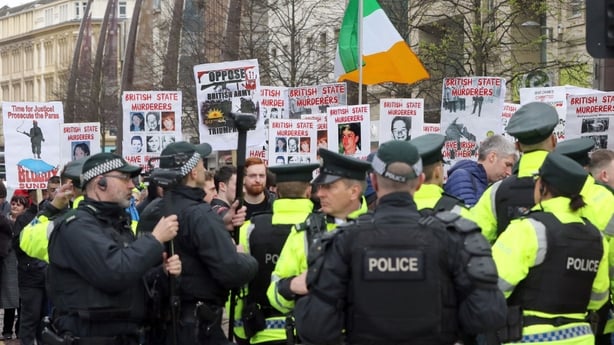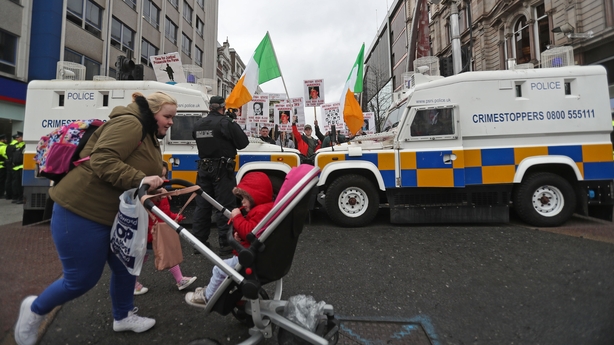 Outside City Hall, on the other side of the road, pipers played and speakers called for an end to what they alleged was unfair treatment of former security force members.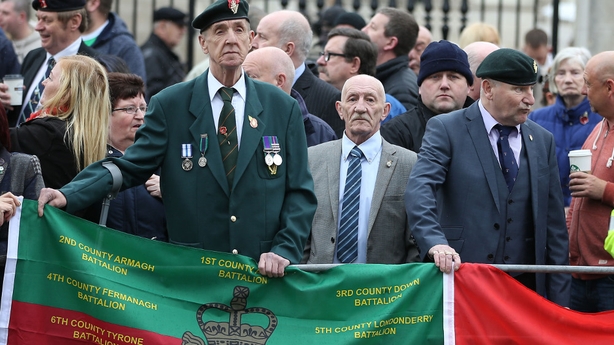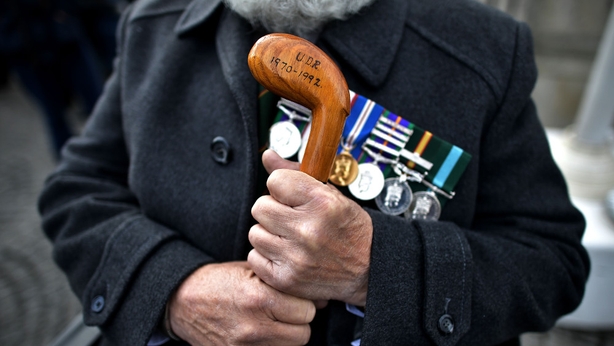 Around 200 veterans took part in the Glasgow march, which was led by Paisley Comrades Pipe Band.
Alan Dalgliesh, 53, who served with the 2nd Battalion Scots Guards between 1979 and 1994, said: "It's a bit of a witch-hunt for me.
"You join up (to the army), take your allegiance and you're doing it for the government and now they're backtracking and getting folk for their duty.
"It's just wrong that you're just waiting for that knock on the door about something that happened years ago which you did as your job.
"Every regiment, every veteran is united on this. I've heard of a couple of guys who've had a knock on their door (from police) asking: 'What happened here, what happened there?'
"But why? It's your duty, and that's what we did."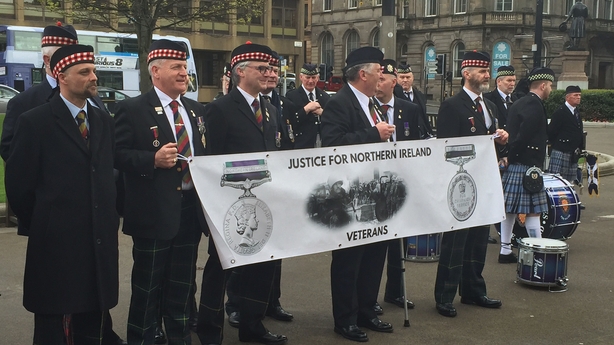 Geordie Gaughan, a former sergeant in the Argyll and Sutherland Highlanders, served for ten tours of Northern Ireland and took part in the Glasgow march.
The 76-year-old from Paisley said: "This is to show people that the Northern Ireland veterans are being forgotten about by the government.
"Everything we want to raise for veterans we have to do through charities and the Legion. We want to make people aware that we're still here.
"People are here to remember their mates, and we want to tell the government: 'We are the veterans and it's time you did something for us."'
Veterans and supporters also gathered in London, where ex-servicemen dressed in ceremonial ties and berets from several regiments gathered on steps near Horse Guards Parade.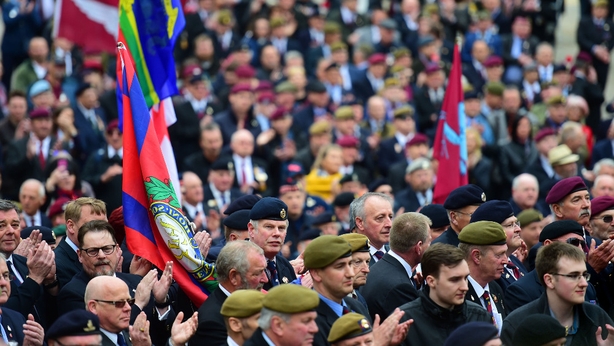 Among those who addressed the crowds adjacent to the capital's royal thoroughfare, the Mall, was former soldier Dennis Hutchings, who is facing a charge of grievous bodily harm in relation to a fatal shooting in 1974.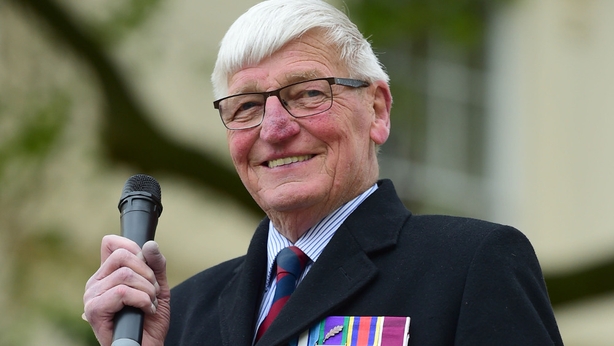 After hearing from political activists and former soldiers, the gathered ranks of supporters arranged in a column and marched to the Cenotaph, where a rendition of the Last Post was played against a swell of bank holiday traffic.
Mr Hutchings said he was "absolutely gutted" to be facing trial.
The 75-year-old, from Torpoint in Cornwall, said: "Of course I'm feeling nervous about it because you don't know what way it's going to go."
JFNIV organiser Alan Barry said he was pleased with the show of support from the estimated 3,000 people attending.
Mr Barry, who is a Northern Ireland veteran of the Grenadier Guards, said the group always agreed that genuine crimes should be prosecuted, but said the majority of investigations into alleged abuses were unfounded.
He said: "No soldier ever left barracks with the intention of committing murder.
"When we left barracks, we left barracks on patrol, and if we were fired at, we fired back."
Mr Barry said the group's "next mission" will be to march on Stormont if the British government continued to pursue prosecutions.