Talks aimed at restoring the power-sharing executive in Northern Ireland broke down this afternoon.
Sinn Féin announced that it will not be nominating for the positions of assembly speaker or deputy first minister tomorrow.
The party's leader in the assembly, Michelle O'Neill, indicated the discussions had run their course.
"Today we have come to the end of the road," she said.
However, the party's president, Gerry Adams, said he believed the issues will be addressed and agreed at some stage, but not in the phase that has a deadline of tomorrow.  
"Sinn Féin is still intent on honouring our mandate and agreements made. We want to see the institutions restored but when we said there will be no return to the status quo we meant it," said the party in a statement.
Tomorrow is the deadline for nominating a first and deputy first minister at Stormont or else Northern Ireland Secretary James Brokenshire is obliged to intervene.
Fresh elections or direct rule from Westminster could be imposed within a reasonable period.
Earlier, Mr Adams accused the Democratic Unionist Party of engaging in "a minimalist" way on all of the key issues.
Traditionally the DUP does not meet or negotiate on Sundays.
We need your consent to load this rte-player contentWe use rte-player to manage extra content that can set cookies on your device and collect data about your activity. Please review their details and accept them to load the content.Manage Preferences
Power-sharing collapsed in January after a row over a botched green energy scheme.
Sinn Féin has said it will not share power with the Democratic Unionists' leader Arlene Foster as first minister until a public inquiry into the renewable heat incentive (RHI) is concluded.
Nationalists have been seeking movement on issues including an Irish language act, a hugely symbolic measure but deeply problematic for some unionists.
They also want to see progress on legacy funding for Northern Ireland conflict victims, waiting up to 45 years for answers over how their loved ones died.
Unionists want to see greater transparency from the Irish Government over Troubles killings.
The DUP has said Sinn Féin cannot dictate who it will nominate as first minister and Ms Foster has refused to forgo the key role.
Ms Foster said sufficient progress was not achieved in the time available to form a new executive.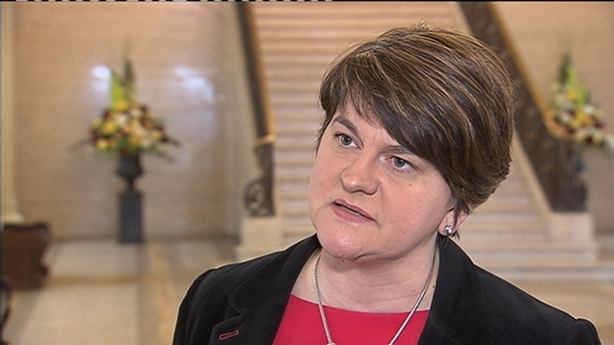 "The DUP was ready to form a new administration without pre-conditions so as to allow us to have a budget and to deal with the many matters that currently face the people of Northern Ireland.
"Negotiations will only ever be successful when parties are prepared to be flexible in order to secure outcomes.
"To date there was little to suggest that Sinn Féin want to secure agreement.
"At every opportunity they have resisted involving the other parties and consequently no round table discussions were possible during this round of discussions.
"Any future discussions will have to built on a more solid footing," said Ms Foster.
Speaking from Stormont Castle, Minister for Foreign Affairs and Trade, Charlie Flanagan said: "Despite constructive engagement by all of the parties and important progress being made during these discussions, it has not yet been possible to make the necessary breakthroughs on a small number of core issues. 
"This is a critical time for Northern Ireland. We are on the cusp of the triggering of Article 50 by the UK Government. It is the strong wish of the Irish Government to see power-sharing re-established so that the interests of the people in Northern Ireland are best protected and advanced. 
"I therefore urge the parties to avail of the remaining time available to re-engage on the few outstanding issues that divide them," added Mr Flanagan.
Mr Brokenshire spoke to British Prime Minister Theresa May this afternoon and said creating a functioning ministerial executive was a priority.
"This is the necessary first step to addressing the issues of greatest public concern, health, education and other public services in Northern Ireland.
"Even at this stage I urge political parties to agree to work to form an Executive and provide people here with the strong and stable devolved government that they want," said Mr Brokenshire.