US President Joe Biden has assured Ukrainian President Volodymyr Zelensky that strong US support for his defence against Russia's invasion of Ukraine will be maintained despite opposition from some Republican politicians to sending billions of dollars more in aid.
Mr Biden and Mr Zelensky held a meeting at the White House as part of a number of appearances the Ukraine leader made looking to bolster American backing for the war that began in February 2022 and has no end in sight.
"Mr President, we're with you, we're staying with you," President Biden told President Zelensky before reaching across the table and shaking his hand after two hours of talks.
Mr Zelensky thanked his US counterpart for a new $325 million (€305m) military aid package of weaponry and air defences, saying "it has exactly what our soldiers need now."
The Ukrainian president said he and Mr Biden agreed on specific steps to expand the export of grain from Ukraine in the face of a Russian blockade and tensions with neighbour Poland. He did not detail the steps.
President Biden's request for $24m (€22.5m) in more Ukraine funding to help pay for its defence and humanitarian aid through to the end of the year is caught up in a budget fight pushed by Republican Party hardliners in the House of Representatives.
Asked how to overcome the opposition, Mr Biden said the only way was approval by the US Congress.
"I'm counting on the good judgement of the United States Congress. There's no alternative," he said.
Comments from Republican Senator Rand Paul, a frequent critic of foreign aid, were emblematic of the opposition.
He told Fox Business News that Ukraine is a "corrupt regime" and that the war has no end in sight.
President Biden said the first American Abrams tanks will be delivered to Ukraine next week.
"Just as we're committed to helping Ukraine defend itself now, we're also committed to helping them recover and rebuild in the future, including supporting reforms that will combat corruption," he said.
The US leader added that Washington would send Ukraine a second Raytheon-built Hawk air defence battery and related equipment. A US official said the equipment would arrive in Ukraine soon.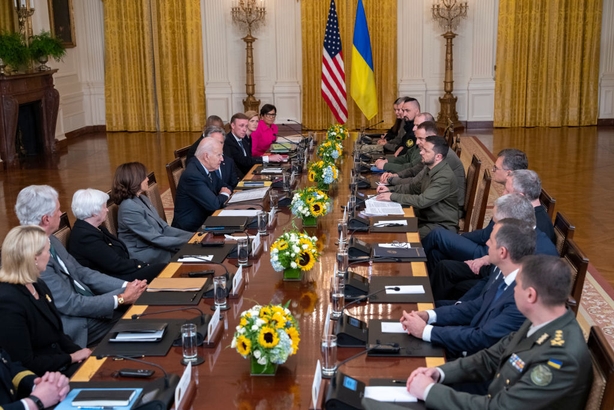 After seeking international support at the United Nations, President Zelensky came to Washington for engagements that also included talks with military leaders at the Department of Defense and a visit to the US Capitol ahead of an address at the National Archives museum.
In announcing the new military aid package for Ukraine, President Biden lauded the bravery of the Ukrainian people when he and Mr Zelensky met.
"Together with our partners and allies, the American people are determined to see to it to that (we do) all we can to ensure that the world stands with you," the US leader said in comments at the start of their meeting.
President Zelensky said Ukraine greatly appreciates American assistance "to combat Russian terror" and said he would discuss Ukraine's defence needs with Mr Biden, with a special emphasis on air defence.
"I'm in Washington to strengthen our ability to defend Ukrainian children, our families, our homes, freedom and democracy in the world," he added.
While President Biden and most congressional leaders still support aid to Ukraine, and his Democratic Party controls the Senate, Mr Zelensky faced a tougher crowd than when he visited Washington nine months ago.
Dressed in military green to reflect his status as a wartime leader, he briefed the full US Senate in the Capitol's historic Old Senate Chamber, receiving several standing ovations, according to a social media post by Senator Chris Murphy.
President Zelensky told senators that military aid was crucial to Ukraine's war effort, Majority Leader Chuck Schumer said in the chamber after the briefing, which took place behind closed doors.
"If we don't get the aid, we will lose the war," Mr Schumer quoted Mr Zelensky as saying.
The Ukrainian leader later described his meetings with politicians as frank and constructive.
He held discussions with US Defense Secretary Lloyd Austin and other senior Pentagon leaders.
He visited the Pentagon's memorial to the 11 September 2011 attacks where he and his wife each placed a bouquet of flowers.
As Ukraine's military counteroffensive grinds on and Congress stages a bitter debate over spending ahead of a possible government shutdown, a growing chorus of Republicans have questioned the billions of dollars Washington has sent Kyiv for military, economic and humanitarian needs.
The US has sent some $113 billion (€106bn) in security and humanitarian aid to help Mr Zelensky's government since Russia invaded Ukraine.
Russia launches its 'biggest attack in weeks' - Kyiv
Russia launched its biggest missile attack in weeks on Kyiv and across Ukraine, wounding at least 18 people, damaging energy facilities and causing power cuts, Ukrainian authorities said.
Partial power cuts were reported in five Ukrainian regions in the west, centre and east, bringing back memories of a Russian air campaign on critical infrastructure last winter that caused sweeping outages for Ukrainian civilians.
"Due to the consequences of the first enemy attack in six months, there is damage to energy facilities in the western and central regions," grid operator Ukrenergo said in a statement on Telegram messenger.
"There were partial blackouts in the Rivne, Zhytomyr, Kyiv, Dnipropetrovsk, and Kharkiv regions," it said.
Valeriy Zaluzhnyi, Commander-in-Chief of the armed forces, said Russia had fired 43 cruise missiles at targets overnight and that Ukrainian air defences shot down 36 of them.
"The missiles were launched in several waves. They entered Ukraine's air space from several directions, constantly changing their route," he said on Telegram.
Loud blasts rocked Kyiv and the surrounding region as dawn was breaking, Reuters witnesses said.
Authorities reported sending rescue teams to several locations in the capital.
Mayor Vitali Klitschko said seven people, including girl aged nine, were injured in the capital.
Missile debris fell in the city centre and an infrastructure facility and several non-residential buildings were damaged, causing a fire, he said.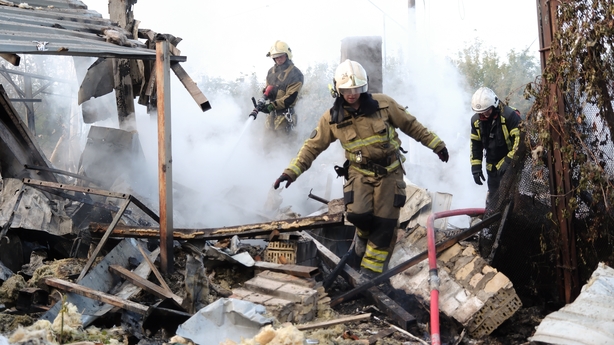 Interior Minister Ihor Klymenko said a hotel and several shopping kiosks were damaged in Cherkasy in central Ukraine and that seven people were injured.
The emergency services posted a video on Telegram showing rescuers carrying out an injured man on a stretcher as a fire rages.
The interior ministry and regional officials reported blasts in Cherkasy, Kharkiv, Khmelnytskiy, Rivne, Vinnytsia, Lviv and Ivano-Frankivsk regions.
Maksym Kozytskyi, Lviv's regional governor, said three Russian missiles hit the city of Drohobych in the west, about 60km from the Polish border.
Kozytskiy said an infrastructure facility and warehouses were hit.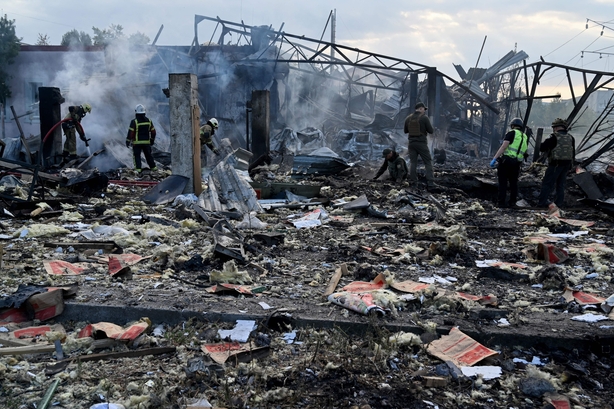 In a separate overnight attack, two people were killed by Russian shelling of a dormitory in the southern city of Kherson, governor Oleksandr Prokudin said.
The attacks come as Ukraine presses on with a counteroffensive against Russian forces in the east and south.
A Ukrainian intelligence source said Ukraine's SBU security service and navy had struck the Saky air base in Russian-occupied Crimea overnight, inflicting "serious damage".
---
---
The Russian military, meanwhile, said it had destroyed 19 Ukrainian drones over Crimea and the Black Sea, and gave no details on casualties or damage.