Russian President Vladimir Putin has claimed that a long-expected Ukrainian counter-offensive had started but that Kyiv had not reached its goals.
Russia reported heavy fighting along the front in southern Ukraine this afternoon, where bloggers described the first sightings of German and US armour, signalling that Ukraine's long-anticipated counterattack was under way.
With virtually no independent reporting from the front lines and Kyiv saying little, it was impossible to assess whether Ukraine was penetrating Russian defences in its bid to drive out occupying forces.
"We can state for sure that this offensive has begun," Russian President Vladimir Putin said in Sochi.
"Ukrainian troops did not achieve their goals in any sector," he claimed.
The counter-offensive is ultimately expected to involve thousands of Ukrainian troops trained and equipped by the West.
Russia, which has had months to prepare its defensive lines, says it has repelled attacks since the start of the week. Ukraine has said its main effort has yet to begin.
Moscow and pro-war Russian bloggers reported intense battles today on the Zaporizhzhia front near the city of Orikhiv, around the mid-point of the "land bridge" linking Russia to the Crimea peninsula, seen as one of Ukraine's likeliest targets.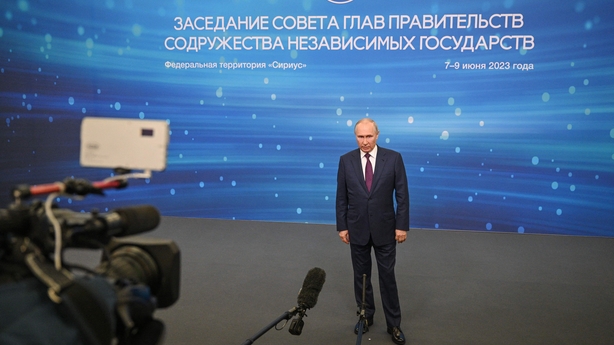 ---
---
Ben Barry, senior fellow for land warfare at the International Institute for Strategic Studies, said reports from the Russian bloggers of German-made Leopard tanks and US Bradley armoured vehicles near Tokmak south of Orikhiv, if confirmed, would provide the first evidence that Ukraine's new brigades of Western-armed troops had joined the battle.
In all, Kyiv has 12 brigades totalling 50,000-60,000 troops ready to unleash in the counter-offensive. Nine of the brigades have been armed and trained by the West.
"They've got a choice of how many they commit initially and how many they keep in reserve in case the battlefield dynamics change," Mr Barry said.
He added that Ukraine's initial priority would be trying to keep the Russians off balance and gain tactical surprise through deception and camouflage.
The Russian defence ministry said: "The armed forces of Ukraine continued attempts to conduct offensive operations in the southern Donetsk and Zaporozhzhia directions."
It said its troops had repelled two Ukrainian assaults south of Orikhiv and four near Velyka Novosilka further east, where it said Ukraine's attack force included two battalions of troops supported by tanks. Several battalions of up to 1,000 troops comprise a brigade.
Kyiv has said almost nothing about the southern front, where it is widely expected to attempt its main push towards the coast.
Deputy Defence Minister Hanna Maliar said only that battles were continuing for Velyka Novosilka and Russian troops were mounting "active defence" at Orikhiv.
In the east, Ukraine has reported gains of territory around Bakhmut, which Russian forces captured last month after nearly a year of the deadliest ground combat in Europe since World War II.
Ukraine generally bars journalists from reaching its side of front lines during offensive operations.
Flood disaster overshadows fighting
The initial days of the counter-offensive have been overshadowed this week by a huge humanitarian disaster after the destruction of the Kakhovka dam holding back the waters of the Dnipro river that bisects Ukraine.
Thousands of people have been forced to evacuate homes flooded in the war zone, vast nature preserves have been wiped out and the destruction to irrigation systems is likely to cripple agriculture across much of southern Ukraine for decades. Kyiv said at least four people had died and 13 were missing.
Ukraine's security service released a recording today of what it described as an intercepted phone call in which a Russian soldier confides to another man that a Russian sabotage group had blown the dam up. Moscow says Ukraine sabotaged it.
Western countries say they are still gathering evidence but argue that Ukraine would have no reason to inflict such a devastating disaster on itself, especially right as its forces were shifting onto the attack.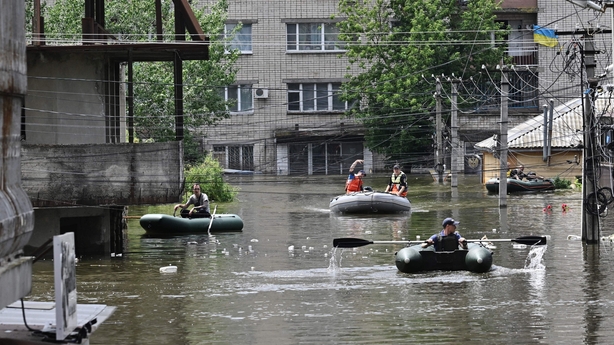 In Hola Prystan on the Russian-occupied side of the river, rescuers evacuated residents in rubber dinghies. Villagers carried pets or small children to safety.
"Our house was carried away by a torrent of water," said a woman who gave her name as Oksana, being evacuated in a boat with her teenage daughter and their two dogs.
Some relatives of people in Russian-controlled flooded areas said their loved ones were still stuck on roofs with dwindling food supplies.
The river divides the two sides, which accuse each other of shelling across it, interfering with rescue efforts.
The Kremlin said Ukrainian shelling had killed people including a pregnant woman. It provided no evidence.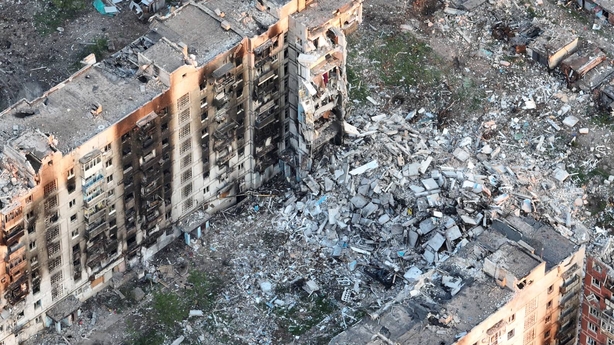 In his nightly video address, delivered on a train after a visit to the flood zone, President Volodymyr Zelensky thanked Ukrainian troops and repeated earlier claims of success in Bakhmut, but gave no further account of fighting.
"We see every detail. But it's not time to talk about it today," he said.
In the latest Russian air strikes, Ukraine said it had shot down four of six missiles overnight but that one person had been killed and three were wounded by falling debris.
It posted images on Telegram of firefighters attending the smouldering wreckage of what appeared to be homes.
The air force said two cruise missiles had struck a civilian object in the central Ukrainian region of Cherkasy. Regional governor Ihor Taburets said at least eight people were wounded.
Russian officials said Ukraine had struck the Russian city of Voronezh with a drone, wounding three people, and reported other drone attacks in Belgorod and Kursk. Kyiv withholds comment on reports of attacks inside Russia.