The situation for Russian forces trying to capture the Ukrainian city of Bakhmut is "difficult", because there are no signs that Kyiv is ready to order a withdrawal of its troops, the Russian-installed leader of Ukraine's Donetsk region has said.
Russian forces - led by the private Wagner militia - have been trying to encircle and capture the eastern Ukrainian city for months in what has turned into one of the bloodiest battles of the year-long war.
Russia, which refers to the city by its Soviet-era name of Artyomovsk, says capturing the area will allow it to launch more offensives deeper into Ukrainian territory which it says it is fighting to "liberate".
"The situation in Artyomovsk remains complex and difficult," Denis Pushilin, the Russian-installed head of Ukraine's Donetsk region, said in an interview on state television.
"That is, we do not see that there is any premise that the enemy is going to simply withdraw units," he added.
Wagner head Yevgeny Prigozhin has said his forces are in control of practically half the city and only one exit road remains available to Ukraine.
Ukrainian President Volodymyr Zelenskiy has repeatedly said he will not withdraw his forces from Bakhmut, even as Kyiv and Western officials have downplayed the strategic significance of the city, which has been decimated by months of artillery shelling and urban combat.
German Chancellor Olaf Scholz warned that it was crucial to provide Ukraine with fresh munitions as soon as possible to resist Russia's invasion.
"It is very important that we quickly supply Ukraine with the necessary munitions," Mr Scholz told the lower house of parliament, promising action at a European Union summit next week.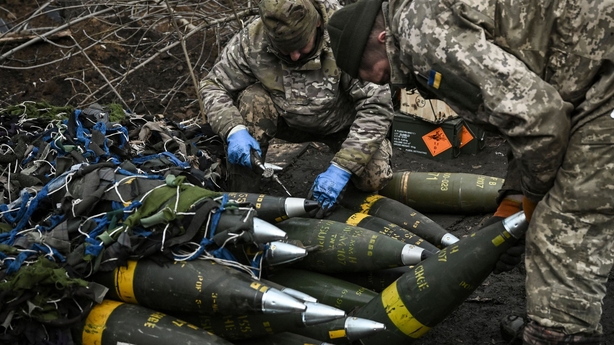 Poland to send Ukraine four MiG-29 jets in coming days
Poland will send Ukraine four MiG-29 fighter jets in the coming days, the president said, making it the first of Kyiv's allies to provide such aircraft.
One of Ukraine's staunchest supporters, Warsaw has taken a leading role in persuading sometimes hesitant allies to provide Kyiv with heavy weaponry.
It has said that any transfer of jets would be as part of a coalition.
"Firstly, literally within the next few days, we will hand over, as far as I remember, four aircraft to Ukraine in full working order," Andrzej Duda told a news conference.
"The rest are being prepared, serviced."
On Tuesday, Polish Prime Minister Mateusz Morawiecki said that deliveries could be made in four to six weeks.
Mr Duda said that Poland had roughly 10-20 MiG 29 jets.
NATO allies in the former communist east such as Poland and Slovakia have been particularly vocal supporters of Kyiv since Russia invaded Ukraine on 24 February 2022.
Slovakia has also been considering whether to send MiG-29s to Ukraine but has yet to reach a decision.
Poland has sent 14 German-made Leopard 2 tanks to Ukraine.
---
Read full coverage of the Russian invasion of Ukraine
---
Meanwhile, Poland has broken up a Russian espionage network operating in the country and detained nine people it says were preparing acts of sabotage and monitoring rail routes to Ukraine, the interior minister said.
Deadly blaze hits security building in south Russia
One person has been killed and two injured in southern Russia when a fire tore through FSB security service offices in a region bordering Ukraine.
Kyiv denied direct involvement in the incident but said authorities were following the events "with pleasure".
Images showed a massive blaze at an office block in a built-up urban area with a plume of black smoke billowing over the fire.
Several nearby buildings in the city of Rostov, 120km from the Ukraine border, were evacuated as a precaution, the regional governor announced.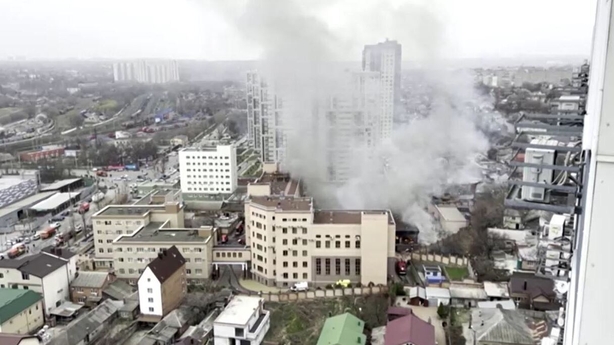 The official, Vasily Golubev, said the fire spread over 800sq/m and was sparked by a "short circuit", causing "the explosion of fuel and lubricant containers".
There have been several incidents of reported sabotage attributed to Ukrainian partisans within Russian territory since the invasion of Ukraine began.
A senior Ukrainian presidential aide Mykhaylo Podolyak said the incident instead pointed to "panic" and "internal conflict."
"Ukraine doesn't interfere, but watches with pleasure" he added in a statement on Twitter.
China calls on Ukraine, Russia to restart peace talks
China's foreign minister urged Ukraine and Russia to resume peace talks "as soon as possible", saying Beijing fears the conflict "could escalate and get out of control."
China "hopes that all parties will keep calm, exercise restraint, resume peace talks as soon as possible and return to the track of political settlement", Foreign Minister Qin Gang told his Ukrainian counterpart Dmytro Kuleba in a phone call.
The call was the first official talks between the pair since Mr Qin took office in December.
China has been criticised by Western countries for failing to condemn Russia's invasion of Ukraine.
Last month it strongly denied US claims that it was considering arms shipments to support Russia's war.
Mr Qin said China had "upheld an objective and just position on the Ukrainian issue, committed itself to promoting peace talks and called on the international community to create conditions for peace talks."