US President Joe Biden has said Kyiv "stands strong" and Ukraine "will never be a victory for Russia".
Making an address in Poland, President Biden said: "A dictator bent on rebuilding an empire will never be able to ease the people's love of liberty, brutality will never grind down the will of the free. Ukraine will never be a victory for Russia - never."
Speaking outside Warsaw's Royal Castle, Mr Biden said "Russia's Putin today is confronted by stronger democracies" and that support for Ukraine will not waiver and NATO would not be divided.
He said: "Kyiv stands strong, Kyiv stands proud, it stands tall and most importantly it stands free."
He said Russia was committing atrocities against Ukrainian people, which he described as "abhorrent".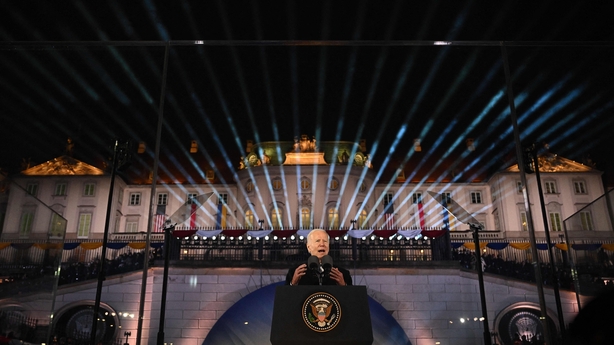 He told the crowd in Warsaw that Vladimir Putin thought he was "tough" but then met the "iron will of America".
"He thought autocrats like himself were tough and leaders of democracy were soft and then he met the iron will of America and nations everywhere that refused to accept a world governed by fear."
Earlier today, Russian President Vladimir Putin accused the West of using the Ukraine conflict to "be done" with Russia, said traitors must be punished, and proclaimed that Moscow had successfully withstood Western sanctions.
President Biden said the West was not planning an attack on Russia.
"The West is not plotting to attack Russia as Putin said today. Millions of Russian citizens who only want to live in peace with their neighbours are not the enemy," he said.
He also confirmed that further sanctions against Russia will be announced this week and that the US would host a NATO summit next year.
We need your consent to load this rte-player contentWe use rte-player to manage extra content that can set cookies on your device and collect data about your activity. Please review their details and accept them to load the content.Manage Preferences
Earlier, President Biden said NATO was stronger than ever ahead of the first anniversary of Russia's invasion of Ukraine.
"A year later, I would argue that NATO is stronger than it's ever been," Mr Biden told his Polish counterpart Andrzej Duda.
"I can proudly say that our support for Ukraine is unwavering," he said during the bilateral talks shown in part on Polish state television.
Mr Biden called Poland's support for neighbouring Ukraine and its citizens "truly extraordinary".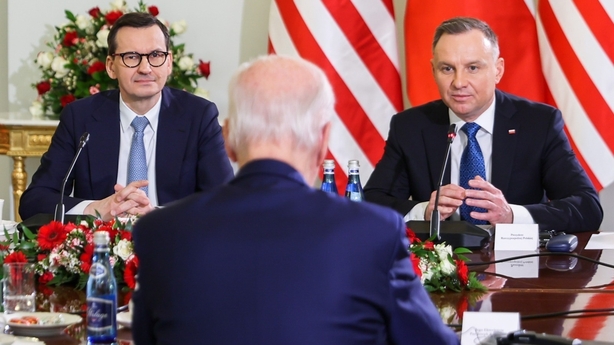 Mr Duda said that thanks to Mr Biden, "we can see that America can keep the world order".
Mr Biden, fresh from his surprise visit to the Ukrainian capital yesterday, delivered his speech in Warsaw today on America's ongoing commitment to NATO and its eastern flank.
During his visit to Kyiv yesterday, Mr Biden directly challenged Mr Putin, saying he had badly miscalculated that Ukraine would collapse and that the West would become divided.
At the Mariinsky Palce, the Ukrainian president's official residence, Mr Biden pledged fresh arms deliveries and "unwavering" US support.
"One year later, Kyiv stands. And Ukraine stands. Democracy stands," he said.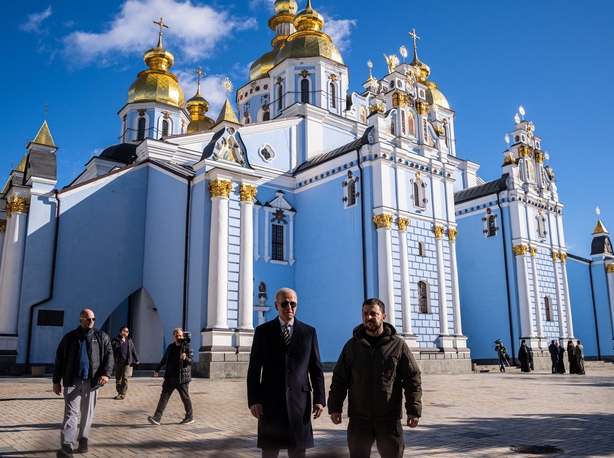 ---
Read More:
Putin blames Ukraine for war in state of nation address
Planes, trains and automobiles - how Biden got to Kyiv
A year into Ukraine war, there are only grim horizons
---
The United States has provided Ukraine with far more assistance than any other NATO country, with military, economic, humanitarian and other aid now exceeding $100bn.
During his Kyiv stop - the first Ukraine trip by a US president since 2008 - Mr Biden promised $500m in fresh arms deliveries, mentioning in particular artillery ammunition, howitzers and Javelin anti-tank missiles.
The same day, Japan offered $5.5bn worth of support.
Mr Biden's visit was organised in conditions of extraordinary secrecy.
He left Washington in the early hours of Sunday in a plane that had been parked discreetly beside a hangar in the dark with shades drawn. It landed in Poland on Sunday evening.
He was driven to the train platform and quickly boarded the ten-hour overnight service to Kyiv, arriving at 8am local time.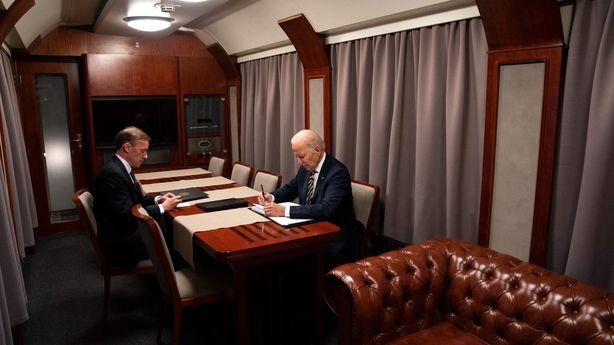 National Security Advisor Jake Sullivan said Washington notified Russia about the trip "some hours before his departure for deconfliction purposes".
He said it was "unprecedented" in modern times for a US president to visit the capital of a country at war in which the US military "does not control the critical infrastructure".
Kyiv residents said they were delighted.
"This means that the Americans are clearly and irrevocably on our side," said 50-year-old Oksana Shylo.
"It's a good sign for the Ukrainian people, for Ukraine's victory," said businessman Vladyslav Denysenko, 27.
Mr Zelensky said he and Mr Biden also discussed the possibility of supplying "long-range weapons" to Ukraine, a long-standing request from Kyiv that has been met with reticence in Washington, where there is concern that they could be used to strike deep inside Russian territory.
Mr Zelensky hailed the visit as a key sign of support.
"This conversation brings us closer to victory," he said, calling the trip and the promise of additional US arms supplies "an unequivocal signal that Russian attempts to win will have no chance".
Additional reporting AFP