United Nations chief Antonio Guterres has warned nations that he fears the likelihood of further escalation in the Russia-Ukraine conflict means the world is heading towards a "wider war."
The Secretary-General laid out his priorities for the year in a gloomy speech to the UN General Assembly that focused on Russia's invasion, the climate crisis and extreme poverty.
"The prospects for peace keep diminishing," he said of the conflict, as it approaches its one-year anniversary.
"The chances of further escalation and bloodshed keep growing. I fear the world is not sleepwalking into a wider war. I fear it is doing so with its eyes wide open."
Mr Guterres noted that top scientists and security experts had moved the "Doomsday Clock" to just 90 seconds to midnight last month, the closest it has ever been to signalling the annihilation of humanity.
The Secretary-General said he was taking it as a warning sign.
"We have started 2023 staring down the barrel of a confluence of challenges unlike any in our lifetimes," he told diplomats in New York.
"We need to wake up - and get to work," Mr Guterres added.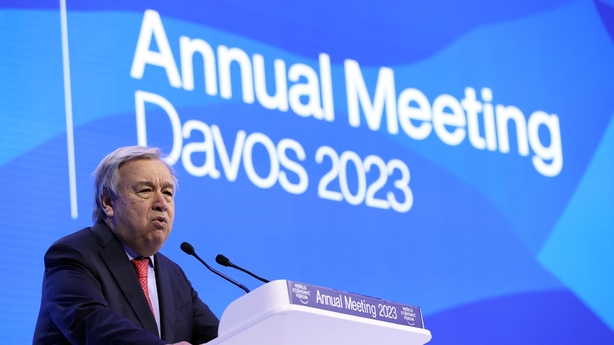 Mr Guterres also referenced other threats to peace, from the Israeli-Palestinian conflict to Afghanistan, Myanmar, the Sahel and Haiti.
"If every country fulfilled its obligations under the (UN) Charter, the right to peace would be guaranteed," he said.
He added it is "time to transform our approach to peace by recommitting to the Charter - putting human rights and dignity first, with prevention at the heart."
More broadly, Mr Guterres denounced a lack of "strategic vision" and a "bias" of political and business decision-makers towards the short term.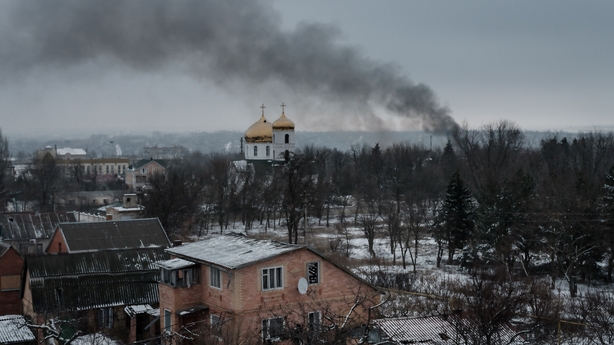 "The next poll. The next tactical political manoeuvre to cling to power. But also the next business cycle - or even the next day's stock price.
"This near-term thinking is not only deeply irresponsible - it is immoral," he added.
Stressing the need to act with future generations in mind, the Secretary-General repeated his call for a "radical transformation" of global finance.
"Something is fundamentally wrong with our economic and financial system," Mr Guterres said, blaming it for the increase in poverty and hunger, the growing gap between rich and poor, and the debt burden of developing countries.
"Without fundamental reforms, the richest countries and individuals will continue to pile up wealth, leaving crumbs for the communities and countries of the global south," he added.
Ukraine defence ministry turmoil
It comes as Ukraine has sent mixed messages about the fate of its defence minister, leaving a key post in its war effort in doubt even as it braces for a new Russian offensive.
The questions left dangling over Defence Minister Oleksiy Reznikov were the first public sign of serious disarray in Ukraine's wartime leadership, until now remarkably united during almost a year of all-out Russian military assault.
A day after announcing that Mr Reznikov would be sidelined, a top ally of President Volodymyr Zelensky appeared to row back for now, saying no personnel changes in the defence sector would be made this week.
David Arakhamia, chief of the parliamentary bloc of Mr Zelensky's party, had said the head of military intelligence, Kyrylo Budanov, would take over the defence ministry, while Mr Reznikov would be made minister of strategic industries.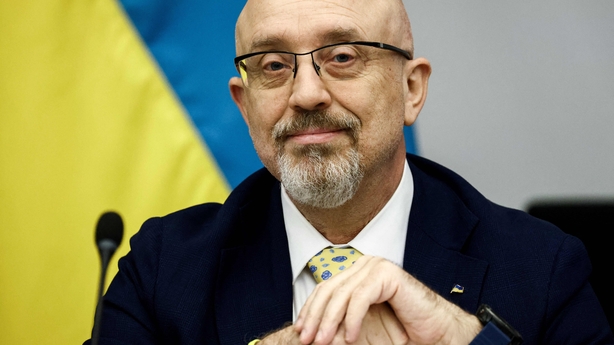 But Mr Zelensky remained silent on the issue, while Mr Reznikov said he had not been informed of any move and would reject the strategic industry job if offered it.
The confusion caps a two-week crackdown on alleged official wrongdoing in Ukraine that has led to the biggest shakeup since Russia's invasion.
Central and regional officials were fired or quit, security forces raided a billionaire's home and investigations were launched into suspected fraud at the main oil company and refinery.
The Defence Ministry was caught up in accusations it contracted to overpay for food, although Mr Reznikov was not personally accused of any wrongdoing.
Mr Zelensky says the actions are intended to show that Ukraine can be a safe steward of billions of dollars of Western aid. But they risk destabilising the political class that had stood together against Russia's invasion.
Meanwhile, Russian forces have been advancing for the first time in six months in relentless battles in the east.
A regional governor said Russia was pouring in reinforcements for a new offensive that could come as soon as next week.
'Everything will be resolved'
Mr Reznikov, a 56-year-old lawyer, has been the face of Ukraine at international meetings when allies have pledged billions of dollars in arms, and has been warmly received in Western capitals including Paris just last week.
One obstacle to replacing him with Mr Budanov, an enigmatic, fast-rising 37-year-old military intelligence officer decorated for operations that remain secret, is a rule requiring the defence minister be a civilian.
Volodymyr Fesenko, a political analyst at the Penta think-tank, said he expected Mr Budanov to request retirement from the military before his appointment, while Mr Reznikov could be given a post of special envoy, making use of his stature abroad.
"Everything will be resolved," Mr Fesenko told Reuters.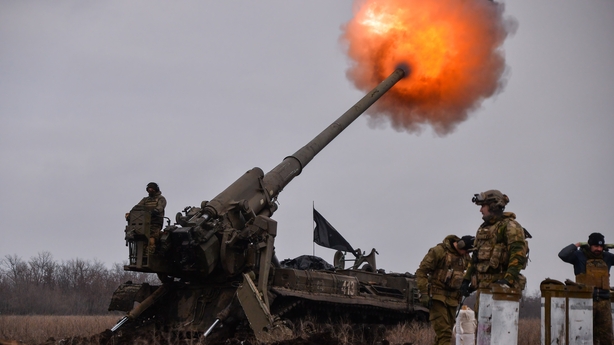 Ukraine's defence ministry did not respond to a request for comment regarding Mr Reznikov and Reuters could not immediately reach Mr Reznikov or Mr Budanov directly.
In announcing plans for the change, Mr Arakhamia said Ukraine's armed forces should be overseen by people with a background in defence or security in wartime: "War dictates changes in personnel policy," he wrote on the Telegram messaging app.
But Mr Zelensky's adviser, Mykhailo Podolyak, noted that Mr Reznikov was respected by allies: "Reznikov was extremely efficient in terms of communication with our partners. And this is a very important component in this case."
Mr Reznikov said any decision on a reshuffle was up to Mr Zelensky but the planned transfer was news to him. He would reject the strategic industry job if offered it, because he lacked the expertise, he was cited as saying by Fakty ICTVonline media.
Offensive at any time
The war is reaching a pivotal point as its first anniversary approaches, with Ukraine no longer making gains as it did in the second half of 2022 and Russia now pushing forward with hundreds of thousands of mobilised reserve troops.
Ukraine is planning its own counter-offensive, but waiting on promised Western battle tanks and infantry fighting vehicles.
Russia was sending more reserves and equipment into eastern Ukraine, Serhiy Haidai, governor of the eastern Luhansk region said on television, adding that shelling was no longer round-the-clock as Russian forces prepare for a full-scale offensive.
"After 15 Feb we can expect (this offensive) at any time," he said.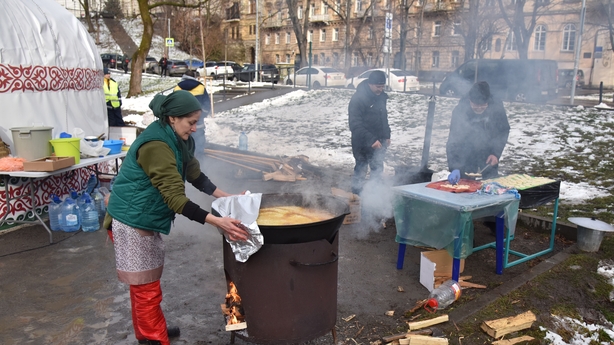 Russia's defence ministry said its forces had taken control of Mykolaivka, a small village in the adjoining Donetsk region, according to state media. There was no immediate response from Ukraine, which has disputed other Russian battlefield reports.
Russia's main target has been the town of Bakhmut, where its state media said the Wagner mercenary group had gained a foothold.
A Belarusian volunteer fighting for Ukraine inside Bakhmut said earlier that Ukrainian forces were still in control of the town, although more Russian forces were appearing daily.
"Reinforcements are also arriving for us. As far as I know, the intention isn't to surrender Bakhmut," he said.
Wagner chief Yevgeniy Prigozhin, accused by Ukraine of sending thousands of Russian ex-prisoners to their deaths around Bakhmut, released a video saying he was in a tactical bomber plane that had just bombed the town. He said he would fly a fighter jet on Tuesday and challenged Mr Zelensky to an aerial duel.
Further supports
Germany expects that it will soon have sufficient commitments from other European Union countries to send a promised contingent of Leopard-2 tanks to Ukraine, a German government spokesperson.
"Germany's commitment stands," government spokesperson Wolfgang Buechner said. He declined to name any specific countries that had so far committed to sending the German-made tank, which Ukraine says it needs to repel Russian invaders from its territory.
Germany has promised 14 of its own tanks and wants to assemble two full battalions of the battle tank in cooperation with other EU countries.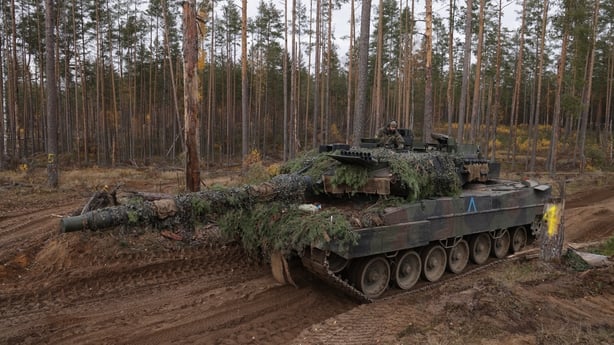 Norway's prime minister has proposed that his country, a major petroleum exporter, should provide some 75bln Norwegian krone (€6.8bln) in aid to Ukraine over five years.
"We aim to secure a unified agreement on this in parliament," Labour Party Prime Minister Jonas Gahr Stoere told a news conference after meeting Norwegian opposition leaders.
The country has seen its government income swell to record levels following Russia's invasion of Ukraine as the price of gas sold to Europe soared last year.
Mr Stoere, faced with criticism from some countries and parts of the opposition at home for indirectly profiting from the war, announced in late 2022 a plan to give multi-year aid to Ukraine, without saying how much.
In 2023, half the aid would fund military requirements while the rest would go to humanitarian needs, although this split could change in coming years, he said.
Norway should also give five billion crowns extra this year in aid to poor countries suffering from soaring global food prices in the wake of the war, Mr Stoere said.
Mr Stoere's minority government must seek parliament's approval for the funds, which will increase the annual spending of Norway's sovereign wealth fund, but the main opposition Conservative Party said it expected to back the plan, which is subject to final negotiations in coming weeks.