Ukrainian President Volodymyr Zelensky said on Saturday that the situation on the front lines in the east of the country was getting tougher and Russia was throwing more and more troops into battle.
The Kremlin has been pushing for a significant battlefield victory after months of setbacks, with Russian forces trying to close grip on the town of Bakhmut and fighting for control of a nearby major supply route for Ukrainian forces.
Russian troops are also trying to capture the coal mining city of Vuhledar, some 120 kilometres southwest of Bakhmut, also in the eastern region of Donetsk.
"I've often had to say the situation at the front is tough, and is getting tougher, and it's that time again. ... The invader is putting more and more of his forces into breaking down our defences," Zelensky said in his nightly video address.
"It is very difficult now in Bakhmut, Vuhledar, Lyman and other directions," he continued.
Earlier in the day, Deputy Defence Minister Hanna Malyar wrote on Telegram that Russian efforts to break the defences in Bakhmut and Lyman had failed.
Lyman, which lies just to the north of Bakhmut, was liberated by Ukrainian forces in October.
On Friday, Zelensky vowed that his forces will fight for Bakhmut "for as long as we can," but the situation there is becoming increasingly dire for Ukrainian forces.
---
---
The General Staff of Ukraine's Armed Forces has been reporting daily numerous combat clashes in the area and Moscow military bloggers have claimed a number of unverified Russian successes along the frontline.
The fighting around Bakhmut has been costly for Russia in terms of soldiers' lives, the Kremlin admitted.
Russia's independent news outlet Meduza reported in late January that some 40,000 of the 50,000 recruits by the powerful Wagner private military group involved in the campaign there were either dead or missing.
Reuters was not able to independently verify the reports.
Ukrainian military analyst Petro Chernyk said that the high Russian casualty count means Moscow cannot take a break to stop an offensive there to recover as it would ease combat pressure.
"And this would be an excellent condition for our counteroffensive actions," Chernyk told the 24 Kanal Ukrainian television.
'Symbolic' Russian attack expected
It comes as Ukraine expects a possible major Russian offensive this month, but Kyiv says it has the reserves to holdback Moscow's forces even though the latest Western military supplies will not all arrive in time.
Russian forces have been making incremental advances in the east as Moscow tries to capture the embattled city of Bakhmut and revive its faltering invasion after a string of battlefield setbacks in the second half of last year.
The United States on Friday announced a new $2.2 billion package of arms and munitions for Ukraine, which the Pentagon said included a new rocket-propelled precision bomb that could nearly double Kyiv's strike range against Russian forces.
They potentially give Kyiv's forces the ability to strike anywhere in the Russian-occupied Donbas, Zaporizhzhia and Kherson regions, as well as the northern part of occupied Crimea.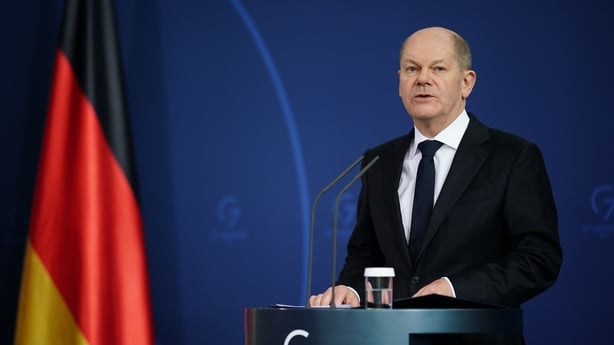 France and Italy for their part are expected to deliver mobile surface-to-air missile systems.
In an interview with the weekly Bild am Sonntag published today, German Chancellor Olaf Scholz said President Zelensky agreed that weapons supplied by the West would not be used to attack Russian territory.
Defence minister replaced
Ukrainian Defence Minister Oleksii Reznikov, under pressure from a corruption scandal at his ministry, is set to be transferred to another government job, the head of President Zelensky's parliamentary bloc said on Sunday.
David Arakhamia, chief of the Servant of the People bloc, said the defence ministry would be headed up by Kyrylo Budanov, head of the GUR military intelligence agency.
He did not say when the move would be formalised. There was no immediate comment from Reznikov.
"War dictates changes in personnel policy," Arakhamia said on the Telegram messaging app.
"Times and circumstances require strengthening and regrouping. This is what is happening now and will happen in the future...The enemy is getting ready for an offensive. We are getting ready to defend ourselves and return what is ours."