Ukrainian President Volodymyr Zelensky told the visiting US Ambassador to the United Nations that the Black Sea grain export deal that unblocked three major Ukrainian ports must be extended.
The deal, agreed in July under the mediation of the United Nations and Turkey, lifted a blockade that Russia imposed on Ukraine's Black Sea ports after the invasion.
The initiative expires on 19 November and appeared under threat last month when Moscow briefly suspended its participation in the deal before rejoining again.
Ukraine's deputy infrastructure minister told Reuters that Kyiv wants the grain export deal expanded to include more ports and goods, and hopes a decision to extend the agreement for at least a year will be taken next week.
"We maintain the line that the initiative must continue regardless of whether the Russian Federation is willing, Mr Zelensky told the ambassador, Linda Thomas-Greenfield, during talks in Kyiv.
He added on the Telegram messaging app: "Ukraine is ready to remain the guarantor of world food security."
Chair of Ukraine's Committee on Foreign Affairs Oleksandr Merezhko told an Oireachtas committee today that Ukraine is digging in for "one of the most difficult winters in our history".
Mr Merezhko said that it made "no sense" to negotiate with Russia and it would be easier "to negotiate with a wolf", appealing for Ireland to support Ukraine's efforts to export its grain harvest, which Russia is blocking.
We need your consent to load this rte-player contentWe use rte-player to manage extra content that can set cookies on your device and collect data about your activity. Please review their details and accept them to load the content.Manage Preferences
"Putin can be dealt with only from a position of strength", Mr Merezhko emphasised, urging that the Russian president be prevented from using the threat of destroying Europe's largest nuclear plant as a bargaining chip.
Mr Merezhko warned that Russia's ongoing attacks on civilian infrastructure have pushed the Ukrainian government to "discuss seriously the issue of evacuating three million" people from the capital, "which might be a big problem".
"The situation with energy is critical in Ukraine", he added, because "Russia is deliberately destroying power plants" but he insisted that they "are coping".
"Ireland is our reliable friend", he added, thanking the nation for its ongoing support.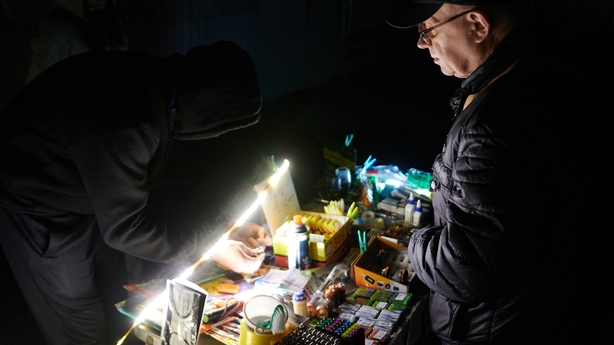 Speaking virtually at the COP27 climate conference, Mr Zelensky said that the war in Ukraine had brought a food and energy crisis to the world, forcing some to resume their use of coal.
He added that the war had destroyed five million acres of woodland in Ukraine also.
Earlier, Mr Zelensky has said he was open to talks with Russia, but only "genuine" negotiations that would restore Ukraine's borders, grant it compensation for Russian attacks and punish those responsible for war crimes.
The remarks, made in an overnight address, came days after a Washington Post report that the US wanted Ukraine to signal its willingness for talks, concerned that by appearing too intransigent Kyiv might harm its case for international support.
Speaking before he addressed world leaders at COP27, Mr Zelensky said: "Anyone who is serious about the climate agenda should also be serious about the need to immediately stop Russian aggression, restore our territorial integrity, and force Russia into genuine peace negotiations."
Ukraine has repeatedly proposed such talks, but "we always received insane Russian responses with new terrorist attacks, shelling or blackmail", he said.
"Once again - restoration of territorial integrity, respect for the UN Charter, compensation for all damages caused by the war, punishment of every war criminal and guarantees that this will not happen again. These are completely understandable conditions."
Since Russia announced the annexation of Ukrainian territory at the end of September, Mr Zelensky has decreed that Kyiv would never negotiate with Moscow as long as Vladimir Putin remains Russian president.
Kyiv officials have repeated that position in recent days, while saying that Kyiv would be willing to negotiate with Mr Putin's future successor.
---
---
"Negotiating with Putin would mean giving up, and we would never give him this gift," Zelensky adviser Mykhailo Podolyak said in an interview with Italy's La Repubblica newspaper published today.
Russia was demanding Ukraine give up territory as a pre-condition for talks, which made them impossible for now, Mr Podolyak said: "Society will never accept this. The Russian army will leave Ukrainian territory, and then dialogue will come."
Yesterday, Kremlin spokesman Dmitry Peskov repeated Moscow's position that it is open to talks but that Kyiv is refusing them. Moscow has repeatedly said it will not negotiate over territory it claims to have annexed from Ukraine.
Meanwhile it was confirmed that Mr Zelensky will take part in a summit of the Group of 20 major economies next week, most likely attending virtually.
It comes after Mr Zelensky said last week he would not take part if Mr Putin attended the summit in Indonesia, but his spokesperson, Serhiy Nykyforov, did not say whether Mr Zelensky had changed his position.
It is not yet clear whether the Russian president will attend the G20 summit in Indonesia.
UK Prime Minister Rishi Sunak hopes that the UK and allies can use the G20 meeting later this month to "confront" Mr Putin or any Russian representative who attends the meeting of world leaders.
The Prime Minister's official spokesman said: "The Prime Minister is of the view that it would be right that collectively with our allies we confront any Russian official... who attends the G20 about their ongoing illegal war and use the same messages we have been using in one voice for so many months now."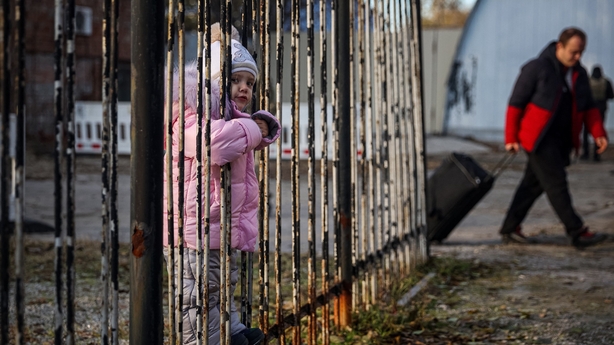 Ukrainian forces have been on the offensive in recent months, while Russia is regrouping to defend areas of Ukraine it still occupies, having called up hundreds of thousands of reservists.
Russia has been evacuating civilians from occupied areas, especially from southern Ukraine's Kherson region, in an operation that Ukraine says includes forced deportations, a war crime. Moscow says it is taking people to safety.
Separately, the Russian security services (FSB) announced the arrest of nine members of an "intelligence and sabotage group" of Ukraine's forces.
The FSB in a statement accused the group of having planned attacks against senior Russian-installed officials working in Kherson.
Explosives, grenades, ammunition and a car bomb were seized during the arrests and an investigation into "international terrorism" was opened, the FSB said.
The next big battle is expected to be over a small Russian-controlled pocket of land on the west bank of the Dnipro River, which includes Kherson city, the only regional capital Russia has captured since its invasion in February.
The city has suffered power outages after strikes Sunday for which Moscow and Kyiv have blamed each other.
Kremlin-installed authorities there said that power had been fully restored to its main city, after blaming Kyiv for attacks that disrupted water and electricity supplies.
"There is electricity, despite sabotage and attacks," Kirill Stremousov, the Russian-appointed deputy head of the Kherson region said today.
The news of the outages followed reports from Russian officials that the Kakhovka dam, also in Kherson, had been damaged by a Ukrainian strike.
The dam supplies the Crimean peninsula, which Moscow annexed in 2014 and was used as a launching pad for the beginning of the campaign in Ukraine.
Moscow's forces have said they are turning Kherson into a "fortress".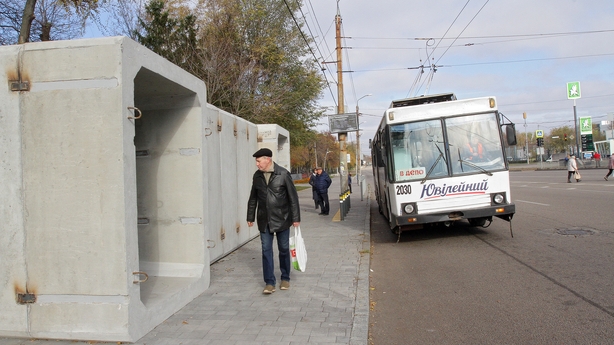 A source yesterday confirmed reports that White House National Security Advisor Jake Sullivan had held talks with Russian officials about averting escalation of the conflict. Those talks were first reported by the Wall Street Journal. The Kremlin has declined to comment on them.
The White House did not deny the talks but says it will not make diplomatic moves about Ukraine without Kyiv's involvement.
"We reserve the right to speak directly at senior levels about issues of concern to the United States. That has happened over the course of the past few months. Our conversations have focused only on ... risk reduction and the US-Russia relationship," White House spokesperson Karine Jean-Pierre told reporters.
The United States is holding mid-term elections for Congress. Although most candidates from both parties strongly support Ukraine, some right-wing Republican candidates have expressed doubt about the cost of US military aid.
Mr Zelensky urged the United States to remain united and take inspiration from Ukraine, while he received the US Liberty Medal.
"I call on you to maintain unwavering unity, as it is now, until that very day when we all hear those important words we have been dreaming of... Until we hear that peace has finally been restored. Democracies must not stop on their way to the victory.
"Ukrainians have different views on life and politics. As the case was in previous years, we felt divided arguing whether we would ever be able to stand together.
"But when Russia decided to destroy our freedom and wipe Ukraine off the face of the earth, we immediately got united and we keep this unity."
US support for Ukraine would be "unflinching and unwavering" regardless of the outcome of the congressional elections, Ms Jean-Pierre said.
This afternoon, Sweden's new prime minister Ulf Kristersson met Turkish President Tayyip Erdogan for his country's bid to join NATO at a meeting at the presidential palace.
Sweden and Finland applied to join NATO in May in response to Russia's invasion of Ukraine but Turkey raised objections, citing security concerns related to the outlawed Kurdistan Workers Party (PKK) and other groups, and over the ban on arms exports.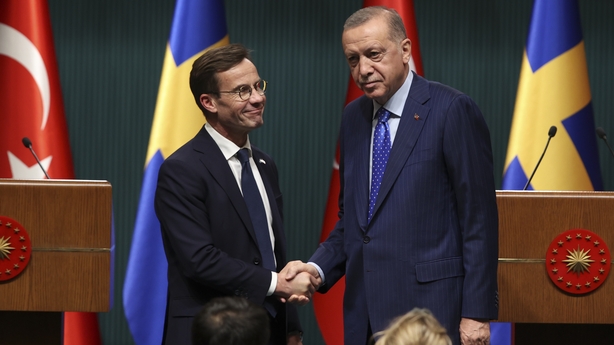 The three countries signed a memorandum in June that lifted Turkey's veto while requiring Sweden and Finland to address its remaining concerns.
Mr Erdogan said another meeting would be held later this month after meeting Mr Kristersson, who was hoping to persuade Turkey to drop its opposition to Sweden joining NATO.
"We hope to see a more positive picture when the joint meeting is organised in Stockholm towards the end of the month," he said, without specifying the date.
The application has been approved by 28 of NATO's 30 countries.
The Nordic countries said this week they were optimistic that Hungary would also drop its objections.
Additional reporting by PA