Figures from the United Nations show 7.7m Ukrainians are recorded as living in other European nations.
The tsunami of displaced people is putting pressure on the public services of some other countries trying to help them.
Already in Ireland there are accommodation challenges and in other countries essential public services, especially housing, are creaking under the pressure.
UN data also shows 4.38m of Ukrainians dispersed throughout Europe are registered for temporary protection or similar national protection schemes.
The two countries with the most Ukrainian refugees (excluding the Russian Federation which is reported as having 2.86m) are Poland and Germany.
Poland has 1.44m forced Ukrainian migrants, nearly 4% of its population while Germany has 1m or 1.2% of its population, which is 84m.
In both cases there are additional pressures on housing, health, education and other public services.
German MEP Damian Boeselager, of Volt Europa: a Pan-European political party says cities are feeling the impact.
"I think in every city it is complicated because the housing market is already difficult," said Mr Boeselager.
In Munich, according to the MEP, many Ukrainians have already started renting whilst the majority there are in private homes with volunteer families providing accommodation.
Speaking to RTÉ's Morning Ireland, he agreed the refugee influx was putting pressure on housing lists and accommodation in cities.
"In Berlin, I know that the people who have the right to apply for social housing or some support is less than ten percent. Yes, there is definitely always this challenge. It is certainly a stretch but still the right thing to do is to allow them to come," said Mr Boeselager.
"Everywhere where you have an additional amount of people coming that can create pressures," he added.
Similarly in Poland, public services are under pressure.
We need your consent to load this rte-player contentWe use rte-player to manage extra content that can set cookies on your device and collect data about your activity. Please review their details and accept them to load the content.Manage Preferences
There is a concern that scarcer public services could change Polish public opinion which presently supports mass Ukrainian migration.
"If we speak about challenges the most important issue – which will become bigger and bigger – is housing. However, the second is just access to public services," Economics Professor Pawel Kaczmarczyk, head of migration studies at Warsaw University told the same programme.
"So far the attitudes towards forced migrants from Ukraine, they are extremely positive but we are entering quite a dangerous phase when people at some point they compete over scarce resources.
"This is not a coincidence then as most of the time we are talking about public services because this is where the competition is happening and will happen in the future," added Prof Kaczmarczyk.
Countries bordering Ukraine have the biggest number of Ukrainians, such as Slovakia – which has a population of 5.4m and has taken nearly 98,000 Ukrainians (1.8%).
Finland, which has a population of 5.5m, has taken 38,000 (0.7%).
In comparison to Ireland taking about 1% of its own population.
There are 54,600 Ukrainians here according to the most recent Government figures.
Since the start of the war, nearly seven million Ukrainians are displaced within their own country and nearly three million have returned home. Nearly one-third of the country's population is displaced.
The UN lists 42 European countries in its figures.
Here is a list of where refugees are recorded (Source: UNHCR)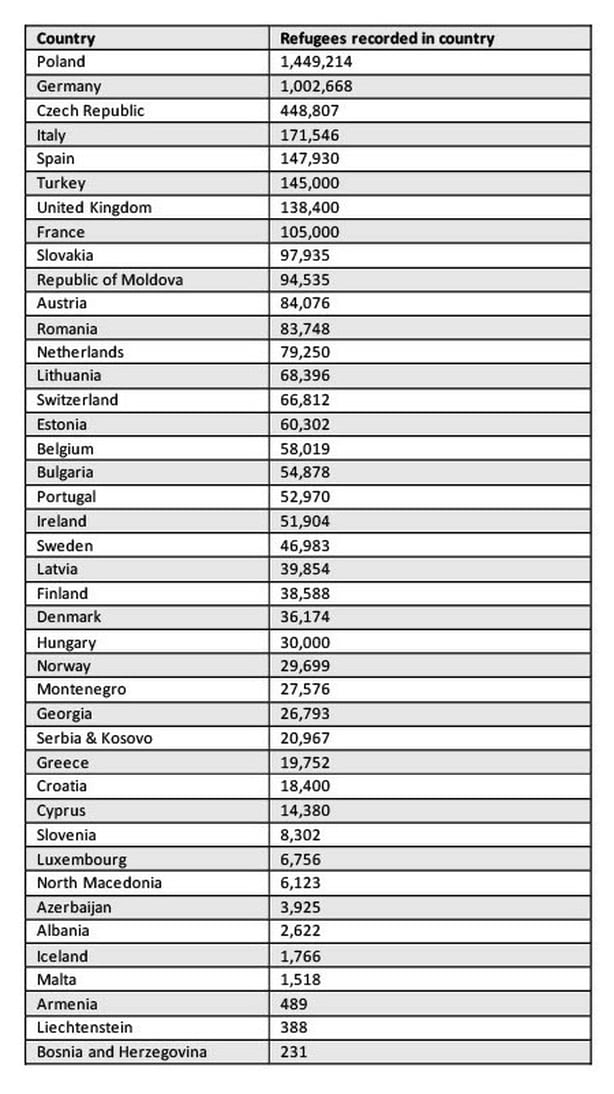 Risk of refugee homelessness
In the United Kingdom – as it is categorised by the UN data – just like in Poland, Ireland and Germany, there are accommodation challenges.
Presently there are 138,000 Ukrainians listed recorded the UK by the UN, 0.2% of its population.
Tens of thousands of refugees who have come to the UK were taken in to family homes as part of the 'Home for Ukraine' scheme.
---
Read the latest stories on the war in Ukraine
---
Kate Brown, CEO of Reset Communities and Refugees (a group that trains volunteers to welcome refugees to communities across the UK) said the scheme is running out and there is deep concern about people ending up on the streets.
"We are seeing and hearing a lot of concern about the end of the six month period, all of these thousands of refugees that have been hosted in peoples homes … the initial period of support that sponsors offered is coming to an end. There is lots of concern from refugees, sponsors, and from local authorities about what will happen at that point.
"We would really like to see government offering some ambitious policy changes – for example seeing a rental scheme to better enable refugees to be able to access the rental market.
"It is a known challenge in the UK. We have a housing crisis. What has been amazing about the 'Home for Ukraine' scheme is that it has enabled community members to open up their homes and that's been transformational for welcome.
"But of course, we all know that no one should be homeless but we also know that there are thousands of refugees that have been able to be welcomed and thousands more who are living in uncertain situations – and that is particularly concerning as it gets colder and darker".