A lightning Ukrainian counter-offensive over the last week claims to have recaptured more than 3,000 sq kilometres of territory in the space of just a few days.
For some analysts this represents a significant turning point in the war, with Russia's retreat from key areas in the northeast near Ukraine's second largest city of Kharkiv being likened to its inability to take the capital Kyiv early on in the invasion.
"The Russians are once again having to fall back and abandon an entire axis of advance," explains Justin Bronk, Senior Research Fellow with the Military Sciences team with RUSI, the Royal United Services Institute.
Speaking to RTÉ's News at One, he suggested: "Territorial victory, next year potentially, over Russia is now very much a credible prospect."
He says the Russian army has now lost a lot of its reserves, both through deaths and injuries, and will now have to work hard to stabilise its front lines as winter approaches.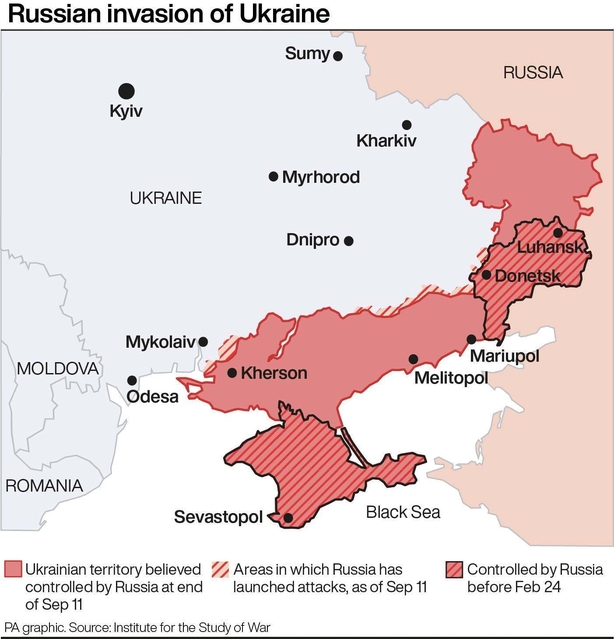 ---
1. A tactical success as Russians outnumbered
There is no doubt that the recent operation by Ukrainian troops in the northeast was a major tactical win for Ukraine, its army claiming to have recaptured 20 villages in the past 24 hours alone.
Even a Russian-installed official in the Kharkiv region has spoken about the scale on which they were outnumbered.
Vitaly Ganchev, speaking to the state-owned Rossiya-24 television channel, said Ukrainian forces had outnumbered Russians and pro-Russian forces there by up to eight times over the weekend.
He said Ukrainian forces had captured previously Russian-held settlements in the region's north, breaking through to the border with Russia, and that "about 5,000" civilians had been evacuated to Russia with "the situation... becoming more difficult by the hour".
He said the border with Russia's Belgorod region was now closed.
Before it happened, the Ukrainian government had kept consistently tight-lipped around what it was doing in the Kharkiv region and did not allow journalists to report from the frontline.
Justin Bronk explains: "The entire of Kharkiv Oblast is now clear and that's confirmed by the Russian Ministry of Defence as well. The Ukrainians now really do have the forces to potentially keep attacking."
Ukraine's advance on the key Russian supply hubs of Izium and Kupiansk this weekend will also make it more difficult for Russia to continue its attacks.
Kupiansk, previously more than 50km inside Russia's frontline, was an important target, being the junction for several of the main railway lines, supplying troops to the frontline.
Further north in Udi, a village in what had been described as a no-man's-land closer to the frontier is still being described by Ukrainian as "unsafe". It is reportedly littered with land mines, grenades and weapons left behind by fleeing Russian troops.
Ukraine's Defence Minister says its priority will now be to secure those territorial gains.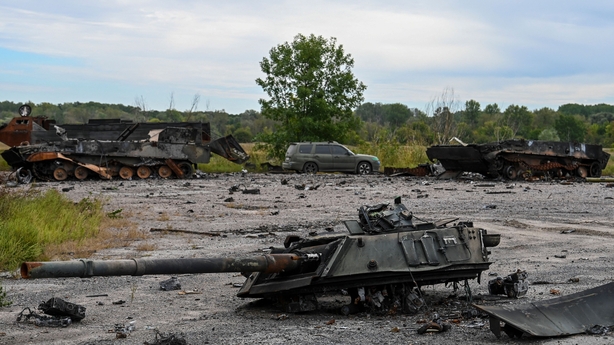 ---
2. Ukraine is also advancing in the south
Ukraine had been drumming up more attention around its counter-offensive in the southern Kherson region, which began last month.
That slower-moving offensive had seen more modest gains in recent weeks, leading to some speculation that it was a diversional, disinformation tactic, designed to cause Russia to move more of its forces to the south, leaving the northeast more vulnerable.
"[It] was a big special disinformation operation," Taras Berezovets, a former national security adviser and now press officer for the Bohun brigade of Ukraine's special forces, told The Guardian newspaper this weekend.
The much-publicised Ukrainian southern offensive was a disinformation campaign to distract Russia from the real one being prepared in the Kharkiv region, Ukraine's special forces have said.https://t.co/i6W5QeY09U

— Taras Berezovets (@TarasBerezovets) September 11, 2022
However, Ukraine said today that its forces had also recaptured a significant amount of territory in the south, amounting to 500 square kilometres.
South Command spokeswoman Natalya Gumenyuk said the gains had been made over a two-week period and that the settlements of Vysokopillia, Biloguirka, Soukhy Stavok and Myrolioubivka were now: "fully under Ukrainian flag".
Kherson is also geographically significant, as the gateway to Crimea, which was annexed by Russia in 2014.
"The much-signalled counter-offensive in the south in the Kherson region is very much ongoing," insists Justin Bronk.
"The Ukrainian forces are continuing to take territory there, albeit in a more grinding and slow attritional way. But what that means is that all of the Russian reserves being pushed into the south, to Kherson, to hold that counter offensive, can't move up north to try to stabilise that situation for the Russians, so it's really very significant."
---
3. Increased access for Ukraine inside Donbas
Those studying tactics in this war will also be closely watching what happens next in the Donbas region.
A further Russian retreat, especially east of the Oskil River which runs from Russia towards Sievierodonetsk, could soon put Ukrainian forces in position to attack territory that Russia and pro-Russian forces have held since 2014.
"A Ukrainian move into that northeast corridor... puts pressure on the Donetsk", explains Dr Patrick Bury, a former NATO analyst and army officer.
Speaking to RTÉ's Today with Claire Byrne, he said it had taken the Russians a long time to capture the twin cities of Lysychansk and Sievierodonetsk, adding: "What we're seeing is this sort of collapse so far, depending how long it goes on for, a collapse of Russian morale and cohesion."
Denis Pushilin, the leader of the pro-Russian separatist proxy administration in the province of Donetsk, has acknowledged pressure from multiple directions.
"At the very least, we have stopped the enemy at Lyman," he said in a post on Telegram overnight, referring to a frontline city east of Izium. "We'll have to see how that develops. But our boys have had clear successes."
He said these "successes" had been in fighting at Bakhmut, where Russia has long been concentrating its offensive, as well as Vuhledar further south.
However, separatists will be watching what happens to the north very closely.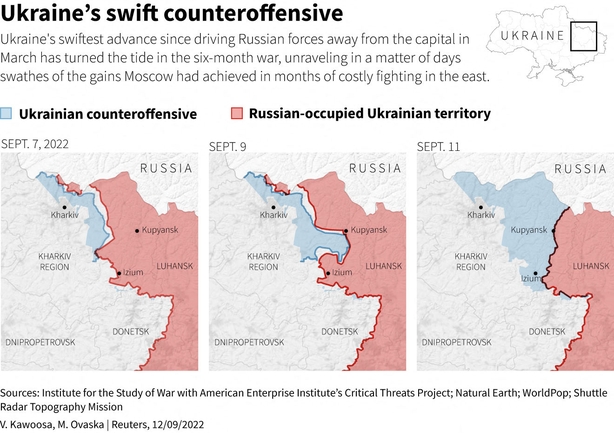 ---
4. A call for more Western weapons
The Russian retreat from part of the northeast near Kharkiv could also mean that the West is more likely to continue weapons supplies to Ukraine.
"Ukrainians have demonstrated an extremely emphatic ability with large scale forces in an offensive way to get their territory back," says Justin Bronk.
He says this will be extremely important for Ukraine and its relations with the West, as winter approaches.
"Ukraine is going to remain and is extremely dependent, on not just military supplies, particularly ammunition but also economic aid because Russia has essentially destroyed much of its economy," he explains.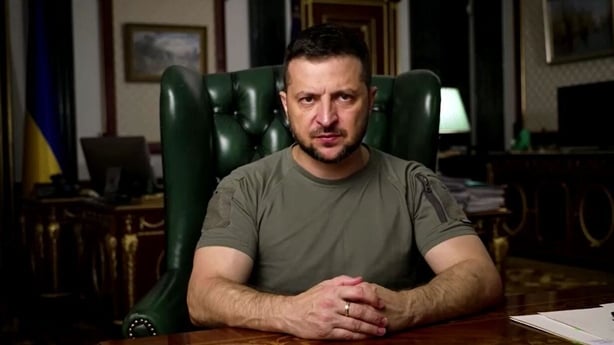 Some governments across Europe have been wrangling with how to justify spending money on military support for Ukraine, whilst their own people face a massive cost-of-living crisis that has seen energy bills soar as the supply of Russian gas is turned off.
In Prague, for example a massive protest called "Czechia in the first place", saw more that 50,000 people take to the streets in anti-government protests with many people saying resources spent on Ukraine would be better spent at home.
Alexander Rodnyansky, an adviser to President Volodymyr Zelensky, said today:
"We have to keep the momentum. We have to keep this going. There's increasing support in Europe, I think, as they see this, that they need to supply more weapons sooner rather than later."
Ukrainian President Volodymyr Zelensky is also due to speak to US arms makers directly later this month, in an appeal for more weapons.
---
5. A psychological win as Russians ask questions
The Kremlin today insisted that Russia would still achieve its military goals in Ukraine.
In its first public response to the dramatic Ukrainian gains, spokesman Dmitry Peskov declined to answer directly, when asked by a reporter if President Vladimir Putin had confidence in the leadership of the military, answering simply: "The military operation continues. And it will continue until the goals that were originally set are achieved."
"Of course, any actions of the military that they perform as part of the special operation are reported to the Supreme Commander," Peskov said, referring to Vladimir Putin.
"The president is in round-the-clock communication with the Minister of Defence and with all military commanders. It cannot be otherwise during the special military operation."
This is a "bland holding statement," says Dr Jenny Mathers, an expert in Russian affairs and a senior lecturer at the Department of International Politics at Aberystwyth University in Wales.
She also says it is significant that so far Vladimir Putin himself has remained silent.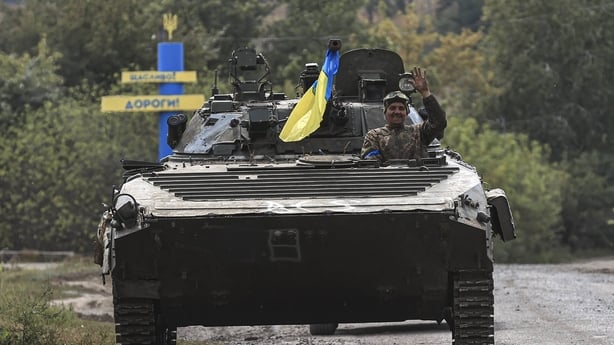 "There isn't a clear line that's come down from the top, telling the news media in Russia exactly what to say, so they're scrambling around a little bit, she told RTÉ's News at One, saying there is a large degree of shock, surprise and anger in Russia itself over the success of the Ukrainian counter-offensive.
There has been an acknowledgement on Russian State TV that the defeat has happened, but she says it has been spoken of there as a "regrouping" rather than retreat, with a focus on the Ukrainian rather than the Russian loss of lives.
Russian nationalists have called angrily for immediate changes by President Putin to ensure ultimate victory.
On Telegram, a social media channel where many Russians can still express their views on the so-called "special military operation" there, Dr Mathers says: "What we've seen is an uptick in the criticism from the more hawkish end of the political spectrum. People who are in favour of the war are now more angry and complaining about the fact that the war is not going their way and they're saying: 'Where are all these mistakes being made?'"
In an 11-minute-long voice message posted to Telegram, Chechen leader Ramzan Kadyrov, a Putin ally whose troops have been at the forefront of the campaign in Ukraine, conceded that the campaign was not going to plan: "If today or tomorrow changes are not made in the conduct of the special military operation, I will be forced to go to the country's leadership to explain to them the situation on the ground," he said.
---
What happens next?
The long-term consolidation of Ukrainian gains in the northeast depends on several factors, particularly as the weather changes, heading into the winter.
The mayor of Kharkiv Ihor Terekhov said Russian strikes had again cut off power and water supplies to the city, with emergency workers already working to restore services hit by previous attacks on Sunday.
Russia says its forces will continue to strike Kharkiv and today the city's police department was hit, killing at least one person.
Since the counter-offensive, Moscow has said it sees no opening for talks with Kyiv.
In his overnight address last night, President Zelensky was also not backing down, saying Ukrainians would live without gas, water, food or heat if it meant escaping Moscow's orbit.
"Do you still think you can scare us, break us, force us to make concessions?" he said, addressing Russians.
"Cold, hunger, darkness and thirst are not as frightening or as deadly for us as your 'brotherhood and friendship'."
Additional Reporting Reuters and AFP