Ukrainian President Volodymyr Zelensky has said Russia was responsible for sweeping electricity cuts across east Ukraine, accusing Moscow of having deliberating hit civilian infrastructure.
"A total blackout in the Kharkiv and Donetsk regions, a partial one in the Zaporizhzhia, Dnipropetrovsk and Sumy regions," Mr Zelensky said in a statement on social media, blaming "Russian terrorists".
"No military facilities," he added. "The goal is to deprive people of light and heat."
The blackouts, which came after Ukrainian forces said they had recaptured dozens of towns and villages in eastern Ukraine, hit regions with pre-war populations of millions of people.
President Zelensky also confirmed Ukrainian troops had recaptured the strategic city of Izyum in the east of the country from Russian forces as part of a large-scale counter-offensive.
In an address to the nation marking 200 days since the beginning of the Russia's invasion, he thanked Ukrainian forces who "liberated hundreds of our cities and villages ... and most recently Balakliya, Izyum and Kupiansk," naming three important hubs recently captured by Kyiv's army.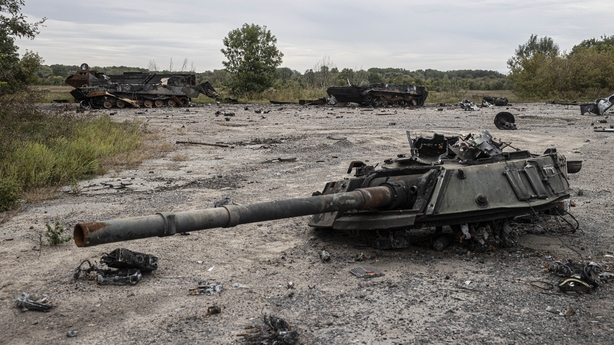 The head of the Ukrainian military announced early today that as much as 3,000 square kilometres had been wrested from Russia since the offensive began at the beginning of this month.
Military observers have said the confirmed recapture by Ukraine of Izyum would represent be a serious blow to Moscow's military ambitions in east Ukraine.
---
---
The state-run TASS news agency quoted Russia's defence ministry as saying it had ordered troops to leave the vicinity and reinforce operations elsewhere in Donetsk.
The head of Russia's administration in Kharkiv told residents to evacuate the province and flee to Russia to "save lives," TASS reported.
The fall of Izium marked Russian forces' worst defeat since they were were pushed back from the capital Kyiv in March, as thousands of Russian soldiers left behind ammunition and equipment as they fled.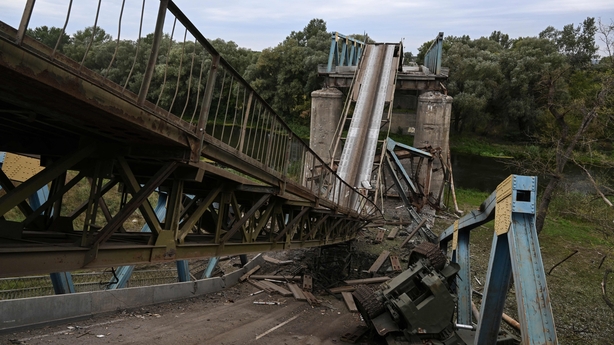 Putin warns nuclear plant attacks could be 'catastrophic'
Russian President Vladimir Putin today warned his French counterpart of the potential "catastrophic consequences" of what he said were Ukrainian attacks on the Zaporizhzhia nuclear power plant.
During a telephone call with Emmanuel Macron, Mr Putin "drew attention to regular Ukrainian attacks on (Zaporizhzhia nuclear) facilities, including a radioactive waste storage facility, which is fraught with catastrophic consequences," the Kremlin said in a statement.
The largest nuclear power plant in Europe has been a focal point of fighting in recent weeks, raising concerns of a potential nuclear incident.
We need your consent to load this rte-player contentWe use rte-player to manage extra content that can set cookies on your device and collect data about your activity. Please review their details and accept them to load the content.Manage Preferences
Mr Putin said Russian specialists at the plant were taking steps to ensure its safety and said Moscow was ready to continue work with the UN's atomic agency to agree on "non-politicised" solutions to problems at the facility.
During the call with Mr Macron, he also accused Ukrainian forces of using Western-supplied weapons to target civilian infrastructure in the eastern Donbas region of Ukraine.
It comes as operations at the Russian-held Zaporizhzhia plant have been fully stopped as a safety measure, Energoatom, the state agency in charge of the plant, said today.
The plant "is completely stopped" after the agency disconnected the number 6 power unit from the grid at 3.41am (local time), it said in a statement.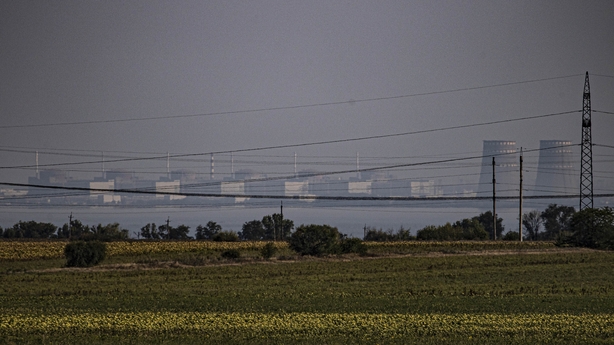 "Preparations are under way for its cooling and transfer to a cold state."
On Wednesday, Ukraine called for residents of Russian-occupied areas around the plant, Europe's largest, to evacuate for their own safety.
Russia and Ukraine accuse each other of shelling the nuclear plant, risking a nuclear disaster.
President Zelensky has called for the surrounding area to be demilitarised.
The International Atomic Energy Agency said today that a backup power line to the nuclear power plant has been restored, providing it with the external electricity it needs to cool its reactors.
A back-up power line to Ukraine's #Zaporizhzhya Nuclear Power Plant (#ZNPP) has been restored, providing the plant with the external electricity it needs for reactor cooling and other safety functions.

— IAEA - International Atomic Energy Agency (@iaeaorg) September 11, 2022