Russia's defence ministry has confirmed that it carried out an attack on a Ukrainian railway station that killed 25 people, including two children.
Yesterday's strike targeted a station in the city of Chaplyne in the region of Dnipropetrovsk.
"As of this morning, we have 25 dead, including two children, and 31 people injured, including two children," Ukrainian Railways said on Telegram.
Ukrainian President Volodymyr Zelensky first announced the strike yesterday evening, as the nation marked the grim milestone of six months of war and its annual Independence Day.
"Chaplyne is our pain today," Mr Zelensky said.
The top United Nations official in Ukraine said she was shocked by the military strikes that killed children and other civilians in Chaplyne and called on all parties to adhere to international law.
UN humanitarian coordinator for Ukraine Denise Brown said: "I am truly shocked by the strikes that yesterday killed and injured civilians close to the rail station in Chaplyne, in central Ukraine.
"Children were killed in this attack and they died in places where they expected to be safe, in their homes or travelling with their families."
The EU's chief diplomat, Josep Borrell, strongly condemned "another heinous attack by Russia on civilians".
The EU's high representative for foreign affairs tweeted, "Those responsible for Russian rocket terror will be held accountable."
The EU strongly condemns another heinous attack by Russia on civilians: in #Chaplyne on #UkraineIndependenceDay.

Those responsible for Russian rocket terror will be held accountable.

— Josep Borrell Fontelles (@JosepBorrellF) August 25, 2022
Russia claimed that the attack had killed over 200 Ukrainian troops.
"As a result of a direct hit by an Iskander missile on a military train at the Chaplyne railway station in the Dnipropetrovsk region, more than 200 servicemen of the reserve of Ukraine's Armed Forces and 10 units of military equipment were destroyed," its defence ministry said in its daily briefing.
It added that the train was "en route to combat zones" in the eastern Donbas region that Moscow seeks to fully control.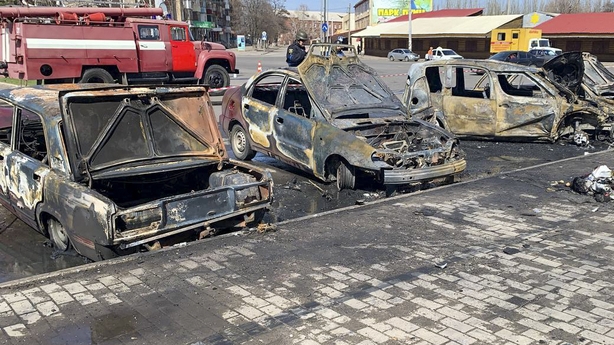 Since the war started in February, Ukraine's railways have been vital in the effort to evacuate vast swathes of the country.
In April, a rocket attack on a station in the eastern city of Kramatorsk killed at least 57 civilians as they waited on the platform to be transported west to safety.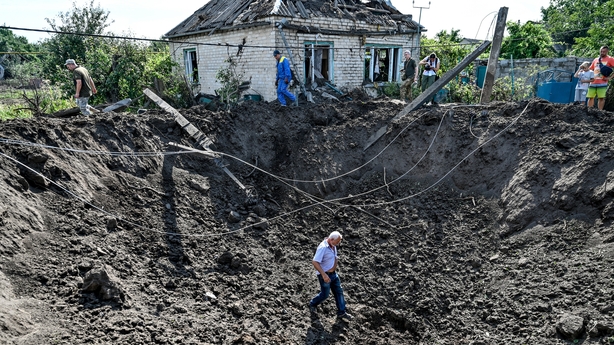 The latest attack comes as a monitoring body said that Russia has widely used cluster bombs in Ukraine, causing hundreds of civilian casualties and damaging homes, schools and hospitals.
Since Russia invaded Ukraine on 24 February, hundreds of cluster munition attacks by Russian forces have been documented, reported, or are alleged to have occurred, the Cluster Munition Coalition (CMC) said in an annual report.
Ukrainian forces also appear to have used cluster munitions several times, the monitoring group said in the 2022 report on the use of the weapons around the world.
Neither Russia nor Ukraine have joined the convention prohibiting the use, transfer, production and stockpiling of cluster bombs, which has 110 states parties and 13 other signatories.
We need your consent to load this rte-player contentWe use rte-player to manage extra content that can set cookies on your device and collect data about your activity. Please review their details and accept them to load the content.Manage Preferences
"Russia's extensive use of internationally-banned cluster munitions in Ukraine demonstrates a blatant disregard for human life, humanitarian principles and legal norms," said Mary Wareham of the Cluster Munition Monitor 2022.
---
---
As the war enters its seventh month most of the fighting between Russia and Ukraine is taking place in the south and east, with neither side conceding much territory.
Kyiv has accused Moscow of regularly striking Ukrainian cities with long-range missiles.
Meanwhile, the UN nuclear watchdog is "very, very close" to being able to go to the Russian-held Zaporizhzhia nuclear power plant, its chief Rafael Grossi told France 24 TV.
Asked if talks on gaining access to the facility had succeeded, in which case he has said his agency would go within days, Mr Grossi said: "We are very, very close to that."
The safety systems at the nuclear power plant were activated today, the RIA Novosti news agency reported, after power cuts were reported across swathes of Russian-controlled territory.
Outages were reported in parts of the Zaporizhzhia and Kherson regions, while Russia's defence ministry said Ukraine shelled the plant.
Reuters was not immediately able to verify the battlefield report.