Russian President Vladimir Putin has warned his French counterpart of the possibility of a "large-scale catastrophe" at the Zaporizhzhia nuclear power plant in Ukraine which Russian forces have taken over.
The office of French President Emmanuel Macron said that Mr Putin has agreed to a visit by a mission of experts from the UN's nuclear watchdog, the International Atomic Energy Agency (IAEA), to the site.
It added that President Macron "supported the dispatch of a mission of experts from the IAEA to the site under conditions agreed by Ukraine and the United Nations".
"The Russian side confirmed its readiness to provide the agency inspectors with the necessary assistance," a Russian statement noted.
The two men agreed to "continue contacts" following a phone conversation that President Macron had initiated. His office said that the move was justified by "the necessity to preserve Europe's nuclear safety which is at risk".
Russian state media reported that Mr Putin outlined "continuing obstacles" to Russian food and fertiliser exports through the Black Sea, and that both men had stressed the need for the IAEA to be given access to the site.
Mr Macron rejected the claims that Russian exports were being obstructed.
Meanwhile, UN Secretary General Antonio Guterres has called on Russia not to divert power from the power plant away from Ukraine's grid, following Ukrainian reports that Moscow is planning to do so.
"Obviously the electricity from Zaporizhzhia is Ukrainian electricity ... This principle must be fully respected," the UN Secretary General insisted during a visit to Ukraine's main Black Sea port of Odesa.
Ukraine's Energoatom state nuclear company claims that Russian forces intend to switch off the functioning power blocks at the plant and then disconnect them from the Ukrainian power grid.
In a statement, Energoatom accused Russia of planning a "large-scale provocation".
For its part, Moscow has accused Kyiv of itself preparing a "provocation" at the site.
State media reported today that Russia has written to the UN Security Council to outline its concerns.
The vast nuclear power plant, Europe's largest, was captured by Russian forces in March, but it is still staffed by Ukrainian technicians. Only two of its six reactors are working at full capacity.
Turning the plant off would pile additional pressure on Ukrainian supplies, which are already stretched, particularly in the south.
Turkish leader Recep Tayyip Erdogan warned of a nuclear disaster in Ukraine during his first face-to-face talks with President Volodymyr Zelensky since Russia invaded Ukraine.
A flare-up in fighting around the Zaporizhzhia plant has sparked urgent warnings from world leaders.
Mr Guterres cautioned during talks with Mr Erdogan that any damage to the plant would be akin to "suicide".
"We are worried. We don't want another Chernobyl," Mr Erdogan said during a press conference in the eastern city of Lviv, during which he also assured the Ukrainian leader that Ankara was a firm ally.
"While continuing our efforts to find a solution, we remain on the side of our Ukraine friends," Mr Erdogan said.
Speaking in Odessa today, Mr Guterres also said that there is much more to do in order to guarantee global access to Ukrainian food exports, Russian food and fertilisers, following a UN-brokered food export deal.
The UN chief said that developing countries need help to buy grain and called for unrestricted market access to Russian food and fertilisers, which are not subject to sanctions.
"This is an agreement between two parties locked in bitter conflict. It is unprecedented in scope and scale. But there is still a long way to go on many fronts," Mr Guterres said.
"It is time for massive and generous support so developing countries can purchase the food from this and other ports, and people can buy it," he added.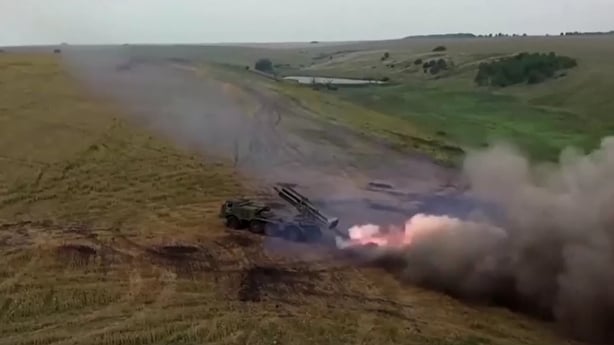 Mr Guterres said he was "gravely concerned" about the situation at the plant and that it had to be demilitarised, adding: "We must tell it like it is - any potential damage to Zaporizhzhia is suicide."
Russia, which captured the nuclear plant soon after its 24 February invasion of Ukraine, said it could shut down the facility - a move Kyiv said would increase the risk of a nuclear catastrophe.
British military intelligence today said Russia is keeping up steady bombardment of the northeastern Kharkiv front to tie down Ukrainian forces and prevent them from being used for counter-attacks in other regions.
Kharkiv, which is around 15km from Russian front lines, has been consistently shelled since the start of Russia's invasion of Ukraine as it is within range of most Russian artillery, Britain's Ministry of Defence said in its daily intelligence bulletin.
NATO member Turkey has maintained good relations with Russia, an important trade partner, and sought to mediate in the conflict, which began six months ago when Russian forces invaded neighbouring Ukraine.
"Personally, I maintain my belief that the war will ultimately end at the negotiating table. Mr Zelensky and Mr Guterres have the same opinion in this regard," Mr Erdogan said.
Also yesterday, Ukraine's port authority announced that the 25th cargo ship under the deal had departed for Egypt carrying 33,000 tonnes of grain.
Ukraine and Russia are two of the world's biggest grain exporters, and the halt in exports has seen grain prices soar and fears of a global food shortage mount.
The war has killed thousands and forced millions to flee. Moscow says its aim is to demilitarise Ukraine and protect Russian-speakers on land that Mr Putin says historically belongs to Russia.
Kyiv and the West call it an unprovoked war to conquer Ukraine and erase its thousand-year national identity.