Ukraine today said it would target Russian soldiers who shoot at the Russian-occupied Zaporizhzhia nuclear plant or use it as a base to shoot from.
It comes as both sides again accused the other of shelling Europe's largest nuclear facility.
Russian troops captured the station early in the war.
President Volodymyr Zelensky said: "Every Russian soldier who either shoots at the plant, or shoots using the plant as cover, must understand that he becomes a special target for our intelligence agents, for our special services, for our army."
Mr Zelensky, who did not give any details, repeated accusations that Russia was using the plant as nuclear blackmail.
The G7 group of nations have called on Moscow to withdraw its forces from the power station.
Ukraine's defence intelligence agency earlier warned of fresh Russian "provocations" around the plant while the exiled mayor of the town where the plant is located said it had come under fresh Russian shelling.
But local Russian-installed official Vladimir Rogov wrote on Telegram that Ukrainian forces were shelling the plant.
Ukrainian presidential adviser Mykhailo Podolyak accused Russia of "hitting the part of the nuclear power plant where the energy that powers the south of Ukraine is generated".
"The goal is to disconnect us from the (plant) and blame the Ukrainian army for this," Mr Podolyak wrote on Twitter.
"Why would 🇷🇺 fire at itself at ZNPP?" — ru-propagandists pretend to be clowns. Explaining: RF fires at the NPP's part where energy supplying south of Ukraine is stored. The goal – to disconnect us from ZNPP and blame 🇺🇦 army for this. UN and IAEA continue to stare at the ceiling

— Михайло Подоляк (@Podolyak_M) August 13, 2022
The defence intelligence agency said Russian troops had been parking a Pion self-propelled howitzer outside the nearby town and put a Ukrainian flag on it.
The agency also said that Thursday's strikes on the territory of the plant, which Ukraine says damaged water-pumping infrastructure and a fire station, had been conducted from the Russian-controlled village of Vodiane, about seven kilometres east of the plant
Meanwhile, a woman was injured and buildings were damaged after shelling in Kharkiv today.
Communal service workers spent today working in a crater, removing a damaged pipe line following the missile strike on the second largest Ukrainian city.
Some residents were forced to evacuate their homes as a result of the damage.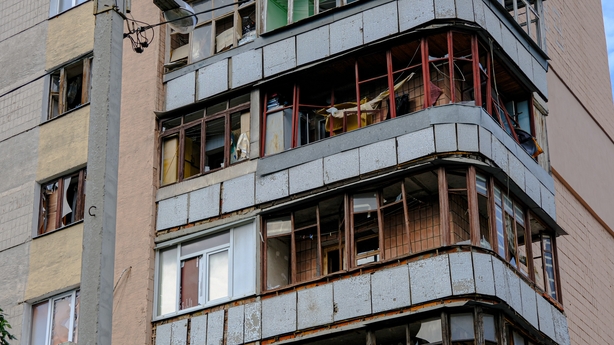 Ukraine's military command said that "fierce fighting" continued in Pisky, an eastern village which Russia had earlier today said it had full control over.
"The occupiers are trying to break through the defence of our troops in the directions of Oleksandropol, Krasnohorivka, Avdiivka, Maryinka, and Pisky," Ukraine's general staff said in its nightly briefing note on Facebook.
"Fierce fighting continues," it added.
We need your consent to load this rte-player contentWe use rte-player to manage extra content that can set cookies on your device and collect data about your activity. Please review their details and accept them to load the content.Manage Preferences