Nine Russian jets were destroyed in explosions at an air base in Crimea, Ukraine's air force said, amid reports that it is preparing to mount a counter-attack.
Russia's defence ministry claims that the explosions were the result of ammunition detonating in storage areas due to poor fire protocol.
However, there are reports that Ukrainian officials have said that its forces carried out the attack.
The airfield lies in the Saki district near Novofedorivka, on the peninsula's western coast, and is around 200km behind the front lines.
An attack so deep in Russian held territory - and the first major attack on Crimea proper - would mark a significant departure, analysts say.
One person is reported to have been killed in the explosions.
The Russian-appointed head of occupied Crimea said that the number of injured now stands at 14, with one person hospitalised.
"Only one person of the 14 wounded is hospitalised, the rest are receiving treatment at home. Thank God they have injuries of mild severity," Sergey Aksyonov told reporters.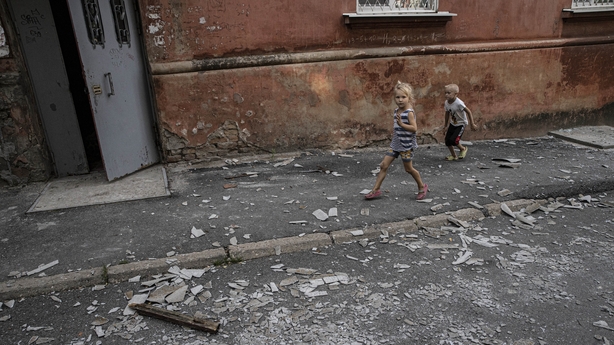 The Institute for the Study of War is a non-partisan, non-profit, public policy research organisation based in the US.
In its daily briefing on the war in Ukraine, it said that the "apparent simultaneity of explosions at two distinct facilities likely rules out the official Russian version of accidental fire, but it does not rule out either sabotage or long-range missile strike".
Ukrainian President Volodymyr Zelensky focused on Crimea in a nightly speech, but did not mention the explosions.
"Crimea is Ukrainian, and we will never give it up," Mr Zelensky insisted, in a video posted on social media.
Meanwhile, Russia has "almost certainly" established a major new ground forces formation to support its operations in Ukraine, British military intelligence has said.
This unit, called the 3rd Army Corps, is based out of the city of Mulino, east of Russia's capital Moscow, the British Defence Ministry said in its daily intelligence bulletin on Twitter.
The update also added that Russian commanders continued to face "competing operational priorities" of reinforcing its offensive in the eastern Donbas region, as well as strengthening its defence against Ukrainian counterattacks in south.
Elsewhere, 13 civilians were killed by Russian strikes in the Dnipropetrovsk region in central Ukraine, the local governor said.
"It was a terrible night. 11 people were killed," Valentin Reznichenko wrote on Telegram.
He added in a later post that two more people had died of their injuries overnight.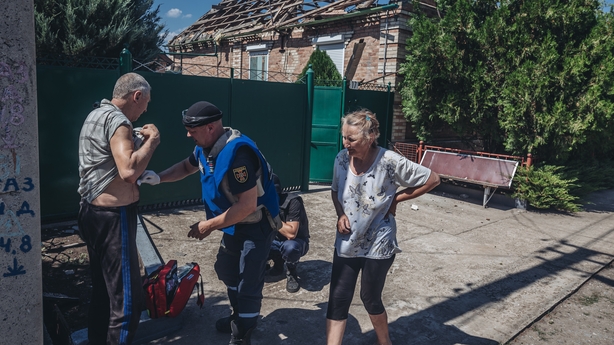 Twelve of the victims were killed in strikes on the village of Marganets, on the other side of the Dnieper River from the Zaporizhzhia nuclear power plant, said Mykola Lukashuk, the regional council head.
"Administrative buildings were damaged: high-rise buildings, a school, a cultural palace, a city council building," he said.
"In the town, the power line has been cut. Several thousand people are without electricity."
Mr Reznichenko urged residents to heed air raid sirens and find shelter.
"I am asking and begging you ... Don't let the Russians kill you," he said.
In the northern town of Bucha, 15 bodies were buried yesterday after they were found four months after Russian forces withdrew from the area.
"All the people who were shot and exhumed from a mass grave have torture marks on them," Bucha Deputy Mayor Mykhailyna Skoryk told reporters.
Ukraine and its allies accuse Russian forces of committing atrocities in Bucha, a satellite town of the capital Kyiv, after beginning its invasion on 24 February. Russia denied the allegation.
What Moscow calls a "special military operation," Ukraine and its allies say is an unprovoked imperial-style war of aggression and it is banking on sophisticated Western-supplied rocket and artillery systems to degrade Russian supply lines and logistics.
US President Joe Biden yesterday signed documents of Washington's support for Finland and Sweden joining NATO, the most significant expansion of the military alliance since the 1990s.