The head of Amnesty International's Ukrainian office is leaving the human rights group after it accused Ukraine's armed forces of endangering civilians by basing troops in residential areas.
The report listed incidents in 19 cities and towns where Ukrainian forces appeared to have put civilians in harm's way by establishing bases in residential areas.
The human rights group yesterday said it fully stood by the accusations after the report drew a furious response from the Ukrainian government.
In an address on Thursday night, Ukrainian President Volodymyr Zelensky said that Amnesty had tried to "amnesty the terrorist state and shift the responsibility from the aggressor to the victim".
Yesterday, Amnesty's Secretary General Agnes Callamard said the findings in the report "were based on evidence gathered during extensive investigations which were subject to the same rigorous standards and due diligence processes as all of Amnesty International's work".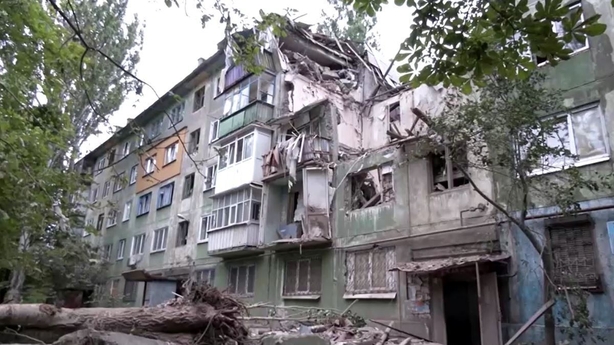 Oksana Pokalchuk, the national Amnesty leader in Ukraine, said on Facebook late last night that her office has consistently noted that the information that Amnesty issued on Thursday should take into account the position of the Ukrainian defence ministry.
"If you don't live in a country invaded by occupiers who are tearing it to pieces, you probably don't understand what it's like to condemn an army of defenders," she said.
"And there are no words in any language that can convey this to someone who has not experienced this pain."
Ms Pokalchuk said she had tried to warn Amnesty's senior leadership that the report was one-sided and failed to properly take into account the Ukrainian position, but she was ignored.
Amnesty says it contacted defence officials in Kyiv with its findings on 29 July, but had not received a response by the time of publication - but Ms Pokalchuk argued that this was not nearly enough notice.
"As a result, the organisation unintentionally put out a statement that sounded like support for Russian narratives. Striving to protect civilians, this research instead became a tool of Russian propaganda."
Ukrainian officials have said they take every possible measure to evacuate civilians from frontline areas.
Russia denies targetting civilians in what it describes as a "special military operation".
Amnesty International Ireland confirmed that "two or three" members had been in contact to express their "negative feelings" about the Ukraine report.
It said these members had threatened to withdraw their membership from the organisation.
We need your consent to load this rte-player contentWe use rte-player to manage extra content that can set cookies on your device and collect data about your activity. Please review their details and accept them to load the content.Manage Preferences
Fighting rages in Donbas
Russia and Ukraine accused each other of shelling Europe's biggest nuclear power plant at Zaporizhzhia as fighting raged again in the crucial border region of the Donbas.
UK military intelligence said that convoys of Russian military tanks, artillery and other weapons continue to move southwest from Donbas.
It added that Russia's war in Ukraine is about to enter a new phase, with most fighting shifting to a nearly 350 kilometre front stretching southwest from near Zaporizhzhia to Kherson, parallel to the Dnieper River.
Russian forces are almost certainly amassing in the south of Ukraine, anticipating a counter-offensive or in preparation for a possible assault, the UK's Ministry of Defence also said on Twitter.
Battalion tactical groups, which comprise between 800 and 1,000 troops, have been deployed to Crimea and would almost certainly be used to support Russian troops in the Kherson region, the update said.
Ukraine's forces are focusing their targeting on bridges, ammunition depots, rail links with growing frequency in its southern regions, including the strategically important railroad spur that links Kherson to Russian-occupied Crimea, it said.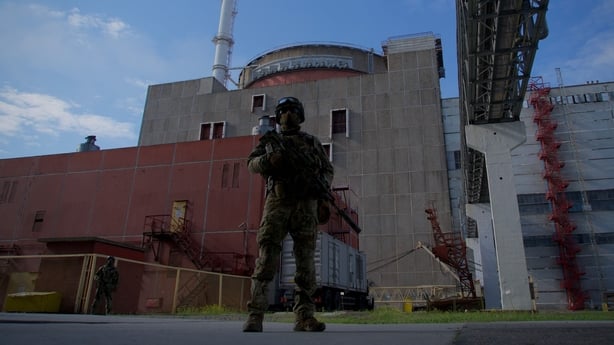 It comes as Ukraine's state nuclear power company Energoatom blamed Russia for the damage at the Zaporizhzhia power station.
Russia's defence ministry accused Ukrainian forces of shelling the plant, saying a leak of radiation had been avoided only by luck.
Shells hit a high-voltage power line at the Russian-occupied plant, prompting operators to disconnect a reactor despite no radioactive leak being detected. The plant is still run by Ukrainian technicians.