The situation in Lysychansk, a city in eastern Ukraine under Russian attack, is "extremely difficult" with relentless shelling making it impossible to evacuate civilians, the regional governor of Lugansk said.
"There is a lot of shelling and from multiple directions. The Russian army is approaching from different directions towards Lysychansk," Sergiy Gaiday said in a video posted on Telegram.
Russia's forces remain at the outskirts of the city where there is currently no street fighting, he said.
Lysychansk is the last major city the Russians need to take over in the Lugansk region, one of two provinces in the large Donbas region that Moscow wants to control completely.
Mr Gaiday dismissed claims by pro-Russian separatists fighting alongside Moscow's forces who claim to control half of the city situated across the river from neighbouring Severodonetsk, which was captured by the Russian army last week.
He said that the shelling on Lysychansk was "very powerful... meaning it is no longer possible to evacuate" the remaining 15,000 civilians still in the city, which had a population of around 100,000 before the war.
"It's very dangerous," he said, pointing out that the city's geographical position nevertheless made it easier to defend than Severodonetsk.
"We can simply say that the Russians are very numerous and are arriving from all sides. There's an incredible number of vehicles and artillery."
Also today, Russian forces abandoned the strategic Black Sea outpost of Snake Island in a victory for Ukraine that could loosen the grip of Russia's blockade on Ukrainian ports.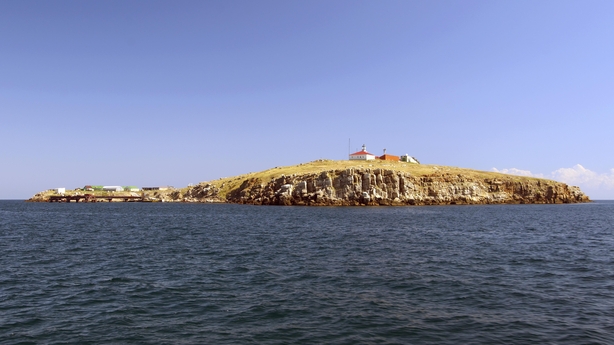 Russia said it had decided to withdraw from the outcrop as a "gesture of goodwill" to show Moscow was not obstructing UN efforts to open a humanitarian corridor allowing grains to be shipped from Ukraine.
Ukraine said it had driven the Russian forces out after an artillery and missile assault overnight.
"KABOOM!" tweeted Andriy Yermak, Ukrainian President Volodymyr Zelensky's chief of staff. "No Russian troops on the Snake Island anymore. Our Armed Forces did a great job."
In another boost for Ukraine's struggle to beat back the Russian invasion, the United States said it would provide another $800 million in weapons and military aid to Kyiv.
We need your consent to load this rte-player contentWe use rte-player to manage extra content that can set cookies on your device and collect data about your activity. Please review their details and accept them to load the content.Manage Preferences
The retaking of Snake Island came after weeks in which momentum in the four-month-old conflict appeared to be shifting in favour of Russia, which has focused its firepower on capturing cities and towns in the Donbas region of eastern Ukraine.
Ukrainian Brigadier General Oleksii Hromov said Ukrainian forces were not yet occupying the island but would do so.
The rocky outcrop overlooks sea lanes to Odesa, Ukraine's main Black Sea port, where Russia is blocking food cargos from one of the world's leading grain suppliers.
---
Read more:
Latest Ukraine stories
---
"The most significant aspect is that this could open the door to Ukrainian grain exports from Odesa, which is critical for Ukraine's economy and for the global food supply," said Rob Lee of the US-based Foreign Policy Research Institute.
Several military experts said that driving the Russians from Snake Island would not by itself be enough to unblock the ports.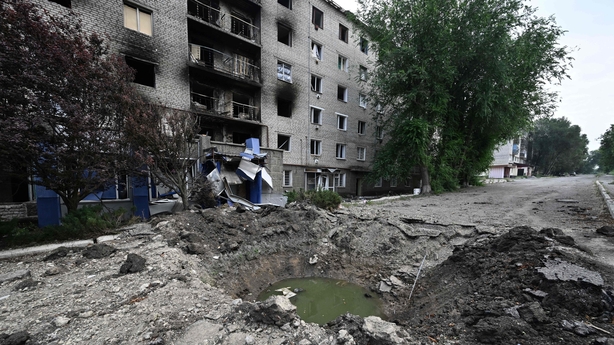 Mathieu Boulegue of the Chatham House think tank in London cautioned that the Russian move could free up the assets deployed on Snake Island to strengthen its forces elsewhere on the Black Sea coast.
"We should not be fooled by it...It might be short-term relief but there will be long-term pain," he said.
Despite yielding ground and taking punishing losses in the Donbas in recent weeks, Ukraine hopes to inflict enough damage to exhaust Russia's advancing army.
Ukrainian forces have been mounting a counter-attack in the south, where Russian-installed proxies have announced preparations for votes to join Russia.
Meanwhile, Russia's Foreign Minister Sergei Lavrov said that a new "iron curtain" was descending between Russia and the West.
"It's practically already coming into place. Let them just behave carefully," Mr Lavrov said of Western countries, during a press conference.
Russia's decision to send tens of thousands of troops into Ukraine has triggered an overhaul of Europe's foreign, defence and security policies and hardened anti-Russian sentiment across the continent.
He said Moscow would not trust Washington and Brussels "from now on" and that the EU "is not at all interested in understanding our interests".
"It is interested in what has been decided in Brussels. And what has been decided in Washington has been decided in Brussels," Mr Lavrov said.