Ukrainian President Volodymyr Zelensky has said the military situation in the eastern region of Luhansk was very difficult as Russia stepped up an effort to evict Ukrainian troops from key areas.
"That is really the toughest spot. The occupiers are pressing strongly," Zelenskiy said in an evening video address.
His comments come as Russian forces have captured several settlements near the embattled cities of Lysychansk and Sievierodonetsk in the Luhansk region, the regional governor and Ukraine's general staff have said.
Luhansk Governor Serhiy Gaidai told Ukraine's national broadcaster that Russian forces had captured the settlement of Toshkivka to the south of Sievierodonetsk, confirming previous reports.
"Unfortunately, the enemy threw at it huge amounts of armaments and soldiers and captured Toshkivka," Mr Gaidai said.
Russian-backed separatist forces in Ukraine claimed yesterday to have taken Toshkivka.
Russian and Ukraine forces have been fighting for weeks for control of Sievierodonetsk.
Ukraine's general staff said in its daily report that Russian forces had also captured the settlements of Pidlisne and Myrna Dolyna, located to the south of Lysychansk.
Ukrainian soldiers defending Lysychansk have come under intense shelling by Russian heavy artillery but are holding their ground, Mr Gaidai added.
Meanwhile, Ukraine has said it had "finally" deployed advanced German artillery system, in the latest delivery of the long-range, precision weapons that it has been seeking.
"Panzerhaubitze 2000 are finally part of 155 mm howitzer arsenal of the Ukrainian artillery," Ukrainian Defence Minister Oleksiy Reznikov wrote on social media, thanking his German counterpart Christine Lambrecht.
Germany said last month it would send seven self-propelled howitzers to Ukraine, ramping up deliveries of heavy weapons to help Kyiv battle Russia's invasion.
The German army has about 100 howitzer 2000s in its stocks, but only 40 are combat ready.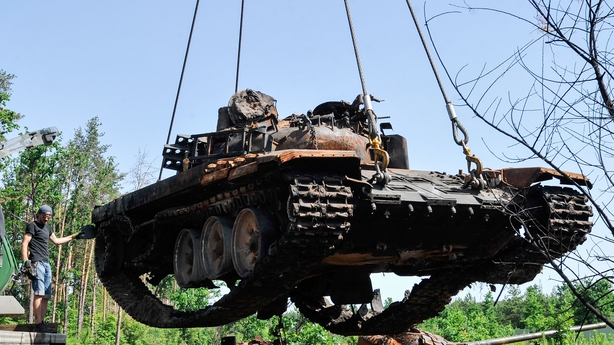 The United States, France and other Ukraine allies have vowed further supplies of heavy weapons for Kyiv, and deliveries from Washington are due in Ukraine this month.
The West has sent weapons into Ukraine to help it fight the Kremlin forces, but Kyiv complains it has only received a fraction of what it needs and is clamouring for heavier weaponry.
The artillery update comes as the British Military Intelligence said that Ukrainian forces last week claimed their first successful use of Western-donated Harpoon anti-ship missiles to engage Russian forces.
"The target of the attack was almost certainly the Russian naval tug Spasatel Vasily Bekh, which was delivering weapons and personnel to Snake Island in the north-western Black Sea," the defence ministry said in its daily Twitter update.
The war has entered a brutal attritional phase in recent weeks, with Russian forces concentrating on Ukrainian-controlled parts of the Donbas, which Russia claims on behalf of separatists.
This comes ahead of an EU summit this week expected to welcome Kyiv's bid to join the bloc.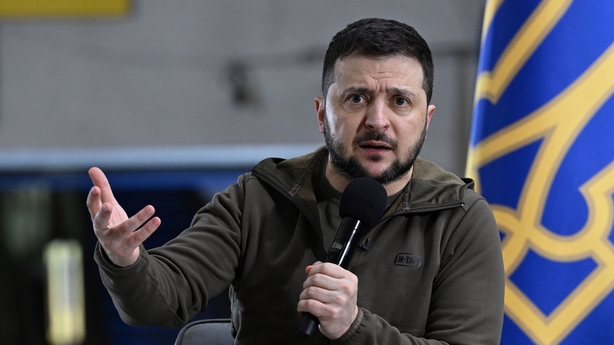 Ukrainian President Volodymyr Zelensky had predicted Russia would step up attacks ahead of the EU summit on Thursday and Friday.
In an address to the nation yesterday evening, he was defiant, while also referring to "difficult" fighting in Luhansk for Sievierodonetsk and its sister city Lysychansk.
"We are defending Lysychansk, Sievierodonetsk, this whole area, the most difficult one. We have the most difficult fighting there," he said. "But we have our strong guys and girls there."
---
---
This morning, Russia announced the capture of the frontline village of Toshkivka.
The village, with a pre-war population of around 5,000 people, is approximately 25km south of Severodonetsk.
"As of today, according to our information, Toshkivka is controlled entirely by the Russians," Roman Vlasenko, the head of the Severodonetsk district told Ukrainian television, adding that the battle for Donbas is "now in full swing".
Approval by European Union leaders for Ukraine to become an official candidate to join the bloc would be a triumph for Kyiv.
It applied for membership just four days after Russia's invasion on 24 February.
It would take years to attain, but for the EU to reach deep into the heart of the former Soviet Union would bring about one of Europe's biggest economic and social transformations since the Cold War.
This evening, Taoiseach Micheál Martin said that he spoke with Mr Zelensky by phone and confirmed Ireland's support for Ukraine's EU membership at the European Council.
Delighted to talk to President @ZelenskyyUa and confirm Ireland's support for Ukraine's EU Membership at this week's European Council.

We are, and will be, with #Ukraine every step of the way. pic.twitter.com/kIdsA6bsGg

— Micheál Martin (@MichealMartinTD) June 21, 2022
Russia sent tens of thousands of troops into Ukraine in late February in what it called a "special operation" to degrade its military capabilities and root out what it calls dangerous nationalists.
It has introduced a law making the spread of "knowingly fake" information or reporting that could discredit the Russian military an offence.
Dmitry Muratov, the co-winner of the 2021 Nobel Peace Prize and editor of an independent Russian newspaper, has auctioned off his Nobel medal for a record $103.5 million to aid children displaced by the war.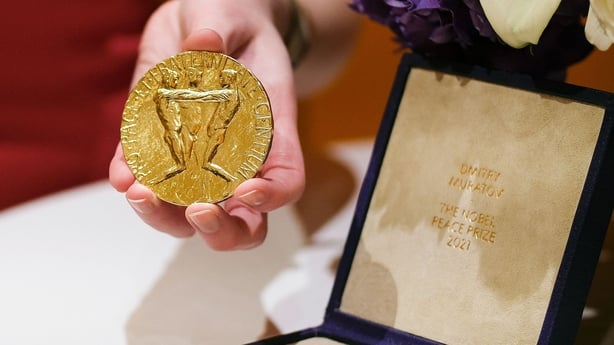 His paper, fiercely critical of President Vladimir Putin, suspended operations in Russia in March after warnings over its coverage of the war.
Ukrainian officials reported three civilian deaths in Russian shelling in the Donetsk region yesterday and another three in shelling in the Kharkiv region.
In Odessa, Ukraine's biggest Black Sea port, which is blockaded by the Russian navy, a Russian missile destroyed a food warehouse yesterday, Ukraine's military said.
While the United States and its European allies have provided weapons and financial assistance to Ukraine, but avoided direct involvement in the conflict.
Some American citizens, however, have volunteered to fight for Ukraine.
Yesterday, the Kremlin said two Americans detained in Ukraine were mercenaries not covered by the Geneva Convention who should face responsibility for their actions.
Kremlin spokesman Dmitry Peskov's comments were the first formal acknowledgment that the two, identified in US reports as Andy Huynh, 27, and Alexander Drueke, 39, were being held.
A US State Department spokesperson said they had been in touch with Russian authorities regarding any US citizens who may have been captured.
"We call on the Russian government - as well as its proxies - to live up to their international obligations in their treatment of any individual, including those captured fighting in Ukraine."
This month, a separatist court sentenced two British citizens and a Moroccan man to death after they were caught fighting for Ukraine.
Mr Peskov also said US basketball star Brittney Griner, held in Russia for more than two months, was being prosecuted for drug offences and was not a hostage.