Five civilians were killed and 12 injured in a Ukrainian bombardment of the eastern separatist city of Donetsk, local authorities said.
"As a result of the bombardment by Ukrainian forces, five people were killed and 12 others were wounded in the Donetsk People's Republic," they said in a statement posted on Telegram.
Ukrainian authorities said that "fierce battles" with Russia raged in villages outside the eastern city of Sievierodonetsk, which Russia's forces have been trying to seize control of for weeks.
While a big explosion rocked an area Sievierodonetsk and a large orange-coloured cloud could be seen rising into the air, a Russian-backed representative said.
Rodion Miroshnik, an official in the self-styled separatist administration of the Luhansk People's Republic, posted a video of what he said was the cloud on the Telegram messaging app.
He said that he could not tell whether the blast had occurred in the city or near it.
Sievierodonetsk is home to the Azot chemical plant, where hundreds of civilians are sheltering.
Meanwhile, governor of the regional capital of Novomoskovs Valentyn Reznichenko said that three Russian missiles destroyed a fuel storage depot in town, which resulted in three people being sent to hospital.
Mr Reznichenko posted a picture of what he said was a large blaze at the depot, which lies northeast of Dninpro.
Earlier, the governor of the eastern Luhansk region, Sergiy Gaiday, said that Ukraine was facing "fierce battled" near the strategic city of Sievierodonetsk.
"They [Russia] do not control the city entirely," he said on Telegram.
"In nearby villages there are very difficult fights - in Toshkivska, Zolote. They are trying to break through but failing," he said.
"Our defenders are fighting Russians in all directions. Recently, they shot down a plane and took captives," he said.
He also said that Lysychansk - a Ukrainian-controlled city across a river from battered Sievierodonetsk - is being "heavily shelled".
"They cannot approach it and that's why they are simply shooting at the city with air strikes," he said. "It is very dangerous in the city."
Mr Gaiday said there was "more destruction" at the Azot chemical plant in Sievierodonetsk, where hundreds of civilians are sheltering.
Yesterday, he said 568 people, including 38 children, were hiding in the factory and that only a "complete ceasefire" would ensure their evacuation.
A total of 77 miners were rescued after being trapped underground during a power outage and shelling of territory controlled by pro-Russian separatists in eastern Ukraine, local officials said.
The miners were underground when power was lost in the Zasyadko coal mine in Ukraine's Donetsk region but all were now safe and no-one was injured, according to a statement.
The pro-Russian separatist authority in the self-proclaimed Donetsk People's Republic blamed Ukrainian forces for the shelling.
Reuters could not immediately verify the report and there was no immediate reaction from Kyiv.
It comes after Ukrainian President Volodymyr Zelensky visited the war damaged southern city of Mykolaiv for the first time since the Russian invasion.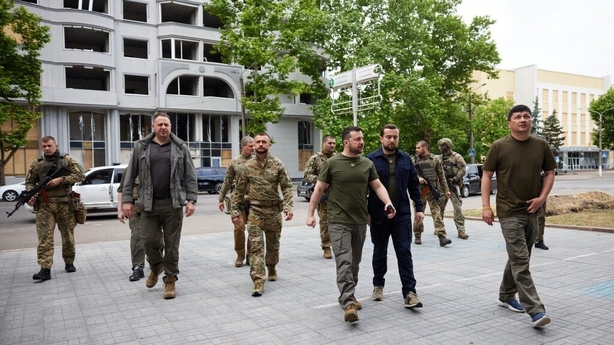 Mr Zelensky's office published a video of him during the rare trip outside Kyiv looking at a badly damaged high-rise residential building in the city, and holding a meeting with local officials in what appeared to be an underground basement.
His visit comes a day after a Russian strike killed two people and injured 20 in the city.
Mr Zelensky gave out awards for bravery during the visit and his office said he discussed the state of the economy, the restoration of water supplies and the situation in agriculture with local governor Vitaliy Kim.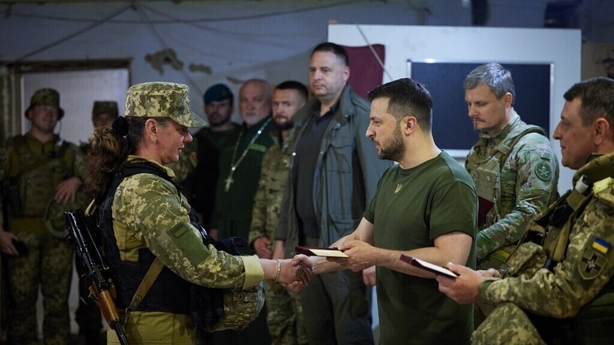 "Special attention was paid to threats from land and sea. We do not stop working for victory," the statement read.
Mykolaiv has been holding the defence of southern Ukraine, as it lies on the way to the key strategic Black Sea port of Odesa.
The city is around 100km northwest of Kherson, which fell to Russian forces in the first weeks of the war.
The regional administrative building was hit by a Russian strike in March, tearing a hole through the centre of the complex and killing more than a dozen people.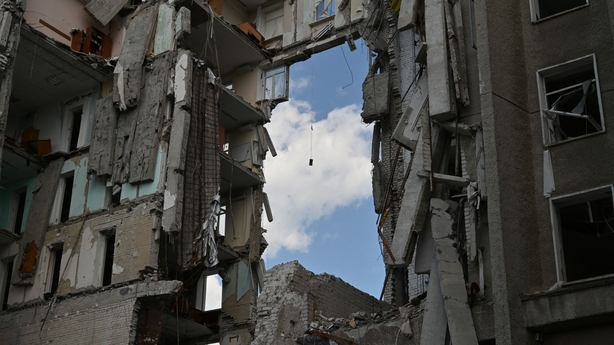 Meanwhile, Russia's state RIA news agency has reported that shelling has trapped 77 miners in a coalmine in the Donetsk region of eastern Ukraine after power to the mine was cut off.
"As a result of shelling by [Ukrainian forces], power to the Zasyadko mine in Donetsk was cut off, 77 miners remain underground," RIA said, citing the Russian-backed separatist region's territorial defence.
Reuters could not immediately verify the report and there was no immediate reaction from Ukraine.
---
---
Ukraine routinely denies carrying out any attacks on the two regions that comprise the Donbas, the self-styled Donetsk and Luhansk people's republics, where separatists seized large swathes of land in 2014.
Russia recognised the two regions as independent states on the eve of its 24 February invasion of Ukraine.
The United Nations said access to clean water, food, sanitation and electricity was diminishing in Sievierodonetsk.
It said the humanitarian situation in eastern Ukraine was "extremely alarming".
European Union foreign policy chief Josep Borrell said that Russia is putting the world at risk of famine through its blockade of Ukraine's shipments of grains and restrictions on its own exports.
"We are ready to work with the UN and our partners to prevent any unwanted impact on global food security.
"Russia's conscious political choice is to weaponise grain exports and use them as a tool for blackmail against anyone that opposes its aggression in Ukraine," he said.
He added that the sanctions imposed by the EU do not prohibit Russia to export any agricultural goods, payment for such Russian exports or the provision of seeds, provided that sanctioned individuals or entities are not involved.
"We are fully aware that there is a battle of narratives' around this issue of sanctions," he said.
The threat to food security looks set to dominate EU foreign ministers' talks in Luxembourg on Monday.
Concerns for 'Ukraine-fatigue'
British Prime Minister Boris Johnson has said the West must continue to support the Ukrainians as they seek to recover territory seized by Russia.
Speaking after an unannounced visit to Kyiv yesterday, he warned that Ukraine should not be encouraged to accept a freeze of the conflict, which he said would simply be the prelude to a renewed Russian offensive, adding that it would be a "catastrophe" if President Vladimir Putin was able to claim victory.
Mr Johnson said it was important to demonstrate the UK's support at a time when the Ukrainians were "suffering terribly" in the face of the ongoing Russian offensive in the Donbas.
"The worry that we have is that a bit of Ukraine-fatigue is starting to set in around the world," he said.
"It is very important to show that we are with them for the long haul and we are giving them that strategic resilience that they need."
He said Britain would be prepared to train tens of thousands of Ukrainian troops as they continue to fight back against the Russians and that Ukraine should be supported in their ambition to regain territory occupied by the Russian forces since they invaded in February.
However, he stopped short of calling for the recovery of all the lands Ukraine had lost since 2014, including Crimea, something Foreign Secretary Liz Truss has previously called for.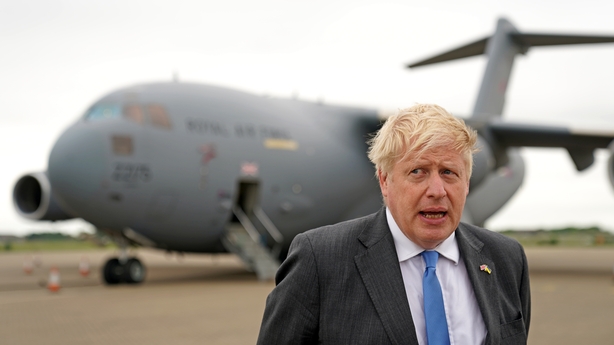 "He'd (Mr Putin) love nothing more than to say: 'Let's freeze this conflict, let's have a ceasefire like we had back in 2014.'
"For him, that would be a tremendous victory. You'd have a situation in which Putin was able to consolidate his gains and then to launch another attack.
"We've got to make it clear that we are supporting the Ukrainians in their ambitions," he said.
Meanwhile police in Germany are investigating several hundred potential Russian war crimes in Ukraine including political and military officials suspected of being linked to the alleged offences.
They said that these investigations may take time as they are only at their "very beginning".
The country applies universal jurisdiction which allows a foreign country to prosecute crimes against humanity, war crimes and genocide, regardless of where they were committed.
German investigators could also be sent to Ukraine, but would need an international mandate to do so.
Russia calls its actions a "special military operation" to disarm and "de-nazify" Ukraine.
Ukraine and its allies in the West say the fascist allegation is baseless and Russia's war is an unprovoked act of aggression.
Additional reporting PA