United Nations Secretary-General Antonio Guterres has said the consequences for the world of Russia's invasion of Ukraine are worsening, with 1.6 billion people likely to be affected.
"For people around the world, the war is threatening to unleash an unprecedented wave of hunger and destitution, leaving social and economic chaos in its wake," he said.
Mr Guterres said that while this year's food crisis is "about lack of access," next year's "could be about lack of food."
"There is only one way to stop this gathering storm: the Russian invasion of Ukraine must end," he pleaded in a speech yesterday.
Ukraine exported up to 6 million tonnes of grain a month before Russia launched its invasion on 24 February.
Volumes have since fallen to about 1 million tonnes as Ukraine, which used to export most of its goods through seaports, has been forced to transport grain by train via its western border or via its small Danube river ports.
Countries in Africa and the Middle East are already experiencing food shortages, with the situation "escalating and getting dramatically worse almost by the day," the CEO of aid agency Trócaire has said.
Speaking on RTÉ's Morning Ireland, Caoimhe de Barra said the war between Russia and Ukraine, the world's third and fourth largest grain exporters respectively, has added to food price inflation and put global food supplies at risk.
The UN has said that six countries are already in famine conditions.
Ms De Barra warned that unless rapid action is taken at a global level, "we're going to witness" mass famine happening again.
Lebanon sources 80% of its wheat from Ukraine and the fact that supplies have been and are very likely to continue to be disrupted means that there is not only an immediate crisis but also the crisis is highly likely to extend into 2023 with devastating consequences for human survival, she said.
---
Read More:
What lessons can history teach us about food security?
Latest Ukraine stories
---
Ms De Barra said food shortage is not the problem, but it is an issue of distribution, and countries must also be prevented from hording grain and imposing export restrictions.
Countries will react to the fear of a limited supply of food and that drives a spiral of increasing costs so global agreements around trade and stopping export restrictions will make the situation a lot better a lot sooner, she said.
The Food and Agriculture Organization and the World Food Programme have identified 20 hunger hotspots, which are the countries where we need to immediately react to prevent famine, including three countries where Trócaire works - Ethiopia, Somalia, and South Sudan, she added.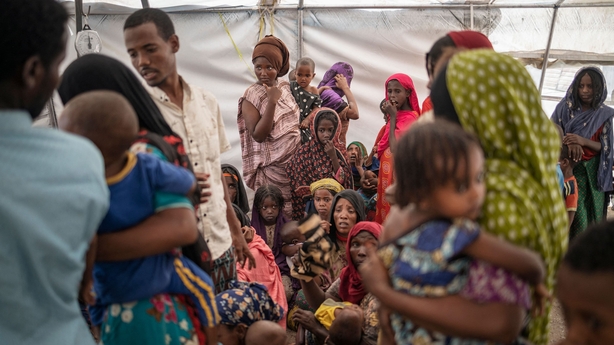 "But the scale of this is almost unprecedented. Prior to the Ukraine crisis, we already had food prices at their highest level ever. We already had hundreds of millions of people facing hunger.
"The number of people facing acute hunger has risen by 50 million in the last six months alone.
"And to put that in context, that's ten times the size of the population of Ireland", she said.
Ukraine's president has warned that millions of people could starve because of Russia's blockade of Ukraine's Black Sea ports.
Volodymyr Zelensky said in a televised statement the world was on the brink of a "terrible food crisis", with Ukraine unable to export large amounts of wheat, corn, oil and other products that had played a "stabilising role in the global market".
"This means that, unfortunately, there may be a physical shortage of products in dozens of countries around the world. Millions of people may starve if the Russian blockade of the Black Sea continues," he said.
Meanwhile, at talks in Ankara, Russia and Turkey made little headway in striking a deal to secure safe passage for grain exports stuck in Ukraine due to a Russian sea blockade.
At the request of the UN, Turkey has offered its services to escort maritime convoys from Ukrainian ports, despite the presence of mines - some of which have been detected near the Turkish coast.
"We are ready to do this in cooperation with our Turkish colleagues," Russian Foreign Minister Sergei Lavrov told reporters in Ankara.
Kyiv said it would not demine waters around the Black Sea port of Odesa to allow grain exports, citing the threat of Russian attacks on the city.
Mr Lavrov's Turkish counterpart Mevlut Cavusoglu called Russian demands for an end to sanctions to help grain onto the world market "legitimate".
"If we need to open up the international market to Ukrainian grain, we see the removal of obstacles standing in the way of Russia's exports as a legitimate demand," he said.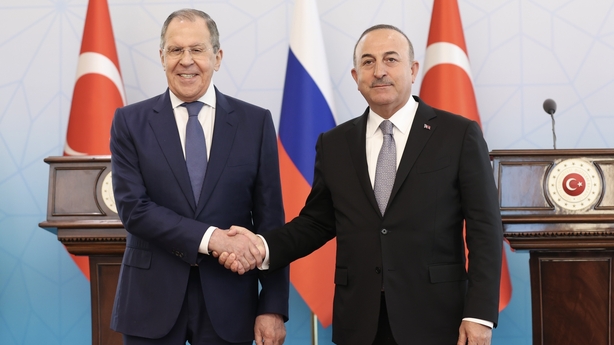 But Kyiv, which was not represented at the Ankara talks, pushed back against claims that Western sanctions on Moscow had sent prices soaring.
"We have been actively communicating, the president and myself, about the true cause of this crisis: it is Russian aggression, not sanctions," Ukraine's Foreign Minister Dmytro Kuleba said.
Before the war, Ukraine was a major exporter of wheat, corn and sunflower oil. Russia's blockade has been blamed for contributing to soaring prices, stoking fears of a looming food crisis in poor countries.
As he hosted Mediterranean ministers for talks on the global food crisis, Italian Foreign Minister Luigi Di Maio warned "millions" could die unless Russia unblocked Ukraine's ports.
But Kremlin spokesman Dmitry Peskov rejected suggestions that grain stuck in Ukrainian ports was fuelling the problem.
"As far as we know, there is much less grain than the Ukrainians say. There is no need to exaggerate the importance of these grain reserves," he told reporters.
Nearly five million Ukrainians registered as refugees in Europe
The United Nations said today that nearly five million Ukrainians have been registered as refugees across Europe since Russia launched its invasion less than four months ago.
"The Ukraine war has caused one of the largest human displacement crises in the world," said UNHCR, the UN refugee agency.
An update of the agency's data portal on the Ukraine situation, aimed to better reflect movements to and from the war-ravaged country, showed that a total of 4,816,923 Ukrainians had been registered as refugees across 44 European countries since 24 February.
Far more will have actually left the country, with UNHCR data showing that more than 7.3 million border crossings out of Ukraine had been recorded by 7 June.
Another 2.3 million crossings had been registered back into the country, the data showed.
The UN says women and children account for 90% of those who have fled abroad, with men aged 18 to 60 eligible for military service and unable to leave.