The bodies of some Ukrainian fighters killed defending the city of Mariupol from Russian forces at a vast steel works have been handed over to Kyiv, the families of Ukraine's Azov unit of the national guard have said.
Ukrainian forces defending Mariupol were holed up in the Azovstal steelworks for weeks as Russian forces tried to capture the city. The Ukrainian soldiers eventually surrendered last month and were taken into custody by Russian forces.
There has been little information about the fate of the estimated 2,000 Azovstal defenders. Kyiv is seeking the handover of them all in a prisoner swap, but some Russian politicians want some of the soldiers put on trial.
It was not immediately clear how many bodies had arrived in Kyiv in this first such transfer.
They appear to have been handed over as part of an exchange of 160 bodies between Russia and Ukraine that was announced last week by Ukraine's Ministry of Reintegration of the Temporarily Occupied Territories.
"It's important to note that a third of the bodies (handed over) were Azov fighters, the affiliation of the other fighters to different units is being clarified," the families said in a statement released late last night.
Russia casts the Azov Regiment, which led the defence of the steel works at Mariupol, as a "Nazi" militia with radical far-right origins.
Ukraine denies that, saying the unit has been reformed and integrated into its armed forces and is outside politics.
We need your consent to load this rte-player contentWe use rte-player to manage extra content that can set cookies on your device and collect data about your activity. Please review their details and accept them to load the content.Manage Preferences
Meanwhile, Ukrainian President Volodymyr Zelensky has said that Kyiv would not settle for a battlefield stalemate with Russia and that it aimed to regain control of all its territory occupied by Moscow.
"We have already lost too many people to simply cede our territory," he said by video link at an event hosted by FT Live, in which he added that a stalemate was "not an option" for Kyiv.
"We have to achieve a full deoccupation of our entire territory," Mr Zelensky said.
Kyiv has previously said that Russian forces now occupy about 20% of Ukrainian territory, including swathes of its east and south.
"We are not going to humiliate anyone, we are going to respond in kind," Mr Zelensky said, when asked about French President Emmanuel Macron's call not to "humiliate" Russia in order to keep the door open to a diplomatic solution.
Meanwhile, Ukrainian troops are battling Russians street-to-street in the ruins of Sievierodonetsk, trying to hold onto gains from a surprise counter-offensive that had reversed momentum in one of the bloodiest land battles of the war.
The fight for the small industrial city has emerged as a pivotal battle in eastern Ukraine, with Russia focusing its offensive might there in the hope of achieving one of its stated war aims - to fully capture surrounding Luhansk province on behalf of separatist proxies.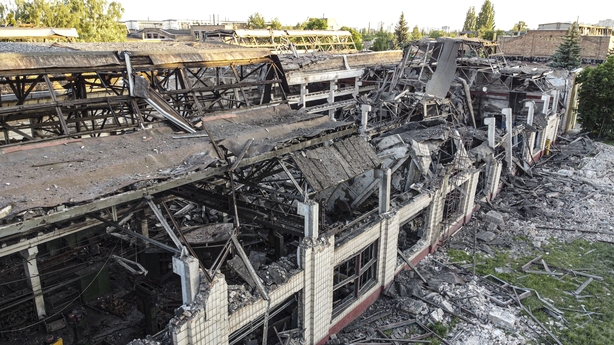 After withdrawing from nearly all the city in the face of the Russian advance, Ukrainian forces staged a surprise counter-attack last week, driving the Russians from a swath of the city centre.
Since then, the two armies have faced off across boulevards, both claiming to have inflicted huge casualties.
Russian Defence Minister Sergei Shoigu said Moscow's troops were in full control of the residential areas of the city.
"The residential areas of the city of Sievierodonetsk have been fully liberated," he told a defence ministry meeting in televised remarks.
Before Ukraine's counter-offensive, Russia had seemed on the verge of encircling Ukraine's garrison in Luhansk province, cutting off the main road to Sievierodonetsk and its twin city Lysychansk across the Siverskiy Donets river.
But following the counter-offensive, Mr Zelensky made a surprise visit to Lysychansk on Sunday, personally demonstrating that Kyiv still had an open route to its troops' redoubt.
Ukraine's defence ministry said Russia was throwing troops and equipment into its drive to capture Sievierodonetsk.
Luhansk Governor Serhiy Gaidai said yesterday the situation had worsened since the Ukrainian defenders had pushed back the Russians over the weekend.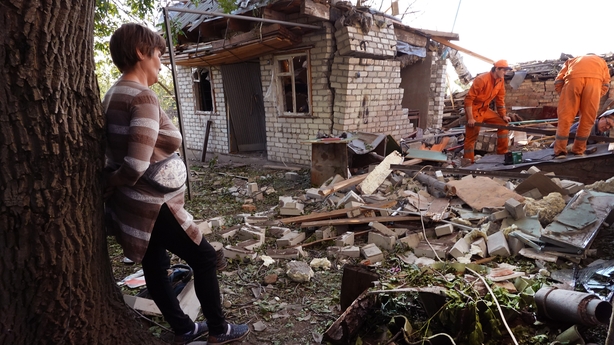 Luhansk and neighbouring Donetsk province, together known as the Donbas, have become Russia's main focus since its forces were defeated at the outskirts of Kyiv in March and pushed back from the second biggest city Kharkiv last month.
Russia has been pressing from three main directions - east, north and south - to try to encircle the Ukrainians in the Donbas. Russia has made progress, but only slowly, failing to deal a decisive blow or to encircle the Ukrainians.
Meanwhile, pro-Kremlin separatists in Ukraine have confirmed the death of another Russian general during Moscow's military campaign in the country.
Reports of Russian general killed in fighting
The death of Major General Roman Kutuzov was reported earlier by a war correspondent for Russian state TV, but has not been confirmed by officials in Moscow.
The leader of Ukraine's pro-Russian separatists in Donetsk, Denis Pushilin, expressed his "sincere condolences to the family and friends" of Kutuzov, "who showed by example how to serve the fatherland".
"As long as our generals fight shoulder to shoulder with soldiers, our country and our nation will be invincible," Mr Pushilin said on the Telegram messenger, posting a black and white photo of Gen Kutuzov.
Since the war broke out in February, Ukraine's forces claimed to have killed several of Russia's top brass but their exact number is not known as Moscow is tight-lipped on its losses.
---
---
Britain's defence ministry said that Russia was still trying to cut off Sievierodonetsk by advancing from the north near Izium and from the south near Popasna.
It said Russia's progress from Popasna had stalled over the last week, while reports of heavy shelling near Izium suggested Moscow was preparing a new offensive there.
"Russia will almost certainly need to achieve a breakthrough on at least one of these axes to translate tactical gains to operational level success and progress towards its political objective of controlling all of Donetsk Oblast," it said.
The Donetsk regional governor, Pavlo Kyrylenko, told Ukrainian television there was constant shelling along the frontline, with Russia attempting to push towards Sloviansk and Kramatorsk, the two biggest Ukrainian-held cities in Donetsk.
Mr Kyrylenko said efforts were under way to evacuate people from several towns, some under attack day and night, including Sloviansk where about 24,000 residents, around a quarter of the population, still remains.
"People are now understanding, though it is late, that it is time to leave," he said.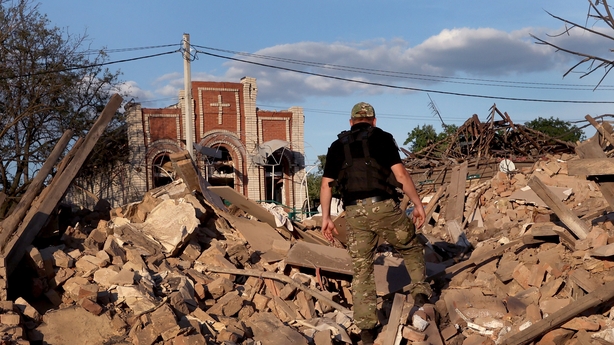 Meanwhile, concerns about a global food crisis also grew as Mr Zelensky warned of tightening grain supplies - Ukraine is a top producer of the commodity - due to what the US described as a Russian strategy of "blackmail".
Russia has blockaded the key black sea port of Odesa, and President Zelensky said Ukraine had up to 25 million tonnes of grain that could not be exported.
"In the autumn that could be 70 to 75 million tonnes," said the president, whose country was the world's fourth biggest grain exporter before the war.
In Washington, US Secretary of State Antony Blinken added his voice to the criticism.
"Right now a Russian naval blockade in the Black Sea is preventing Ukraine's crops from being shipped to their normal destinations," he said.
Spoke today with Holy See Secretary of State Pietro Parolin to discuss our mutual commitment to supporting the people of Ukraine in the face of Putin's unprovoked and brutal war. We reaffirmed our shared values and our desire to see an end to suffering in Ukraine.

— Secretary Antony Blinken (@SecBlinken) June 6, 2022
Mr Blinken said it was a deliberate strategy by Mr Putin to force the rest of the world "to give in to him", and eliminate sanctions on Russia.
"In other words, quite simply put, it's blackmail," Mr Blinken said.
Speaking at a State Department conference on food security issues arising from the invasion of Ukraine, he also described as "credible" reports that Russia has stolen grain from Ukraine for resale.
$1.5 billion in financial support from the World Bank
The World Bank has announced an additional $1.5 billion in aid for Ukraine, bringing the total planned support package to more than $4 billion.
The new financing will be used to pay wages for government and social workers, the development lender said in a statement, noting that with the new funds nearly $2 billion has been disbursed so far.
However, Ukraine President Volodymyr Zelensky has said his government needs a total of $7 billion a month in aid to continue to function.