The Ukrainian government said it was holding "difficult" talks with Russia to secure safe passage for 38 badly wounded fighters from the Azovstal steel plant in Mariupol.
It is surrounded by Russian troops.
"We are conducting very difficult negotiations on the evacuation of seriously wounded fighters from Azovstal in exchange for captured Russians," Deputy Prime Minister Iryna Vereshchuk said in a statement on social media.
She said the two sides were negotiating the release of "38 severely wounded fighters" and that the talks were going "step by step".
Ms Vereshchuk told AFP earlier this week that there were more than 1,000 Ukraine soldiers in tunnels beneath the sprawling steel works in Mariupol which Russia has claimed control over.
She said hundreds were injured and that Ukraine was in talks with Turkey to facilitate potential evacuations.
Azovstal is the last pocket of Ukrainian resistance in the devastated southern port city and its fate has taken on a symbolic value in the broader battle since Russia's invasion in February.
Also today, Ukrainian forces have damaged a modern Russian navy logistics ship in the Black Sea, setting it on fire, a spokesman for the Odesa regional military administration in southern Ukraine said.
Spokesman Serhiy Bratchuk said in an online post that the Vsevolod Bobrov had been struck near Snake Island, the scene of renewed fighting in recent days, but did not give details.
The tiny island is located near Ukraine's sea border with Romania.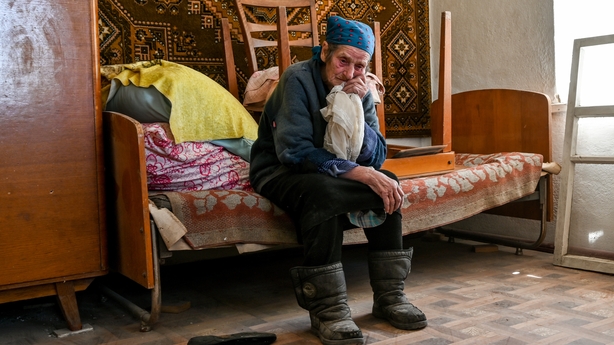 Meanwhile Ukrainian authorities and witnesses have accused Russian forces of shelling a residential home in an east Ukraine village, killing several civilians.
The incident took place on 27 March ion the village of Stepanki outside the regional capital Kharkiv, when occupying Russian forces opened fire on a house from a tank, killing two men and a women, Ukraine's prosecutor general's office said on Telegram.
Kharkiv police and witnesses said four people were killed and two wounded. The discrepancy could not be immediately explained.
An investigation into a war crime and premeditated murder has been opened, according to prosecutors.
Earlier today, CNN released what it said was security camera footage showing two Ukrainian civilians shot in the back by Russian soldiers near a car dealership outside of Kyiv in mid-March.
It comes as the United Nations demanded an end to the bombing of Ukrainian schools, and denounced their use for military ends during a meeting of the Security Council.
Three people were killed and 12 others wounded in the early hours of today in a Russian strike on a school in Ukraine's northern Chernigiv region, the emergency services said.
"We have three people killed and 12 wounded as a result of a strike" in Novgorod-Siversky, a spokesman told AFP.
The town is in the north-eastern corner of the country, around 45 kilometres south of the Russian border.
"Hundreds of schools across the country are reported to have been hit by heavy artillery, airstrikes and other explosive weapons in populated areas," Omar Abdi, deputy executive director of the UN children's fund, told the Council.
"These attacks must stop," Mr Abdi said.
As of last week, of the 89 UNICEF-supported schools in eastern Ukraine, one in six had been "damaged or destroyed" since the Russian invasion on 24 February, he said.
Russians hit several airstrikes on critical infrastructure, Novgorod-Siversky, Chernihiv region. Schools, administrative buildings and private houses were damaged.
"There are dead and wounded," Chernihiv military administration head Chaus informs.#RussianWarCrimes pic.twitter.com/59Cc5EWSHM

— UkraineWorld (@ukraine_world) May 12, 2022
"Other schools are being used as information centers, shelters, supply hubs, or for military purposes -- with long-term impact on children's return to education," he added.
The Security Council meeting was convened at the request of Mexico and France, which stressed that attacks on schools were a flagrant violation of humanitarian law.
"The Russian army continues to kill civilians, including children," charged France's UN ambassador, Nicolas de Riviere.
His Russian counterpart Vassily Nebenzia rejected what he called "absurd accusations" against Moscow's armed forces, saying Russia was providing humanitarian support to children in the eastern Donbas region where he accused Ukraine of waging "civil war against its own people."
Rows of destroyed cars and trucks were visible in the field outside the school.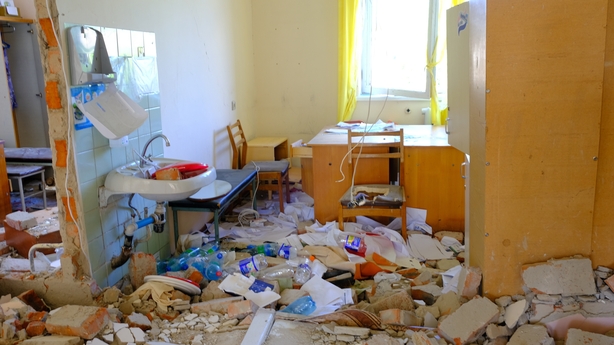 Meanwhile Kyiv condemned the "sheer horror" and "pure evil" of Russia's war in Ukraine at an extraordinary meeting today of the United Nations Human Rights Council about Moscow's alleged violations.
Ukraine's Deputy Foreign Minister Emine Dzhaparova said Russia was committing "the most gruesome human rights violations on the European continent in decades", as countries slammed the conduct of President Vladimir Putin's troops.
The UN's top rights body will vote on a draft resolution calling for an investigation into alleged violations since Russia's February 24 invasion of Ukraine, with a view to holding those responsible to account.
More than 50 countries backed Kyiv's request for a special session of the UN's top rights body to examine "the deteriorating human rights situation in Ukraine stemming from the Russian aggression".
"These have been 10 weeks of sheer horror to the people of my country," Ms Dzhaparova said, speaking from Kyiv.
"Torture and enforced disappearances, sexual and gender-based violence; the list of Russia's crimes is endless.
"Only the world standing strong in solidarity with the Ukrainian people can defeat this pure evil."
Russia snubbed the session. Its foreign ministry spokeswoman Maria Zakharova said on Tuesday that Moscow "will not legitimise with its presence this new political show".