A Hospitallers Medical Battalion team is hiding in a woodland in eastern Ukraine when our call gets through to them.
"We are waiting for a call out," explains Mykhailo Adamchak, a driver paramedic. "We are treating soldiers and civilians".
Mykhailo's team also includes a medic and a fireman. The team has been busy working to save lives on the war's frontline.
"We are on the eastern-south part of Ukraine," he explains. Any more detail is prohibited in case his exact location is revealed.
The Hospitallers Medical Battalion, which comprises of volunteer medics and emergency responders, was established in 2014 when Russia annexed Crimea.
"Some civilians are used to bombing. A lot of them, when there is an air alarm, don't take cover"
With a slogan reading "for the sake of every life", the battalion is involved with treating and evacuating those wounded from battle zones.
Mykhailo says he is witnessing the impact of bombing, shelling and missile strikes in eastern Ukraine.
"Mostly there is bombing. Most soldiers are wounded because of the bombs and missiles. When we get them they have shrapnel in their legs, their arms and other parts of their bodies," he says.
Civilians are also treated and evacuated by the Hospitallers Battalion. Mykhailo says most are injured because they are not taking shelter when sirens warn of bomb attacks and missile strikes.
We need your consent to load this rte-player contentWe use rte-player to manage extra content that can set cookies on your device and collect data about your activity. Please review their details and accept them to load the content.Manage Preferences

"Sometimes civilians get wounded by shrapnel and by bombs. We also treat them. Some civilians are used to bombing. A lot of them, when there is an air alarm, don't take cover.
"This is why some of them are getting wounded," he says.
Mykhailo's team can treat between 10-12 people on busy days. A good day, he says, is when there are no injuries to treat.
He explains there are two groups of paramedics. The first, drives to the frontline and evacuates those needing medical attention. The second treats the injured and medivacs them from the conflict area.
As Mykhailo speaks over the phone, birds are heard singing in the woodland behind him. He explains his team are at an evacuation site in a woodland or forest area.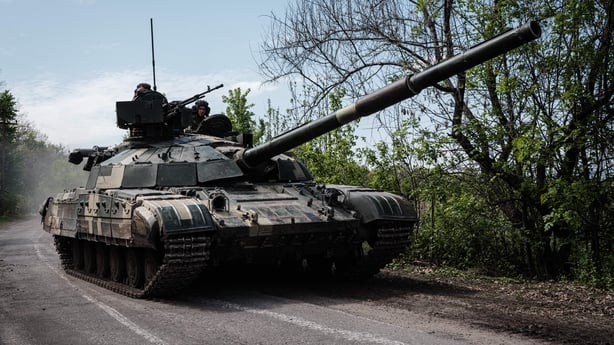 "We are now in the forest at our point of evacuation. At the moment we are on standby," he says. "We have a good musical surrounding," he quips, "the singing puts us in a good mood".
The birdsong is then interrupted and there is a pause on the line.
Mykhailo pauses simultaneously for a beat, before saying: "There was a bombing".
"It's normal. Explosions can be closer or a bit far from us. That was a bit closer. I am not worried about this. All the people in my team notice these explosions and just do what we need to do," he says.
"I am sure we will win in this struggle, in this fight. The enemy will be defeated"
Mykhailo's team has visited villages that have not been invaded by Russian forces. He says people are happy there. However, he has concerns about settlements occupied by Russian forces.
"Unfortunately a lot of cities and a lot of villages behind the frontline on the enemy side … they are invaded and for now we don't know what is happening there," he says.
Mykhailo says there is a difference between today and 2014, when Russia annexed Crimea.
"Now the whole country is in this struggle, in this fight. All people help in the way they can. Our patriotic mood is at the highest level. I am sure we will win in this struggle, in this fight. The enemy will be defeated," he says.
On medical supplies, Mykhailo says the battalion needs their provisions to be replenished because on a busy day the entire contents of his ambulance can be used.
Attacks on railway infrastructure by Russian forces do not cause major concern for the paramedic. He says supplies are also transported in other ways and logistical lines are holding up.
"Russia has attacked railways. But it's not only through railways that our medical supplies are being provided".