Russian forces have said they will seize the Mariupol steel plant that is the last main stronghold of resistance in the besieged city on Thursday after Ukraine proposed talks on evacuating troops and civilians there.
Mariupol would be the biggest city to be seized by Russia since invading Ukraine eight weeks ago in an attack that has taken longer than some military analysts expected, seen over five million people flee abroad and turned towns and cities to rubble.
"Before lunchtime, or after lunch, Azovstal will be completely under the control of the forces of the Russian Federation," Ramzan Kadyrov, the head of Russia's republic of Chechnya, whose forces have been fighting in Ukraine, said of the steel plant.
Ukraine's defence ministry was not immediately available for comment.
Ukraine calls for talks in Mariupol
Ukraine has called for urgent negotiations with Russia in Mariupol, as Vladimir Putin flexed his military muscle with the test launch of a new, nuclear capable ICBM.
Washington downplayed the test of the intercontinental ballistic missile and said it had been notified in advance, but President Putin said it would make the Kremlin's enemies "think twice", raising tensions nearly two months after he invaded Ukraine and ignited a global crisis.
Mariupol, a strategic port city on the Sea of Azov, has been under a horrific siege almost since the invasion began.
Earlier today, Ukrainian President Volodymyr Zelensky said that about 1,000 civilians remain trapped at a steel plant where Ukrainian forces are making their last stand in Mariupol.
Today, Moscow issued another call for the devastated city's defenders to surrender.
But Kyiv has now proposed a "special round" of talks with Moscow, without any conditions, in Mariupol itself.
"One on one. Two on two. To save our guys, Azov, military, civilians, children, the living & the wounded. Everyone. Because they are ours," wrote top Ukraine negotiator and presidential aide Mykhailo Podolyak on Twitter.
Yes. Without any conditions. We're ready to hold a "special round of negotiations" right in Mariupol. One on one. Two on two. To save our guys, Azov, military, civilians, children, the living & the wounded. Everyone. Because they are ours. Because they are in my heart. Forever.

— Михайло Подоляк (@Podolyak_M) April 20, 2022
He tweeted after a Ukrainian commander in the besieged Azovstal steel plant in Mariupol issued a desperate plea for help, saying his marines were "maybe facing our last days, if not hours".
"The enemy is outnumbering us 10 to one," said Serhiy Volyna from the 36th Separate Marine Brigade.
"We appeal and plead to all world leaders to help us. We ask them to use the procedure of extraction and take us to the territory of a third-party state."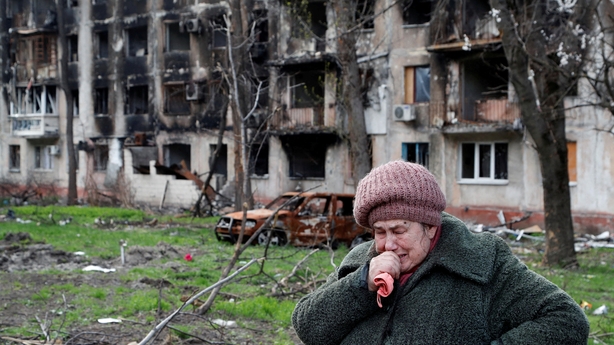 An adviser to the city's mayor described a "horrible situation" in the encircled steel plant and reported that up to 2,000 people - mostly women and children - are without supplies of drinking water, food and fresh air.
"Powerful bombs have been dropped several times on Azovstal, we have been bombed from boats... we are under siege. The front is 360 degrees," said Svyatoslav Palamar, a commander in the nationalist Azov battalion defending the city, in a post on Telegram.
"The situation is critical, we call on international leaders to help the children," he added.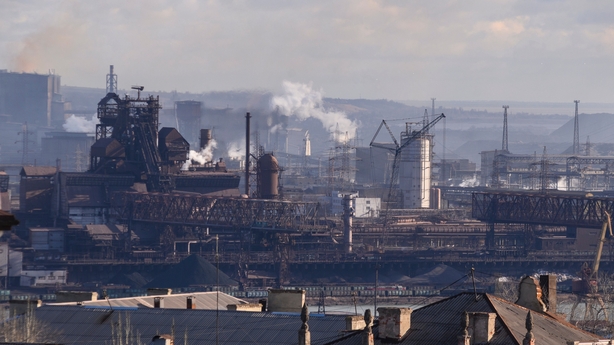 ---
---
Mariupol has become a symbol of Ukraine's unexpectedly fierce resistance since Russian troops invaded the former Soviet state on 24 February.
Capturing it would allow Russia to have a land bridge between the Crimea peninsula, which it annexed in 2014, and the two Moscow-backed separatist statelets in Ukraine's east.
The offer of talks came after Kyiv said it had agreed with Russian forces to open a safe route for civilians to flee the devastated city - but that the had attempt failed.
Few civilians evacuated today
Mariupol city authorities said earlier today that they hoped to evacuate about 6,000 people under a preliminary accord with Russia - the first in weeks - on establishing a safe corridor.
But the deputy commander of the Azov Regiment in Mariupol, Svyatoslav Kalamar, later told Ukrainian TV that civilians were too frightened to make their way to the agreed evacuation points because Azovstal was under constant bombardment.
Mr Kalamar said several bunkers under the plant still held about 80-100 civilians each.
Regional governor Pavlo Kyrylenko said fewer buses than planned had been able to get through to pick up civilians.
"People of course gathered at the agreed meeting points, but few of them got onto the buses," he added, providing no figures.
Russian-backed separatists said shortly before today's deadline that just five people in Mariupol had surrendered following Moscow's ultimatum. Yesterday, Russia said no one had responded to a similar surrender demand.
Today, President Zelensky said he remained ready to swap Russian prisoners of war in exchange for safe passage for the trapped civilians and Ukrainian soldiers.
A Ukrainian marine commander, Serhiy Volny, said in a video posted online earlier today that his troops may be able to hold out for only a few hours. It remained unclear this evening how many Ukrainian forces remained in the city.
"The enemy units are dozens of times larger than ours, they have dominance in the air, in artillery, in ground troops, in equipment and in tanks," said Mr Volny. Reuters was unable to verify the video, posted on the Telegram messaging app.
Peace talks elusive
Ukrainian presidential advisor Oleksiy Arestovych said Russia was focusing on advancing towards the strategically important Donbas city of Sloviansk, but "so far they are not succeeding".
Targeting that area from several directions is part of an apparent effort to surround Ukrainian forces in the east.
Ukraine's Defence Minister Oleksii Reznikov tweeted that Russia's "military capacity has been significantly diminished" since the start of the war. "We're defeating & will continue to defeat the occupiers!"
Peace talks have been stalled. The Kremlin accused Kyiv today of delaying the talks and changing its positions. Kyiv accuses Moscow of blocking talks by refusing humanitarian ceasefires.
We need your consent to load this rte-player contentWe use rte-player to manage extra content that can set cookies on your device and collect data about your activity. Please review their details and accept them to load the content.Manage Preferences
Meanwhile, UN Secretary-General Antonio Guterres has separately asked presidents President Putin and President Zelensky to receive him to discuss steps to bring about peace, a spokesman said.
Mr Guterres has also called for a four-day humanitarian pause in fighting over the upcoming Orthodox Easter weekend.
Metropolitan Epifaniy of Ukraine's Orthodox Church asked clergy and the faithful to forgo services on Easter Saturday night in areas affected by fighting, fearing the Russian bombardments will continue without respite.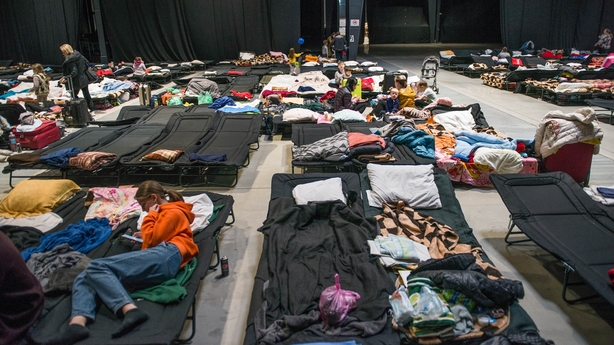 As fighting raged in Ukraine's east and south, European Council leader Charles Michel visited Kyiv and vowed the EU would do "everything possible" to help Ukraine win the war.
"You are not alone. We are with you," Mr Michel said during a press conference alongside President Volodymyr Zelensky.
Mr Zelensky said his country still did not have enough weapons to resist the invasion, despite billions in military aid from Western allies - though, in a video message he added his partners "understand our needs better".
Ahead of Mr Michel's arrival, the Pentagon said Ukraine had received fighter planes to bolster its air force, but later it corrected that statement, saying only aircraft parts had been delivered.
Washington has repeatedly vowed to do everything it can to help Kyiv, without igniting a direct conflict with nuclear-armed Russia.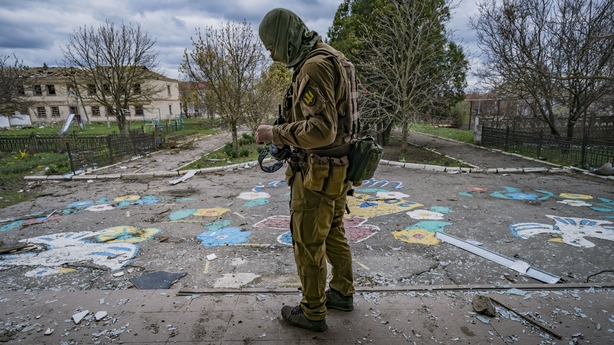 Today US President Joe Biden said he has been "amazed" by Ukrainian resistance.
"They're tougher and more proud than I thought," he said, adding that Western "weapons and ammunition are flowing in daily".
He said NATO remains "united, focused and energised," adding: "I don't think Putin counted on it".