A telephone call finally made it through to Alexander at midday. "It's nice to hear you," he says answering.
The rising rattling noise of road beneath his vehicle forces his voice louder than normal conversational tone.
"Some words are disappearing because of the bad connection," he says, but then the line wobbles and corrects itself.
"I can hear you quite well now, I can hear you," he says.
We agree to start recording a radio interview for RTÉ's Morning Ireland as his car speeds on towards safety.
Conventional rules of convincing an interviewee to move to a quieter location are abandoned. The car in which Alexander is fleeing will not stop. Its objective is to move to the calmer western reaches of Ukraine quickly - far away from his home in the devastated, ruined and smoking Mariupol.
"I can't guarantee I'll have a signal where we stop tonight. I might not have data. I might not have a phone signal," he emphasises. "We should record now". So we do.
This telephone call was organised by an intermediary - a friend of his - two days before.
Back then Alex, his family and a group of 50 cars took a circuitous and unofficial route from Mariupol. Before departure they had gathered together and agreed it was time to leave. Later the same day 160 other cars left on a humanitarian corridor and received much media coverage.
"We left our possessions behind. I have two t-shirts, the trousers I have on me, a winter coat with a hat and shoes."
Just as today, on Monday, the Russian bombardment had taken a heavy toll on Mariupol. Dead bodies remained on the streets. Kindergartens, schools, homes and hospitals had been shelled and ruined. Drone footage released by Ukrainian forces showed a desolate wasteland of bombed out buildings, many in flames, with smoke pouring into the sky.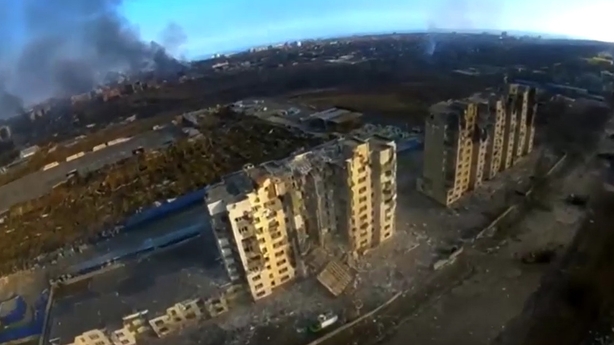 The besieged port city is now home to the worst humanitarian crisis of the Ukraine conflict. Minus ten celsius temperatures mean people struggle to keep warm on the cold concrete floors of bomb shelters. Snow is melted on stoves for drinking water. Food is scarce if available at all. Electricity, heating, communications, water and essential services are broken.
The conversation and interview continues. The car continues westwards.
Alexander's brother-in-law is driving and his family is with him. By the time we talk their mini-van has covered a couple of hundred kilometres.
"I am a passenger. We have six people. I am travelling with my sister, my brother-in-law, my two nephews and my mother".
Everything is rushed. They've brought very little. They have the clothes on their backs and some savings. Their debit cards work in shops and petrol stations.
"My nephew saved his guinea pig," Alexander laughs before rounding back to the harsh reality.
"We left our possessions behind. I have two t-shirts, the trousers I have on me, a winter coat with a hat and shoes," he says.
"You literally have the clothes on your back - isn't that it?" I respond.
"Yes," he says before adding: "And one change of underwear.
"We left almost everything. Our flats. Our belongings. Food. Almost everything remains in Mariupol. It is destroyed now maybe," he says.
"A lot of my friends, I don't know what's going on with them. It's really hard. Maybe they are dead."
Leaving his beloved Mariupol was a necessity. It offers no security or safety now.
"There was quite a lot of destruction, even corpses on the street. It seems as if you are in a nightmare when you are there.
"There are bombs around and rockets and you are sitting in a basement for a day almost and sleeping there in the cold. It is minus ten degrees Celsius. It was hard.
"For me the hardest part was we didn't have enough water to drink at all.
"I understand that there are a lot of people there now and they are without electricity, food, water. It is really hard to comprehend that you can do nothing to help them.
"A lot of my friends, I don't know what's going on with them. It's really hard. Maybe they are dead," he says.
Alexander is concerned that those without their own transport are stuck in the city.
"We were just a group of people who were trying to escape the city but the really big problem is that only people with cars can leave. There is no other transport.
"The day that we were leaving there were explosions but people were so desperate that they got into their cars and started moving on," says Alexander.
At this point in the conversation the car begins to slow down. It stops. Its door slides open.
"Are you ok," I ask - explaining I am checking because I have heard the door.
"Yes, I'm ok," Alexander responds. The continuation of what he says next stops me in my tracks.
"Speaking truly, after three weeks in Mariupol it is hard to make me afraid with this sound because we had explosions just maybe about 12 metres around us".
On the journey they encountered Russian troops.
"They were polite. They didn't attack us. They gave fuel to some people. Thankfully it was very civil from them. No aggression. At least I didn't experience any," he says.
"While they've been civil, how do you feel about them," I ask.
"I am Christian and I try to forgive. I think this whole war is terrible. I can't understand how I feel around them. I don't hate them. I just want this whole thing to stop," Alexander answers.
An overnight stop on Tuesday brought something Alexander hasn't had in three weeks - a bath and a comfortable bed.
"It was really nice to sleep on a bed and not on a floor," he says.
Alex and his family will continue to travel away from the shelling and destruction of Mariupol. They'll stay in a friend's apartment before they decide what to do next.
He says of his family: "For now they are relieved to be in a relatively safe environment. We are not under attack right now."
For himself, he adds, he is optimistic.
"I think that everything will be ok. We will survive. I hope this war will soon stop."