A television editor who protested Russia's invasion of Ukraine during a prime-time news broadcast on state TV has been fined 30,000 roubles (€255).
Marina Ovsyannikova, interrupted a live news bulletin on state TV and denounced the war in Ukraine, the RIA news agency reported.
She held up a sign behind a studio presenter reading the news on Channel One last night and shouted slogans condemning Russia's invasion of Ukraine.
Ms Ovsyannikova, an editor at Channel One television, also faced ten days in jail for the demonstration, the Moscow court heard.
She denied the charge of breaching protest laws, a court representative said.
The state television employee barged onto the set of Russia's most-watched evening news broadcast last night holding a poster reading "No War".
French President Emmanuel Macron has pledged to take up her case with Russian counterpart Vladimir Putin.
"We will launch diplomatic efforts aiming to offer (her) protection - either at the embassy but also protection through asylum," said Mr Macron.
"I will have the chance at my next talks with President Putin to propose this solution in a very direct and concrete manner," he added.
Ms Ovsyannikova was quickly detained after the incident.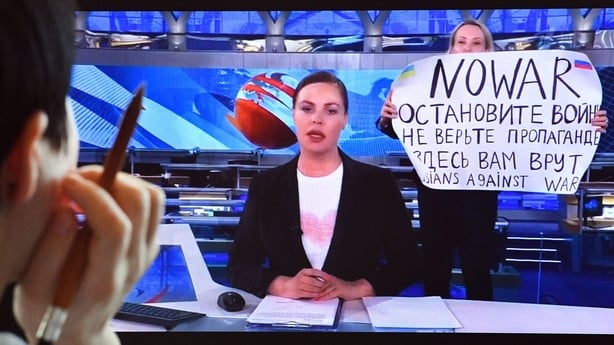 Her lawyer had earlier warned she risked up to 15 years in prison if convicted under a new law punishing media spreading "fake news" about the Russian army.
"I want to have as quickly as possible all clarity about her personal situation and her ability to continue with her work," Mr Macron said on a visit to the Loire region of western France.
Mr Macron has repeatedly held telephone talks with Mr Putin in recent weeks, even after the Russian leader launched the invasion of Ukraine on 24 February.
Channel One said an internal investigation was under way.
The incident was widely picked up by both international and Russian media, which blurred out the message on the poster to avoid running afoul of the new media law.
Ms Ovsyannikova's message also read in Russian: "Stop the war. Don't believe propaganda. They are lying to you here."
It was signed in English: "Russians against the war".
Ms Ovsyannikova managed to say a few phrases in Russian, including "Stop the war!", while news anchor Yekaterina Andreyeva tried to drown her out by speaking louder before the channel then switched hastily to footage of a hospital.
Kremlin spokesman Dmitry Peskov called the incident "an act of hooliganism", but Ms Ovsyannikova's profile has racked up more than 100,000 likes on Facebook.
Ovsyannikova was 'extremely trusted', says former colleague
A Russian woman living in Dublin has said that she knows and once worked with Ms Ovsyannikova.
Olga Taranova, a journalist and translator, said that Ms Ovsyannikova was very trusted at the Channel One station, where she had worked as a writer and editor for more than 20 years.
"Channel One, it is the oldest channel, it has always been the most prestigious one to work for and it's hard to get into, so it was a really good job, it was really interesting to work there," Ms Taranova told RTÉ News.
"She was kind of this 'Straight A' student type of girl, put together, very organised, does her job well, on time, perfect. She was extremely trusted.
"She was one of the very few people who had access to the anchor during the programme, everybody knew her," she said.
Ms Taranova said that she watched the broadcast live from her home in Dublin, where she was catching up with how the Ukrainian conflict was being presented by the Russian government.
"I saw it live. I immediately contacted my former colleagues ... just to say 'What's going on?'. At first I thought it was an intern, who just went impulsively, and then we realised it was Marina ... who's been part of the corporation for so long," she said.
She described many people in her home country as "completely lost" at the moment. Some want to get on with their day jobs without having to think about what is happening in Ukraine.
"The reactions vary so much. There are people who are in complete denial," Ms Taranova said.
"Then there are people who are siding with the power, which is a very natural coping mechanism response. They buy into the narrative that Ukraine is not a country ... and then there are people who haven't stopped crying since 24 February, who are completely crushed and devastated."
For those people, she said Ms Ovsyannikova's protest provided a "breath of fresh air ... they feel like they've got a voice.
"They have been legitimised, because a lot of them had to flee Russia, including hundreds of journalists, hundreds of activists who had to escape."
For them, she said that seeing Ms Ovsyannikova and "hearing her do this was incredible".
Additional reporting Eleanor Burnhill