Police investigating the "senseless destruction" of a world-famous tree next to Hadrian's Wall have made a second arrest.
The Sycamore Gap tree in Northumberland was cut down overnight between Wednesday and Thursday in what detectives have called a "deliberate act of vandalism".
It was made famous in a key scene in Kevin Costner's 1991 film Robin Hood: Prince Of Thieves and was among the UK's most photographed trees.
A 16-year-old boy was arrested on suspicion of criminal damage on Thursday in connection with the incident.
Police said had since been released on bail, "pending further inquiries".
Northumbria Police said a man in his 60s was arrested this evening and is in custody being questioned by officers.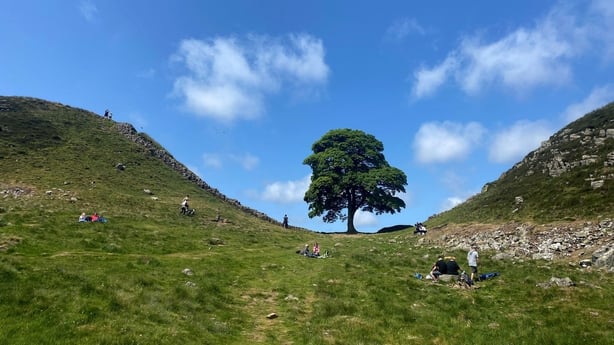 Detective Chief Inspector Rebecca Fenney-Menzies said: "The senseless destruction of what is undoubtedly a world-renowned landmark - and a local treasure - has quite rightly resulted in an outpouring of shock, horror and anger throughout the North East and further afield.
"I hope this second arrest demonstrates just how seriously we're taking this situation, and our ongoing commitment to find those responsible and bring them to justice.
"Although another arrest has been made, this investigation is still in the early stages, and we would continue to encourage any members of the public with information which may assist to get in touch.
"If you've seen or heard anything suspicious that may be of interest to us - I'd implore you to contact us.
"I'd also like to remind the public that this remains a live investigation so, for that reason, please avoid any speculation both in the community and on social media.
"Any information - no matter how small or insignificant you think it may be - could prove absolutely crucial to our inquiries."