Hugh Callaghan, one of the Birmingham Six, who was wrongly jailed for IRA bombings has died at the age of 93.
Mr Callaghan passed away in a London hospital last Saturday after suspected heart trouble.
He was jailed for life along with the five other men for the explosions in Mulberry Bush and Tavern pubs in the centre of Birmingham on 21 November, 1974, which killed 21 people and injured 182.
The men were beaten and terrorised in custody and some signed false confessions.
Police also claimed to have found traces of explosives on the men, but these tests were later discredited.
The Birmingham Six case became notorious for the "appalling vista" comment made by a British judge when he ruled against the men's civil action against the police over their ill treatment in custody.
Turning down their action in 1980, Lord Denning commented that the consequence for the English legal system of accepting that police officers were lying was such "an appalling vista" that every sensible person would reject further legal action.
The six men were eventually freed in 1991 after years of campaigning on their behalf.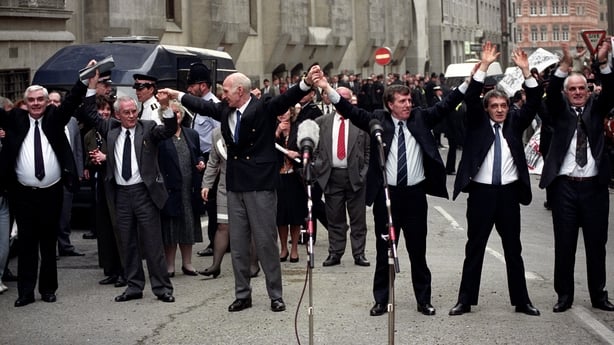 Sally Mulready, the Director of the Irish Elderly Advice Network who was involved in the Birmingham Six campaign, said Hugh Callaghan's death "is a sad day for all of us".
"He was a gentle soul. He spent 16 years in prison for something he didn't do. He told me recently that hardly a day went by that he didn't think of it."
"I think it is a pity the way they were treated since they got out. They didn't get the comforting that they needed."
She contrasted the treatment of the Birmingham Six and Guildford 4 with that of Terry Waite and Brian Keenan who, she said, received convalescence and were cared for.
Despite his age, she said Hugh had been in good form and his death was sudden.
---
The Birmingham Six from the RTÉ Archives
---
Hugh Callaghan was a talented singer and a member of the Irish Pensioners Choir.
A native of Belfast, he became active in Irish organisations in Britain and settled in Hackney, London with his partner Adeline Masterson. He is survived by his daughter Geraldine.
The other five members of the Birmingham Six were; Patrick Joseph Hill, Gerard Hunter, Richard McIlkenny, William Power and John Walker.
Mr McIlkenny died in 2006.