A major wildfire in eastern Spain that has destroyed vast swathes of land gathered pace overnight after flaring up again despite heavy rainfall, as another started inside a nearby natural park, officials said.
So far this year, Spain has suffered nearly 400 wildfires following punishing heatwaves and long dry spells that have devastated more than 283,000 hectares of land, more than three times the total area destroyed in 2021.
Over the past week, hundreds of firefighters have been battling two major wildfires raging out of control in the Valencia region, with a bout of heavy rainfall offered some respite, almost totally extinguishing the flames.
Although it put an end to the Vall d'Ebo fire near Benidorm, the Bejis blaze some 70km northwest of Valencia city, flared up again and burning its way towards the Sierra Calderona natural park.
It has already destroyed 19,000 hectares of land.
"The fire advanced slowly during the night except in... areas to the southeast where it has raged more aggressively," the emergency services tweeted, indicating 35 aerial firefighting teams were trying to contain the blaze.
"There are flames all along the perimeter," it added.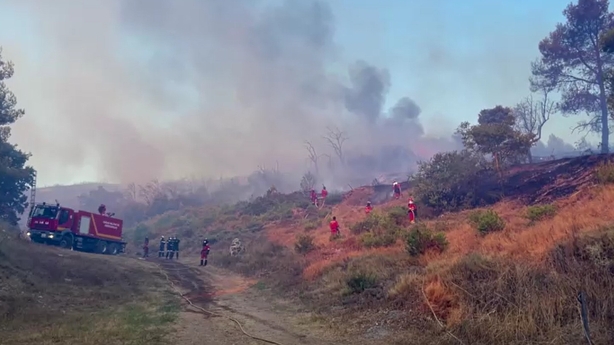 The UME military firefighting said on Twitter it had been an "intense night" in Bejis, posting images of huge flames.
"It's a very big fire with a perimeter stretching more than 120 kilometres so we've using all the means we have to contain the fire," Mariano Hernandez, one of the provincial fire chiefs, told public television.
Early today, another blaze began at Olocau inside the Sierra Calderona park, some 40km southeast of Bejis, the emergency services said.
It added that local residents had been "confined to their homes as a preventative measure".
The Vall d'Ebo fire began on Saturday and the Bejis blaze two days later, forcing some 3,000 people to be evacuated in total.
So far this year, Spain has been hit by 391 wildfires, the latest figures from the European Forest Fire Information System show.
The fires have destroyed more than three times the area consumed by wildfires in the whole of 2021, which totalled over 84,000 hectares, the figures show.
Elsewhere, at least 38 people have died as a result of fires in northern Algeria, including 12 who died on a bus trapped by flames.
Meanwhile 12 people - including three children - have been killed across France, Italy and Austria after Europe was hit by violent storms carrying high winds and heavy rain.
Low water levels on Danube reveal sunken WWII German warships
The drought in Europe has pushed the mighty river Danube to one of its lowest levels in almost a century, exposing the hulks of dozens o fexplosives-laden German warships sunk during World War II near Serbia's river port town of Prahovo.
The vessels were among hundreds scuttled along the Danube by Nazi Germany's Black Sea fleet in 1944 as they retreated from advancing Soviet forces, and still hamper river traffic during low water levels.
However, this year's drought - viewed by scientists as a consequence of global warming - has exposed more than 20 hulks on a stretch of the Danube near Prahovo in eastern Serbia, many of which still contain tonnes of ammunition and explosives and pose a danger to shipping.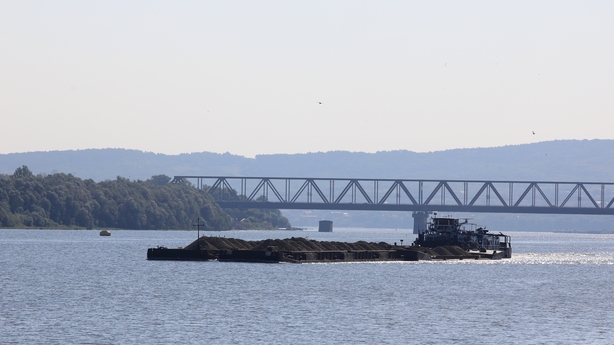 Workers in the local fishing industry are also at risk, including from Romania which lies just across the river.
Months of drought and record-high temperatures have snarled river traffic on vital arteries in other parts of Europe, including Germany, Italy and France. In Serbia, the authorities have resorted to dredging to keep navigation lanes on the Danube open.
By Prahovo, some of the hulks have narrowed the navigable section on this stretch of the Danube to just 100 metres from 180 metres.
Strewn across the riverbed, some of the ships still boast turrets, command bridges, broken masts and twisted hulls, while others lie mostly submerged under sand banks.
Water restrictions across most of Wales as drought declared
A drought has been officially declared in parts of Wales, days after several regions in England, following a lengthy period of dry weather without rain and record temperatures.
Areas affected include North Ceredigion, Teifi, Pembrokeshire, Carmarthen, Swansea, Llanelli, Neath Port Talbot and Bridgend.
Water companies in most of Wales have already imposed restrictions on water use, including a hosepipe ban.
Drought was officially declared across most of England last week following the driest July since 1935.
Natural Resources Wales said the move was taken due to "the pressures the high temperatures and lack of significant rainfall have had on the environment".
The lack of water and heat "have put a huge strain on our rivers, reservoirs and groundwater level", the body's sustainable water manager, Natalie Hall, said.
"This can impact some of our most precious habitats and species as well as systems we often take for granted, such as our water supplies.
"We have decided to declare a state of drought in south-west Wales after it was clear the lack of rain and recent heat have put a huge strain on our rivers, reservoirs and groundwater levels.
"While certain parts of Wales may be experiencing rain, it can still take a long time to recover from drought, making water a precious resource," she added.
Between March and July, Wales experienced its driest five-month period in 40 years.