A 44-year-old man has been arrested on suspicion of the murder of 87-year-old Thomas O'Halloran in west London.
Mr O'Halloran, who used a mobility scooter, was originally from Ennistymon in Co Clare, and lived in the Greenford area of west London.
He is survived by his brothers George and Richard, and sister Bridget, as well as many nieces and nephews, who live in the west Clare town.
The man was arrested at an address in Southall, west London, in the early hours of this morning, the Metropolitan Police said.
A witness described watching police break down his neighbour's door with a battering ram before handcuffing the suspect.
Rahul Patel, 28, said: "There was loads of riot gear, guns and loads of people, a canine dog, armed police - they were circling the street."
An elderly woman in a wheelchair who also lives on the street where the arrest took place said the stabbing had made her scared to leave the house.
Kalsi Nasther, 80, said: "I've got a mobility scooter too but I'm not taking it out any more, not alone.
"Now, I am getting scared all the time, that's why I don't open the front door when someone knocks.
"I'm not leaving the house as much any more, I'm worried."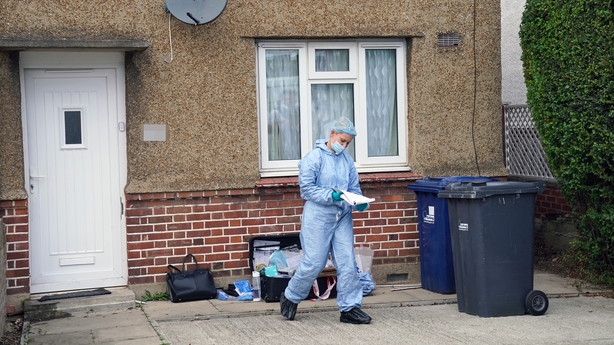 Mr O'Halloran was killed in a "shocking act" of "unprovoked violence", Metropolitan Police Chief Superintendent Sean Wilson said at the scene yesterday.
He was attacked while on his way to busk, according to a friend, who did not want to be named.
Chief Supt Wilson told the PA news agency: "He was coming back from Perivale to play his accordion and make some money for his family and he was stabbed to death."
It comes after officers were called to Cayton Road, in Greenford, west London, on Tuesday to reports of a stabbing and Mr O'Halloran was declared dead at the scene.
Police believe Mr O'Halloran was stabbed at about 4pm in Western Avenue before managing to travel 70 metres or so on his mobility scooter to Runnymede Gardens, where he flagged down a member of the public for help.
Mr O'Halloran was said to be known locally for busking outside Greenford Station and was also said to be raising money for war-torn Ukraine.
A man who works in a newsagents outside the station said: "He used to play his accordion here.
"He came every day for a long time, at least two years. He usually busked around five o'clock."
Another shopkeeper said: "He was often outside the station playing his accordion."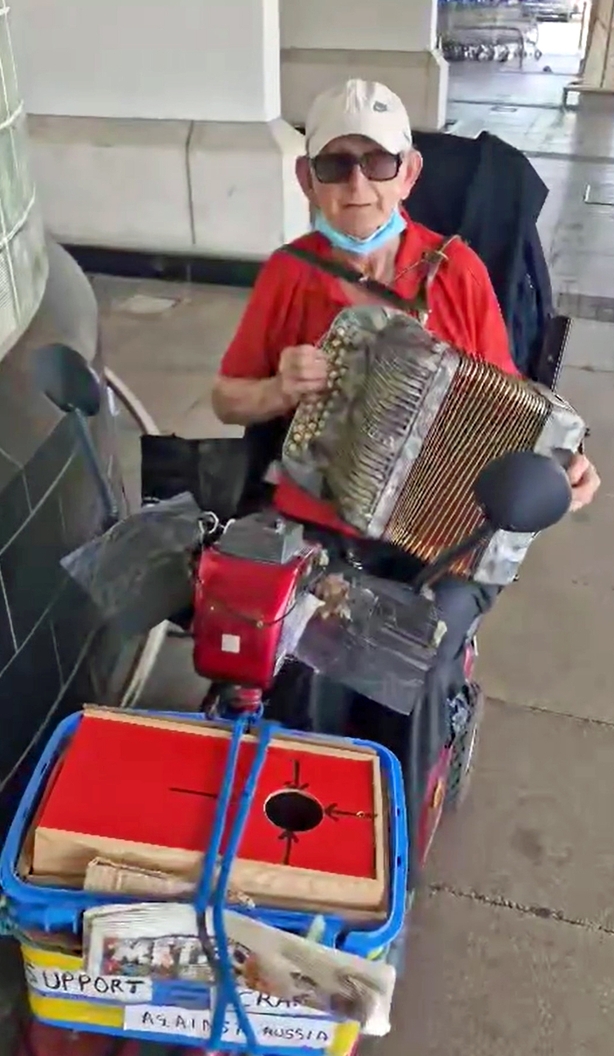 'Uncrowned king of Greenford'
Former Labour MP for Ealing North Steve Pound has said Mr O'Halloran was "the uncrowned king of Greenford, and his mobility scooter was like his throne".
Speaking to RTÉ's Morning Ireland, Mr Pound said: "He was so much an integral part of our community.
"He was almost like the hub around which all of Greenford revolved and circulated, because he was always there holding court outside the café opposite Tesco in Greenford, or playing his accordion.
"Not playing, probably, the finest version of Danny Boy I've ever heard in my life, but an instantly recognisable version of it."
Mr O'Halloran was known to the community in Greenford as 'Terry' and Mr Pound described him as an "absolute character".
"He was always looking to raise money," Mr Pound said, "In fact, God rest his soul, when he was brutally killed he was actually raising money for Ukraine.
"We have a campaign here, in Ealing, for refugees arriving from Ukraine, but the great thing about him (was) he was an absolute character.
"In some ways, he almost played up to that sort of cheerful Irish stereotype."