Jeremy Hunt and Nadhim Zahawi have been eliminated from the race for the British Conservative Party leadership.
The senior Conservatives failed to get the 30 votes required to get to the next stage of the Tory leadership contest tomorrow afternoon.
Tory Party MPs voted for the eight contenders vying to replace Boris Johnson today, and six candidates are left in the race.
Rishi Sunak topped the vote with 88 votes, Penny Mordaunt received 67, Liz Truss got 50, Kemi Badenoch received 40 votes and Tom Tugendhat 37.
Nadhim Zahawi and Jeremy Hunt were ruled out of the contest after receiving 25 and 18 votes respectively.
Tory MPs started queuing just before 1.30pm to vote, queuing in single-file as they waited to enter a Commons committee room.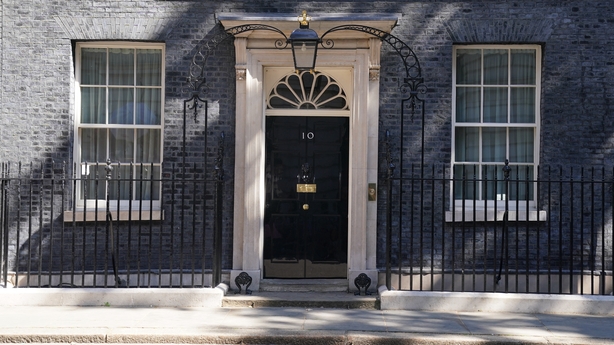 Mr Sunak, a front-runner in the contest, smiled and appeared relaxed as he waited in the queue.
Mr Hunt criticised the remaining leadership contenders for "smears and attacks".
"A gentle word of advice to the remaining candidates: smears & attacks may bring short term tactical gain but always backfire long term," he posted on social media.
"The nation is watching & they've had enough of our drama; be the broad church & unbeatable, election winning machine that our country deserves."
Yesterday saw the field whittled down, with some high-profile causalities as the race to become Conservative leader intensifies.
---
Who could take over as British prime minister?
---
Former health secretary Sajid Javid said he was pulling out having apparently failed to attract enough support, moments before chairman of the 1922 Committee, Graham Brady, made the formal announcement in a Commons committee room.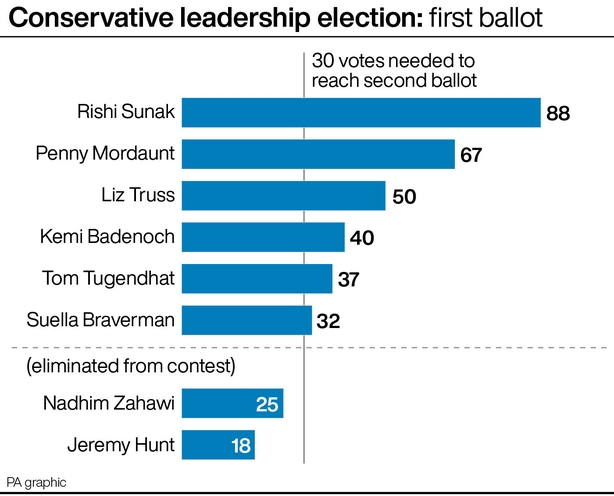 Transport Secretary Grant Shapps had earlier announced that he was abandoning his bid and would be supporting Mr Sunak, the former chancellor.
Backbencher Rehman Chishti - seen as the rank outsider - also said that he was dropping out having failed to get enough nominations.
Meanwhile Ms Truss, the Foreign Secretary, gained the endorsement of prominent Johnson loyalists Jacob Rees-Mogg, Nadine Dorries and James Cleverly, in what was seen as a concerted move to prevent Mr Sunak entering No 10.
Sir Iain Duncan Smith has said Mr Johnson has "no desire to put a straitjacket" on by serving in government after leaving No 10.
The former Conservative leader, who is backing Ms Truss in the race to succeed the Prime Minister, was asked on LBC Radio whether she should ask him to serve in her Cabinet if she wins.
He said: "He has no desire to put a straitjacket around himself, having to run in accordance with other people's wishes.
"I have a suspicion that Boris will arise in another guise, and as ever he probably, he will dominate the news but I don't think he'll be in a Cabinet."
Many supporters of Mr Johnson remain furious with Mr Sunak for the role he played in bringing him down, with his decision last week to quit helping to trigger a further slew of resignations.
The foreign minister's campaign also received a potential fillip with the announcement by Home Secretary Priti Patel, a fellow right winger, that she would not be standing, giving Ms Truss a clearer run.
Away from the Tory leadership race, the government has also provoked a row with Labour after the opposition party accused Mr Johnson's team of "running scared" after it refused to allow parliamentary time for a Commons vote of no confidence.
Labour had called it "unprecedented" for ministers not to allow parliamentary time for a vote of confidence.
But a Government spokesman hit back, accusing Labour of "playing politics" by tabling a motion of no confidence in the government and the prime minister when Mr Johnson had already resigned.
It remains unclear what the next steps are for Labour, with the Scottish National Party reported to have told party leader Keir Starmer that if Labour does not apply for an emergency debate, the SNP will.
Under the rules set out by Mr Brady candidates who fail to get 30 votes in the first ballot will be eliminated, with a second vote expected tomorrow.
The process is then likely to continue into next week, with candidate with the lowest vote dropping out, until the list of candidates is whittled down to just two.
They will have the summer recess to win the support of the Tory membership, which will ultimately chose the next prime minister, with the final result due on 5 September.
Meanwhile, Minister for Foreign Affairs Simon Coveney has said that Ireland will be closely watching the Tory party leadership race as it really matters for an Irish perspective.
Speaking on RTÉ's Drivetime programme, he said he hopes to improve the relationship between the Irish and British governments in autumn, and that leadership is needed from Unionists in Northern Ireland.
He said that there was a difficult relationship with Boris Johnson's government for the last number of years, and the British/Irish relationships erre in a poorer state now then they have been for a long time.
"I want to change that in the autumn as does the Taoiseach," Mr Coveney said.