Military tanker drivers are to be deployed to deliver fuel to forecourts across Britain from Monday amid continuing supply issues at filling stations.
Almost 200 military personnel - including 100 drivers - have been undertaking training at haulier sites and will start deliveries to help relieve the situation, which the UK government insists is stabilising.
It was also announced that a temporary visa scheme for foreign HGV drivers that was due to expire on 24 December will now be extended to the end of February, following criticism of the attractiveness to drivers of its length.
Downing Street said 300 fuel drivers will be able to come to the UK from overseas "immediately" under a bespoke temporary visa which will last until March.
A further 4,700 other visas intended for foreign food haulage drivers will be extended beyond the initially announced three months and will last from late October to the end of February.
The UK government said that demand for fuel has stabilised and there is now more being delivered than sold, but that some parts of the country still face challenges.
Chancellor of the Duchy of Lancaster Steve Barclay said: "The government has taken decisive action to tackle the short-term disruption to our supply chains, and in particular the flow of fuel to forecourts.
"We are now seeing the impact of these interventions with more fuel being delivered to forecourts than sold and, if people continue to revert to their normal buying patterns, we will see smaller queues and prevent petrol stations closing."
Defence Secretary Ben Wallace said: "Across the weekend over 200 military personnel will have been mobilised as part of Operation Escalin.
"While the situation is stabilising, our armed forces are there to fill in any critical vacancies and help keep the country on the move by supporting the industry to deliver fuel to forecourts."
Butcher shortage could affect Christmas food supply
Visa restrictions could be eased for hundreds of foreign butchers, British media has reported, after industry warnings that a shortage could hit Christmas food supplies.
The Times quoted the British Meat Processors Association as saying the sector is short of 15,000 workers, and that up to 1,000 butchers could now be allowed in to the country.
Britain tightened its immigration rules after the country's full departure from the European Union in January, which ended free movement of people and workers across the bloc.
The government last weekend announced a temporary visa waiver for 5,000 foreign lorry drivers to try to improve worsening supply chain issues due to a lack of truckers.
Many foreign lorry and tanker drivers left after Brexit and during the coronavirus pandemic, hitting supermarket deliveries and also fuel supplies, leading to panic-buying.
Ministers also announced temporary visas for poultry workers, as concerns grow that turkey, like pork products, will be short supply at Christmas.
Retail and hospitality, which are also experiencing high seasonal staff vacancies, also want foreign workers to be allowed back.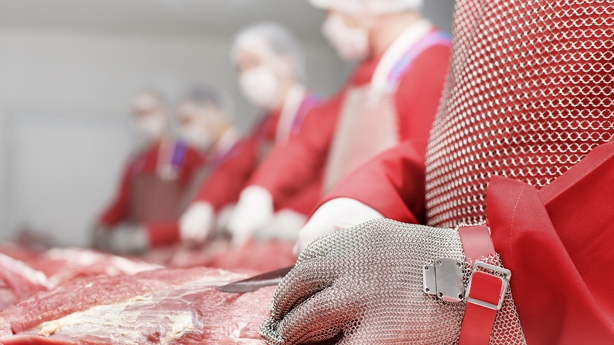 The president of the National Farmers' Union Minette Batters called on the government to act to avert an "animal welfare crisis" in the pig industry.
She said 150,000 pigs could be culled in a week unless the government issues visas to foreign butchers.
"We have a got a real crisis situation building in the pig sector," Ms Batters told the BBC.
"Pigs are not coming through onto the marketplace as they are being held back on farm. This will be an animal welfare crisis if it is not resolved," she added.
Taoiseach Micheál Martin has said that the bounce-back of the European economy has led to supply chain issues, but he believes Brexit has exacerbated those problems in Britain.
During a visit to Rosslare Europort, Mr Martin told reporters it was clear that Ireland's preparations ahead of Brexit had paid off.