The family of Sarah Everard has welcomed the whole life sentence given to the man who murdered her, saying: "The world is a safer place with him imprisoned".
48-year-old Wayne Couzens was handed a whole life order for the kidnap, rape and murder of the 33-year-old marketing executive in London earlier this year.
Her parents Jeremy and Susan and sister Katie had given moving victim impact statements expressing their outrage at Couzens' crimes, demanding that he look at them in court.
Today, they sat calmly in court, metres from Met Police Commissioner Cressida Dick, as a visibly shaking Couzens was jailed.
Afterwards they shook hands with the detectives who helped bring him to justice before leaving court.
Speaking outside the court, Commissioner Dick said Couzens had "brought shame" on the force and admitted that trust in her organisation has been "damaged".
British Home Secretary Priti Patel gave her backing to the police chief, but said "serious questions" need to be answered.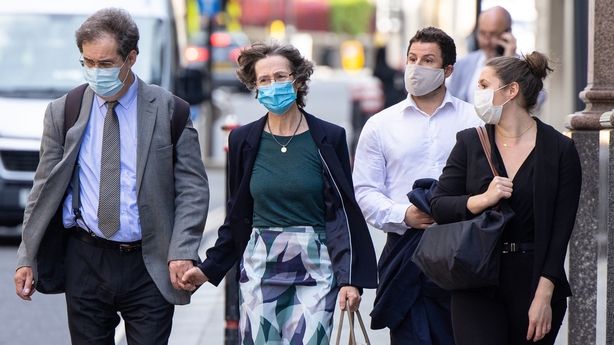 In their statement, the Everard family said: "We are very pleased that Wayne Couzens has received a full life sentence and will spend the rest of his life in jail.
"Nothing can make things better, nothing can bring Sarah back, but knowing he will be imprisoned forever brings some relief.
"Sarah lost her life needlessly and cruelly and all the years of life she had yet to enjoy were stolen from her.
"Wayne Couzens held a position of trust as a police officer and we are outraged and sickened that he abused this trust in order to lure Sarah to her death.
"The world is a safer place with him imprisoned.
"It is almost seven months since Sarah died and the pain of losing her is overwhelming. We miss her all the time.
"She was a beautiful young woman in looks and character and our lives are the poorer without her.
"We remember all the lovely things about Sarah, her compassion and kindness, her intelligence, her strong social conscience.
"But we especially like to remember her laughing and dancing and enjoying life. We hold her safe in our hearts."
Paying tribute to those who worked on the case, they said: "We are immensely grateful to the police and legal team who worked on Sarah's case.
"We cannot thank them enough for their meticulous and painstaking work and for their constant support.
"We also send our heartfelt thanks to our family and friends for comforting us through this terrible time".
Couzens has 'brought shame' on Metropolitan Police, commissioner says
London's Metropolitan Police Commissioner has said Sarah Everard's murder has brought "shame" on the force, admitting: "A precious form of trust has been damaged."
Cressida Dick was heckled by people calling for her resignation outside the Old Bailey after the sentencing of Wayne Couzens.
The firearms officer, who joined the force in 2018, was sacked after he pleaded guilty to the murder of Sarah Everard.
Commissioner Dick, Britain's most senior police officer, described his crimes as "one of the most dreadful events in the 190-year history" of the Metropolitan Police.
"This man has brought shame on the Met. Speaking frankly, as an organisation we have been rocked.
"I absolutely know that there are those who feel that trust in us is shaken. I recognise that for some people, a precious form of trust has been damaged."
"This hearing has revealed the brutality of this man's crimes against Sarah," she said.
"I am absolutely horrified, that this man used his position of trust to deceive and coerce Sarah, and I know you all are too. These actions were a gross betrayal of everything policing stands for.
"What he did was unthinkable and appalling. He showed himself to be the coward he is through his lies and seeking to minimise his true responsibility for his crimes.
"Police officers are here to protect people, to be trustworthy, courageous, and compassionate. His every action is the exact opposite of that.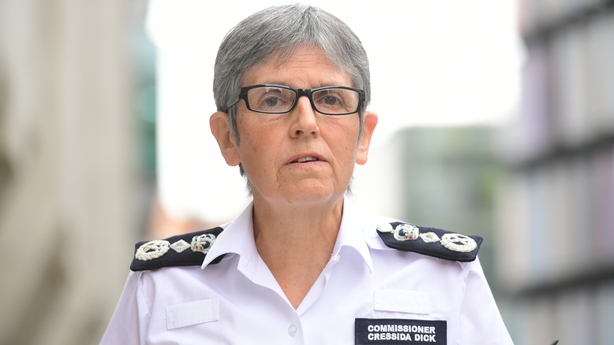 "As the judge said, he has eroded the confidence that the public are entitled to have in the police. It is critical that every subject in this country can trust police officers when they encounter them.
"The judge went on to say, he has very considerably added to the sense of insecurity that many have living in our cities, perhaps particularly women."
Commissioner Dick, who attended court on both days of the sentencing hearing, said she was "absolutely sickened" and that her thoughts are with Ms Everard's family, friends and loved ones.
"He will now spend the rest of his life in prison. I hope that will give them some slight comfort."
The commissioner praised those involved in bringing Couzens to justice in an investigation the judge described as the "most impressive" he has seen in his 30 years on the bench.
"I saw for myself, first-hand, their extraordinary determination and professionalism," she said.
"This is the Metropolitan Police Service I know. It is capable and caring, it is full of people who are good, who work all their lives to protect others."
Commissioner Dick said her force's dedication to the public remained "undiminished", adding: "As commissioner, I will do everything in my power to ensure we learn any lessons.
"I know that what happened to Sarah and what has happened to other women in London and beyond in recent times has raised important questions about women's safety.
"Here in the Met, I commit to keep working with others to improve women's safety and reduce the fear of violence.
"There are no words that can fully express the fury and overwhelming sadness we all feel about what happened. I am so sorry".
Police must answer serious questions over case - Patel
"Serious questions" need to be answered by the Metropolitan Police, the British Home Secretary has said, as she backed the commissioner in the wake of Sarah Everard's murder.
Cressida Dick faced more calls to step down amid demands for urgent action to restore the confidence of women in the police after Wayne Couzens was jailed.
Priti Patel said: "There are questions, serious questions that need to be answered by the Metropolitan Police ... from the very day that Sarah went missing, I have been, clearly, in contact with the Metropolitan Police and putting forward some questions around the conduct of the potential suspect at the time and all the requirements and checks that should have been put in place."
When asked if the commissioner should resign, she said: "I will continue to work with the Metropolitan Police and the commissioner to hold them to account as everybody would expect me to do, and I will continue to do that."
Describing Couzens as a "monster" and the case as "sickening" and an "appalling tragedy", Ms Patel said: "It is right that he has been given a whole-life tariff and with that he can never walk the streets of our country again".
MP Harriet Harman has asked Ms Patel to take urgent action to "rebuild the shattered confidence of women in the police service", and has told Commissioner Dick that she needs to step aside to "enable these changes to be taken through".
In a letter to the commissioner, Ms Harman, who is chair of the Joint Committee on Human Rights, said: "Women need to be confident that the police are there to make them safe, not to put them at risk. Women need to be able to trust the police, not to fear them.
"I have written to the Home Secretary to set out a number of actions which must be taken to rebuild the shattered confidence of women in the police service.
"I think it is not possible for you to lead these necessary actions in the Metropolitan Police. I am sure that you must recognise this, and I ask you to resign to enable these changes to be taken through and for women to be able to have justified confidence in the police."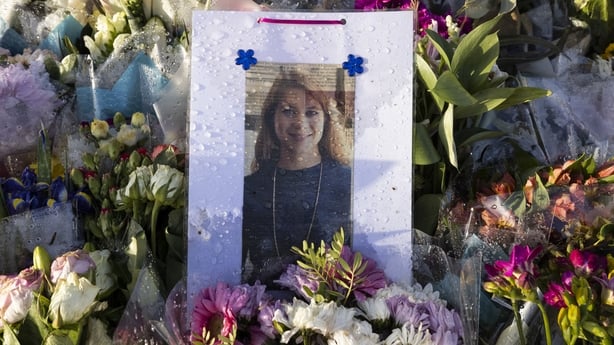 In a second letter to Ms Patel discussing the crimes of Wayne Couzens, she said: "It is clear that there had been all too many warning signs about him which had been swept under the carpet. It cannot be rebuilt with the attempt to reassure that this was just, as the Metropolitan Police Commissioner said, one 'bad'un'.
"Women's confidence in the police can only be rebuilt with substantive and immediate change."
She called on the Home Secretary to bring forward changes including:
Immediately suspending officers from duty where there is an allegation of violence against women.
Dismissing officers immediately when there is a conviction or admission of such a crime.
Disciplinary action of gross misconduct, leading to dismissal, for failing to report fellow officers for an allegation of violence against women.
Scrutinising someone's attitudes to violence against women, including engaging in violence during sex, as part of vetting of police recruits.
Fresh checks on officers who transfer between forces for allegations of violence against women.
Training for all current serving officers with a course to teach them to "examine their own attitudes to violence against women and recognise signs in their colleagues".