The British Transport Secretary has defended his foreign visa plans to solve the HGV driver shortage as he accused a haulage group of sparking petrol station queues.
Grant Shapps said the queues and closures at fuel stations were a "manufactured situation" created by the Road Haulage Association (RHA) leaking comments from BP bosses about supply concerns.
The British government announced a temporary visa scheme that will see 5,000 HGV drivers and 5,500 poultry workers brought in on three-month contracts to keep supermarket shelves stocked with turkeys and tackle fuel delivery difficulties.
Mr Shapps admitted he had done something he "didn't necessarily want to do" in allowing foreign workers to fill the workforce gaps, having only on Friday rallied against the idea of temporary visas.
He also refused to rule out bringing in the army to drive fuel tankers, saying: "We will do whatever is required."
Speaking to Sky News' Trevor Phillips On Sunday programme, Mr Shapps said: "We need to ensure that people are reassured now that this rather manufactured situation has been created, because there's enough petrol in the country."
Asked who manufactured the situation, he said: "There was a meeting which took place about ten days ago, a private meeting in which one of the haulage associations decided to leak the details to media, and that has created, as we have seen, quite a large degree of concern as people naturally react to those things."
"If people carry on as they normally would... then you won't have queues"

Transport Secretary Grant Shapps insists there is "no shortage of fuel" and that queues at petrol stations are down to panic buying.

Follow #Phillips live: https://t.co/p91FXzcLtp pic.twitter.com/tH7cvHk7Zh

— Trevor Phillips on Sunday (@RidgeOnSunday) September 26, 2021
He later told BBC One's The Andrew Marr Show the briefings were "irresponsible".
The cabinet minister called for the public to be "sensible" and only fill up their cars when needed as there is "plenty of fuel" available.
Although Mr Shapps did not name the RHA in his broadcast round, the Mail on Sunday quoted a government source stating the Road Haulage Association was "entirely responsible for this panic and chaos".
But Rod McKenzie, of the RHA, told the BBC: "This is absolute nonsense, I'm not the source of the leak."
"I was not in the meeting. I was not briefed about the meeting afterwards. I certainly didn't brief any journalists about the meeting about which I knew nothing.
"It is entirely without foundation."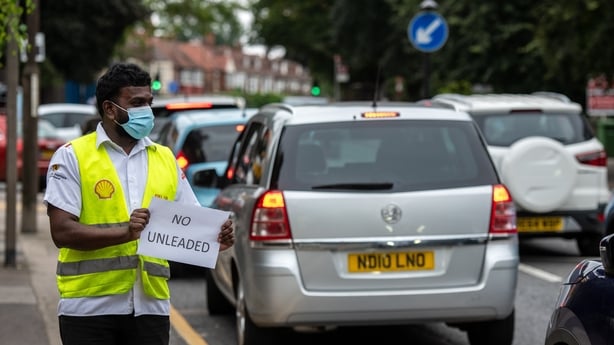 Mr McKenzie said that a "cocktail of chaos" has led to a shortage of 100,000 lorry drivers in the UK.
He that Britain had already been 50,000 drivers short before the pandemic and Brexit.
"Add to that 40,000 cancelled trucker training tests because of the pandemic restrictions, add to that 20,000 European truckers who had to go home because of Brexit immigration rules, so that adds up to 100,000 - that's why we're in the pickle we're in," he said.
"There is a cocktail of chaos here, it's no one single thing. I appreciate the government is briefing that it's all about Covid-19, but there is a historic shortage in this country."
Possible turkey shortage for Christmas
Meanwhile, turkey farmer Kate Martin has suggested suppliers will run out of the birds before Christmas.
Mrs Martin, chairwoman of the Traditional Farm Fresh Turkey Association, said: "This year it's looking like there is a national shortage of turkeys when we're talking about supermarket shelves, rather than buying direct from your farm.
"It is the supermarket shelves that will be emptier on turkeys this year than they have been before, only because there have been less turkeys placed on the ground, only because the big processers know that they will not get them processed."
Asked whether supermarkets will run out of turkeys before Christmas, she said: "I think everyone needs to get their orders in very quickly.
"We have seen an absolutely unprecedented number of orders come in.
"Come Christmas, if you leave ordering your turkey from your local farm supplier, you are going to be out of luck."
Minister of State at the Department of Finance Sean Fleming has said that the Ireland is experiencing "a little bit of difficulty with some deliveries", but the situation will not reach the same level of disruption as is happening in the UK.
Mr Fleming said that things were "tricky at the customs" for a month at the beginning of the year, "but they worked themselves out substantially".
Speaking on RTÉ's The Week in Politics, he said: "There's a little bit of difficulty with some deliveries still with customs and An Post, but they are relatively small and relatively manageable."
Minister of State @SeanFlemingTD says we are not facing the same supply chain issues as the UK are at the moment #Brexit #FuelCrisis

Rebroadcast at 23:05 on @rteone #TWIP #RTEPolitics pic.twitter.com/n5C3jTZZQ8

— The Week in Politics (@rtetwip) September 26, 2021
When asked if Ireland is set to experience the same queues at petrol pumps, Mr Fleming said: "No, it hasn't come to that at all.
"England has a more acute problem than we have because they essentially said to Brexit 'we're out of the EU' and a lot of non-EU people who were working in the UK have gone back home to their own country because that's what Brexit meant in their own minds."
He added: "I don't believe we're going to have the extent of the problems that they have over there at this stage at all. I don't believe it is coming to that extent."