The British diplomat who was the ambassador in Ireland during Queen Elizabeth's historic visit and who served as the UK's last ambassador to the European Union has joined the board of Co-operation Ireland.
The appointment of 55-year-old Julian King to an organisation that promotes North-South and British-Irish cooperation will be seen as a significant addition as the Brexit process gathers pace.
Mr King served as ambassador in Dublin from 2009 to 2011. He continued his involvement in British-Irish relations when he worked as director general of the Northern Ireland Office from 2011 to 2014.
He then served briefly as the UK's Ambassador to France before he moved to Brussels in 2016 as the final UK representative on the European Commission.
The Department of Foreign Affairs is one of the main funders of Co-Operation Ireland.
The organisation's chairperson, Christopher Moran, is known to have significant contacts within the Conservative Party and with Buckingham Palace and Clarence House.
He was a discreet presence during the State visit of Queen Eliazabeth to Ireland in 2011.
He also had a role in the 'handshake meeting' between Queen Elizabeth and Sinn Féin's Martin McGuinness in Belfast in 2012 and he featured during the State visit by President Michael D Higgins to Britain in 2014.
He accompanied Boris Johnson to the DUP party conference in Belfast, months before Mr Johnson mounted his successful challenge to Theresa May.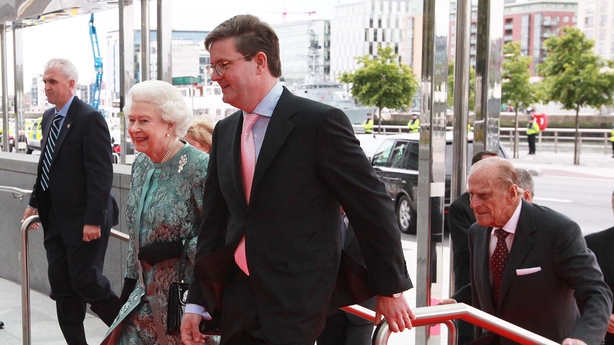 Mr Smith's appointment will add to Co-Operation Ireland's network of contacts and influence as British-Irish relations enter a new phase.
In a statement he said: "I am very pleased to be joining the board of Co-Operation Ireland and working closely with the chairman and fellow directors. I enjoyed my time on the Island of Ireland very much, and I look forward to helping this unique organisation work through the complex and perhaps difficult matters that will need to be resolved in the months and years ahead."
Other board members include former taoiseach John Bruton; former Northern Ireland first minister and former DUP leader Peter Robinson; a former Irish Ambassador to Britain, Daithí Ó Ceallaigh, and former Ulster Unionist Assembly member and Irish rugby international, Trevor Ringland.
The joint patrons are President Higgins and Queen Elizabeth. A former PSNI assistant chief constable, Peter Sheridan, is its chief executive.