The Mayor of Bristol has confirmed the statue of a 17th century slave trader pulled down during an anti-racism protest last weekend will be retrieved from the English city's harbour and exhibited in a museum.
Marvin Rees said the bronze memorial to Edward Colston would be exhibited alongside placards from Sunday's Black Lives Matter protest.
Any decision on the future of the plinth on which the statue stood will be "decided democratically through consultation", the city council said.
The statute had stood in Bristol city centre since 1895.
Mr Rees also said that a commission of historians and other experts will research and share Bristol's "true history" following the removal of the memorial.
"The events over the last few days have really highlighted that as a city we all have very different understandings of our past.
"The only way we can work together on our future is by learning the truth of our beginnings, embracing the facts, and sharing those stories with others. This is why this commission is so important," he added.
Meanwhile, the local police chief has said there was "no lack of courage" when officers in Bristol made a tactical decision not to intervene after the statue was toppled by protesters.
Andy Marsh, chief constable of Avon and Somerset Police, described how the memorial was pulled down with ropes in just two minutes before being dragged and thrown into the harbour.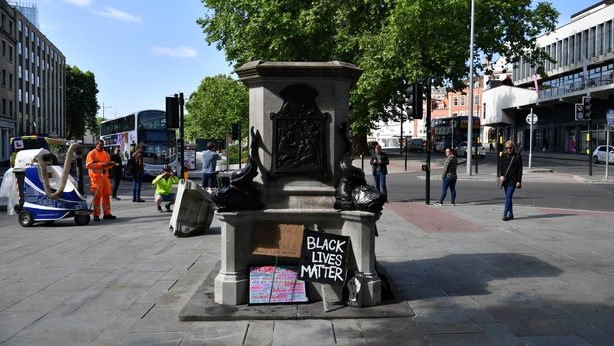 UK Home Secretary Priti Patel is reported to have had a "firm" discussion with Mr Marsh about why officers did not intervene when the statue was torn down.
Mr Marsh told a Facebook Live event with Sue Mountstevens, Avon and Somerset's police and crime commissioner, that doing so risked a "violent confrontation".
He said: "Had they intervened, I think the consequences could have been incredibly serious and we might have become the epicentre of a new wave of protests around the whole world, never mind what would have happened in Bristol.
"They made the decision that post-incident, the long arm of the law, so to speak, could catch up with those people and bring them to justice and our objectives, protecting life and property, were better served by not intervening.
"I think they acted with common sense, sound judgement. There was no lack of courage."
University to rename hall after concern at slave trade links
A university hall in Liverpool named after former British prime minister William Gladstone will be renamed, after students pointed out his links to the slave trade.
Gladstone Hall, on the University of Liverpool's Greenbank campus, will be given a new name selected by a "democratic process", a spokesman for the university said.
An open letter written by students to the vice-chancellor, Professor Dame Janet Beer, called for the university to show "solidarity in the rejection of black oppression" following the death of African American George Floyd in the United States.
The letter referred to parliamentary speeches in which Gladstone defended the rights of owners of slave-run plantations, such as his father.
In London, a statue of slave owner Robert Milligan has been removed from the city's Docklands after being approved by the local authority.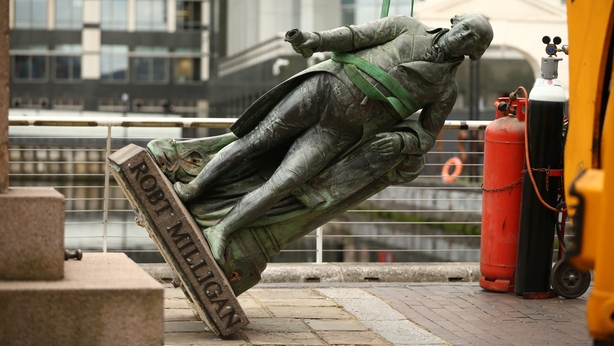 Contractors have been trying to clean off graffiti daubed on a statue of Queen Victoria in Leeds, including the words "murderer" and "slave owner".