Britain's Business Secretary Alok Sharma has received a negative test result for coronavirus after appearing visibly ill in the House of Commons chamber yesterday, a spokeswoman has said.
However the spokeswoman did not immediately respond when asked if the cabinet member will have to continue to self-isolate, with concerns that tests may not come back positive in the early stages of infection.
"Business Secretary Alok Sharma has received a negative result after being tested for coronavirus yesterday," she said.
"Mr Sharma would like to thank the Parliamentary authorities and Speaker and also for the kind words from Parliamentary colleagues and others who have expressed their well-wishes over the last 24 hours."
Earlier it emerged that British Prime Minister Boris Johnson held a 45-minute meeting with Mr Sharma on Tuesday, a day before Mr Sharma he was taken ill and tested for the coronavirus.
A spokesman for Mr Johnson said the socially distanced meeting in Mr Johnson's Number 10 Downing Street offices was also attended by finance minister Rishi Sunak.
He added that Johnson would follow medical advice if Mr Sharma's Covid-19 test result came back positive.
"The meeting which took place in Number 10 - I believe it was in the Cabinet Room - was properly socially distanced, so they were all two metres apart," the spokesman said.
"If the Secretary of State (Sharma) were to test positive for coronavirus then he will go through the test and trace process and follow the advice which they give to him."
Mr Johnson has already contracted and recovered from Covid-19, but there is no certainty that would give him immunity.
Mr Sharma was tested for coronavirus after he became visibly unwell in the House of Commons chamber yesterday.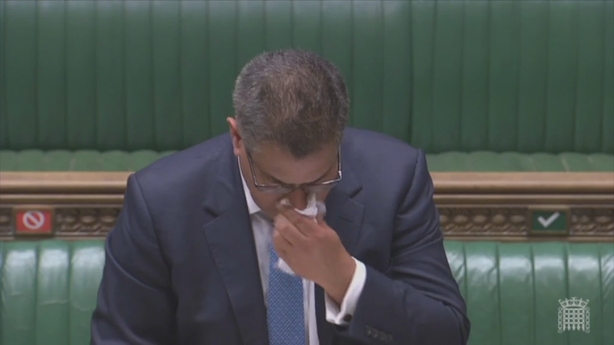 He was seen wiping his face with a handkerchief several times and his opposite number in Labour's shadow cabinet, Ed Miliband, passed him a glass of water at one point.
On Tuesday MPs approved the British government's plan to end virtual voting in the House of Commons.
Downing Street has said the British government was not planning to review this move in light of recent events.
---
Read more:
Latest coronavirus stories
---
British MP Alok Sharma has been tested for coronavirus after becoming visibly unwell in the House of Commons chamber.

The development comes a day after MPs approved the British government's plan to end virtual voting in the House of Commons | Read more: https://t.co/Y9U4bAI9wC pic.twitter.com/PQE6BrF8W9

— RTÉ News (@rtenews) June 3, 2020
Meanwhile British ministers face more pressure over the planned blanket quarantine for travellers to the UK after an expert questioned the government's claim that the scheme was "backed by science".
Controversy over the plan continued as Mr Johnson prepared to urge world leaders to "unite humanity in the fight against disease" as he hosts an online global vaccine summit aiming to raise £6 billion to immunise millions of children in the world's poorest nations.
The summit comes after the Prime Minister braced the nation for more bad news on the economy, saying at yesterday's Downing Street briefing: "I am afraid tragically there will be many, many job losses. That is just inevitable."
However in the wake of that warning, the travel industry pressed home its message that the quarantine plan risked worsening the economic pain by hampering attempts to get people moving again and taking holidays.
Ryanair boss Michael O'Leary said the plans would "do untold damage to British tourism.
"We don't understand, as an industry, why the British Government doesn't follow the European science that says it is perfectly OK to fly as long as you all wear face masks."
Northern Secretary Brandon Lewis defended the quarantine policy, insisting it was "the right time to do it".
However, he admitted under the new rules a family from Spain could visit the Lake District for a holiday, while a family from London cannot.
He told BBC Breakfast: "As long as they are following the guidance and doing the quarantine as outlined, and giving the details to Public Health England (PHE), somebody from abroad can come to the UK but they will have to quarantine for 14 days."
The plan, under which people arriving in the UK from overseas will have to undergo a 14-day quarantine period from Monday, will be kept under review and alternatives such as international travel corridors between countries were being worked on, Mr Lewis said.
Additional reporting PA