Two people have been confirmed dead following a stabbing incident near London Bridge this afternoon, in which the attacker was also shot dead by police.
Police say the incident, which is thought to have started at nearby Fishmongers Hall, is being treated as "terror-related".
Met Police Commissioner Cressida Dick said three other people were being treated in hospital following the incident.
In a news conference outside Scotland Yard, she said: "We are also working at full tilt to understand what has happened and whether anyone else was involved.
"For this reason we expect cordons to remain in place around the London Bridge area for some time."
Asked whether the suspect was known to police, Ms Dick said: "This is a very fast moving, dynamic investigation, we will keep you updated."
Earlier, Assistant Commissioner Neil Basu said the suspect had strapped a hoax explosive device to his body.
Mr Basu, the head of UK counter-terrorism policing, said: "At approximately 2pm today, police were called to a stabbing at a premises near London Bridge.
"Emergency services attended including officers from the City of London Police and Metropolitan Police.
"A male suspect was shot by specialist armed officers from City of London police and I can confirm that this suspect died at the scene."
Footage on social media appeared to show armed officers with their weapons poised as two men struggled on the ground.
One of the men, who is believed to be a civilian, was pulled away before police fired several shots at the other man.
Some videos show another man in plain clothes walking away from the incident, with what appears to be a knife.
British Prime Minister Boris Johnson praised members of the public who intervened to detain the man, and expressed his sympathies to those injured in the attack.
"I want to pay tribute to the extraordinary bravery of those members of the public who physically intervened to protect the lives of others.
"For me they represent the very best of our country and I thank them on behalf of all of our country," he added in a televised statement.
Mr Johnson said those involved in the attack would be brought to justice.
A large part of central London has been cordoned off and extra police patrols will be in place as police continue their investigation.

Mr Basu said that specialist officers had been deployed after reports that the suspect had an explosive vest, but the device was believed to be a "hoax".
He added: "Due to reports that the suspect might have had an explosive device specialist officers attended the scene.
"However, I can confirm at this time we believe a device that was strapped to the body of the suspect is a hoax explosive device."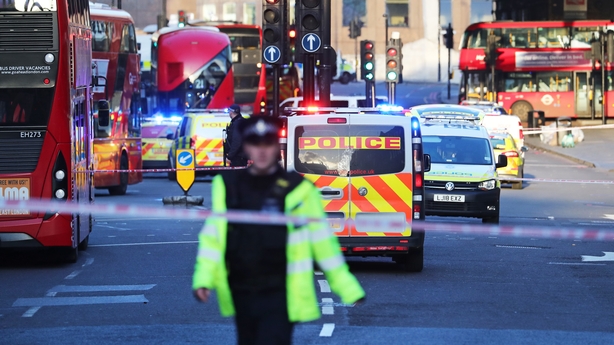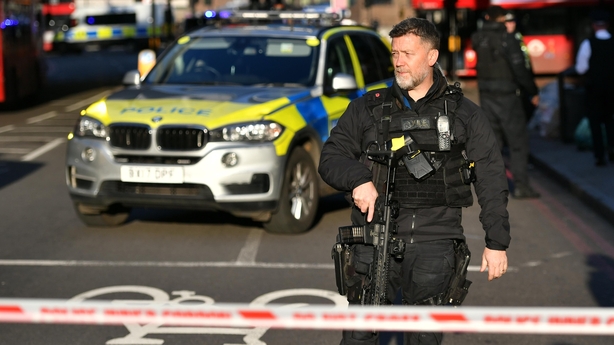 Mr Basu said the attack had been declared a terrorist incident, but the force was retaining an open mind on the motive.
He added: "Due to the nature of the incident we responded as though this was terrorist-related. I am now in a position to declare it is a terrorist incident.
"Officers from the Met counter terrorism command are now leading this investigation."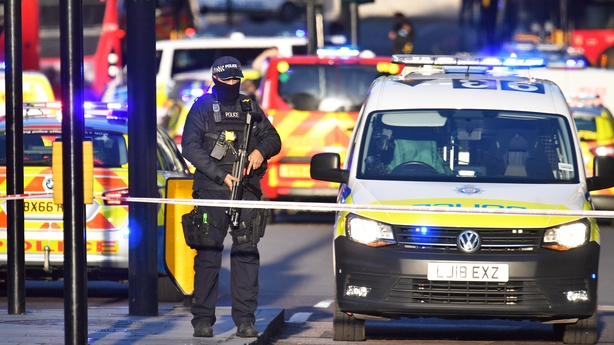 Mr Basu said he would give updates to the families of those injured "as soon as we can get that information".
"Our heartfelt sympathies go out to everybody who has been involved in this and is anxiously waiting for information on their loved ones," he said.
Videos and photographs on Twitter showed several police cars and buses on the bridge and a truck across several lanes.
Incident on London Bridge, lots of police forces. Shots heard (form police) pic.twitter.com/SqExSsXbO1

— Olivier (@systol) November 29, 2019
Our view overlooking London Bridge. Reports of a serious incident and witnesses saying gunshots fired. pic.twitter.com/AdVW5KFNVY

— Dan Wootton (@danwootton) November 29, 2019
Someone just shot on London Bridge #london @BBCBreaking @SkyNews pic.twitter.com/qVk5IPmofb

— amanda** (@AmandaHunter87) November 29, 2019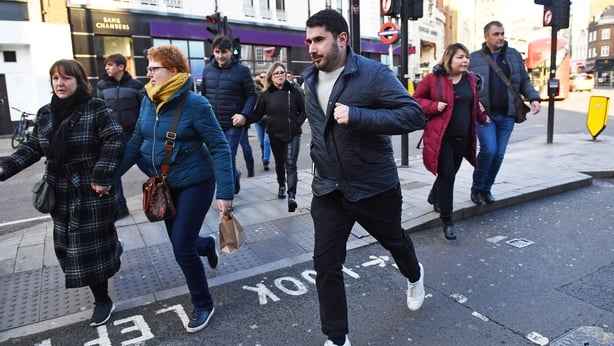 A cordon was also set up at Borough Market while dozens of nearby shops and businesses were evacuated.
London Bridge was the scene of an attack in June 2017 when three militants drove a van into pedestrians and then attacked people in the surrounding area, killing eight people.
Earlier this month, Britain lowered its national terrorism threat level to "substantial" from "severe", its lowest level since 2014.
"I want to thank the emergency services and members of the public for their immense bravery in responding to this suspected terrorist attack at London Bridge.

"This is an appalling incident and all my thoughts are with the victims and their families." — PM Boris Johnson

— UK Prime Minister (@10DowningStreet) November 29, 2019
In a statement outside Scotland Yard, the Mayor of London Sadiq Khan said thanked members of the public who risked "their own safety this afternoon".
"I want to thank our brave emergency services who responded to today's horrific attack," the mayor told a press conference at Scotland Yard.
"Every day, they put their lives on the line for us, running towards danger in order to keep us safe.
"I'd also like to thank members of the public who risked their own safety this afternoon. They are the best of us."
Mr Khan said it appeared to be an isolated incident, but he asked all Londoners to remain vigilant and report anything suspicious to the police.
Labour leader Jeremy Corbyn said his party will be suspending campaigning in London this evening as a "mark of respect for those who suffered in this attack".
He said: "My heart goes out to the victims of this appalling attack.
"We owe a deep debt of gratitude to our police and emergency services, and the brave members of the public who put themselves in harm's way to protect others."